Red Pepper Pasta with Avocado Cream Sauce
So it's been one week already and we are all moved in to our new house!  So far it's been a lot of work unpacking, cleaning and patching things up…but we think we are going to love having our own house.  I seriously feel like I'm living in a mansion.  Going from living in a 700 square foot apartment for almost 7 years to an 1800 square foot house will make ya feel that way, I guess.  My favorite parts about the house are the enormously huge kitchen and the cozy living room with the fireplace that I've always dreamed of having.  I'll have to post pictures as soon as I get the boxes, ladders, and overall clutter out of the way so I can actually take some decent photos.
I've also had some requests for "before and after" photos of my old kitchen versus new kitchen.  I think my new kitchen is the size the entire apartment was!  Wow, that's really sad.  Oh, my new kitchen also has WINDOWS….which means natural light….which means a lot more enjoyable times spent in the kitchen 🙂  It really makes a huge difference having space to move around and windows to look out while I'm cooking or baking.  I might not be able to find where I put anything in this huge kitchen but it sure beats the gloomy, cramped kitchen I came from!
This recipe I'm sharing today is by FAR is one of my new favorite pasta dishes.  I always thought avocado was just for guacamole but I was sooo wrong.  It is such a delicious, creamy and rich treat that's pretty versatile.  I came across this recipe on a great blog that I recently started following and knew I had to make it the second I saw it.  It was simply amazing.  I never thought of incorporating avocado into a cream sauce but it's ingenious….oh, and avocados are healthy for you!  They have a lot of fat in them , but thankfully, those fats are the healthy kind.  Enjoy!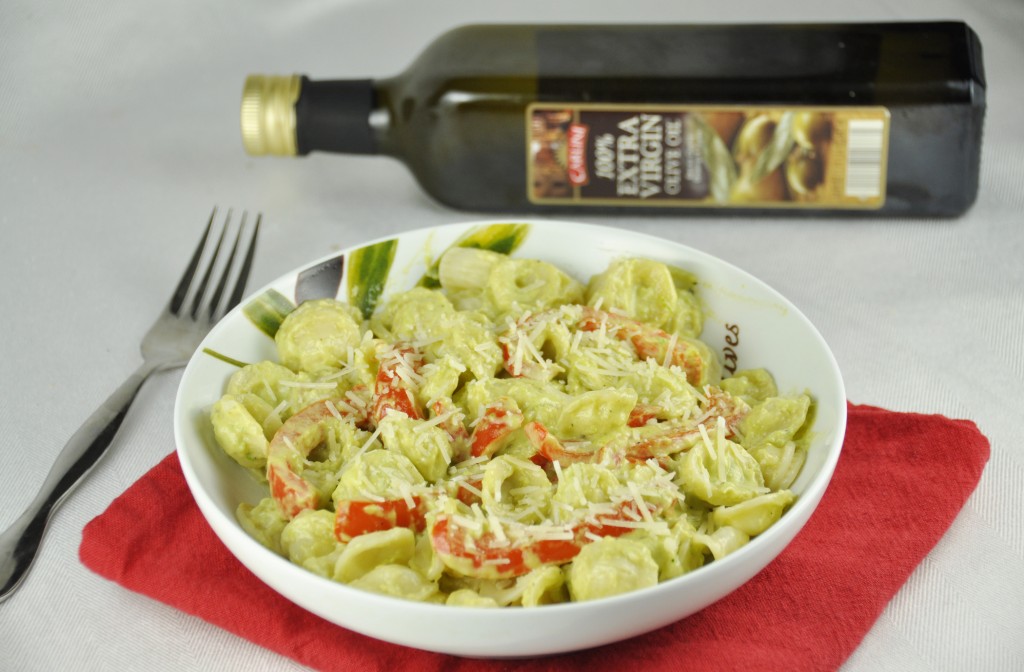 INGREDIENTS:
1 Avocado
1 Red Pepper — deseeded, quartered and sliced into thin strips
8 ounces Orecchiette Pasta (or any pasta will do)
1 cup heavy cream
1/3 cup shredded Parmesan Cheese
1 clove garlic – minced
Olive Oil
Salt & Pepper to taste
Mrs. Dash Original Blend Seasoning
DIRECTIONS:
Prepare pasta according to package instructions, drain, and drizzle with some olive oil so it won't stick together and then set aside.
Drizzle olive oil in your pot, and sauté the minced garlic.
Add in red peppers and sauté for 3-5 minutes over medium heat.
Add in cream and simmer for approximately 3 minutes.
Cut avocado in half lengthwise, remove pit and scoop  into a bowl. Mash it with a fork.  Once mashed, add to the boiling cream mixture.
Mix well and allow to simmer for an additional 3 minutes.
Add in cheese, season with salt and pepper to taste and, lastly, sprinkle in some Mrs. Dash to add a lemon kick to the dish.
Mix all together, pour over pasta and serve warm.
Recipe source:  dannyskitchen.me