Peanut Butter Crunch® Bar Dip
Indulgent Peanut Butter Crunch® Bar Dip is a sweet dunkable dessert dip recipe that's perfect for parties and made in less than 10 minutes. Slice up an apple and dig in!
Disclaimer: This post is sponsored by Ferrero, however all thoughts and opinions are my own.
Throw Crunch® Minis into a bowl with some cream cheese, whipped topping, and peanut butter – and you have dessert! Pull up a seat and grab a graham cracker, strawberry, or a spoon.
I'm sorry. I really really am. I know I shouldn't be giving you things like this. But it's too good not to share.
Maybe because it takes only ten minutes to make? Maybe because chocolate and peanut butter anything is a dream? Yeah, let's go with that.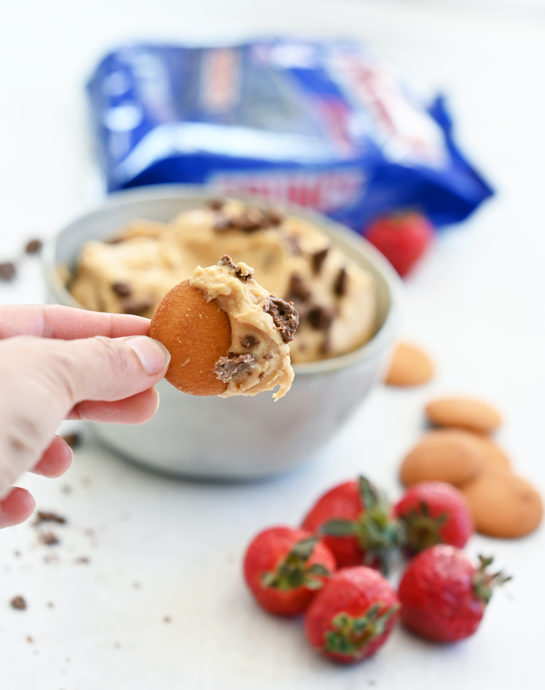 I used Crunch Minis made with 100% real milk chocolate and crisped rice in this recipe! One finger dunk into the mixing bowl was all it took to remember just how addictive Crunch is. Yup, this dip totally reignited my obsession with the Crunch that I loved growing up.
This dip is basically everything I want to eat in the summer…or fall…or at least – dip my apples into. If you choose apples as your dipper, I recommend something slightly on the tart side. The tart apples are enough to cut the sweetness of this dip, which is…let's just call it like it is: dessert.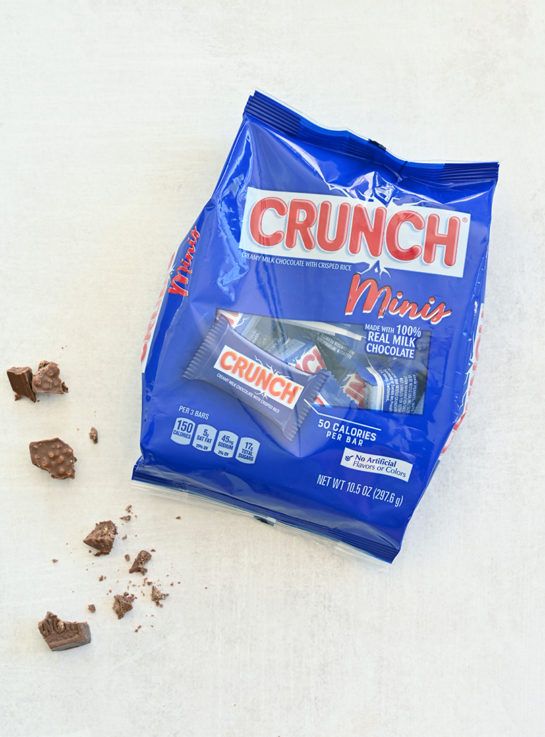 While this dip is definitely a comfort food, it has a bit of summer swirl in to it since it's a no-bake recipe.
This feels so old-school to me; like a dip I would have posted ten years ago! It's one of those dishes that you can bring to a potluck and it will be devoured. It's one where EVERYONE ends up asking for the recipe and one where you will find yourself making it over and over again.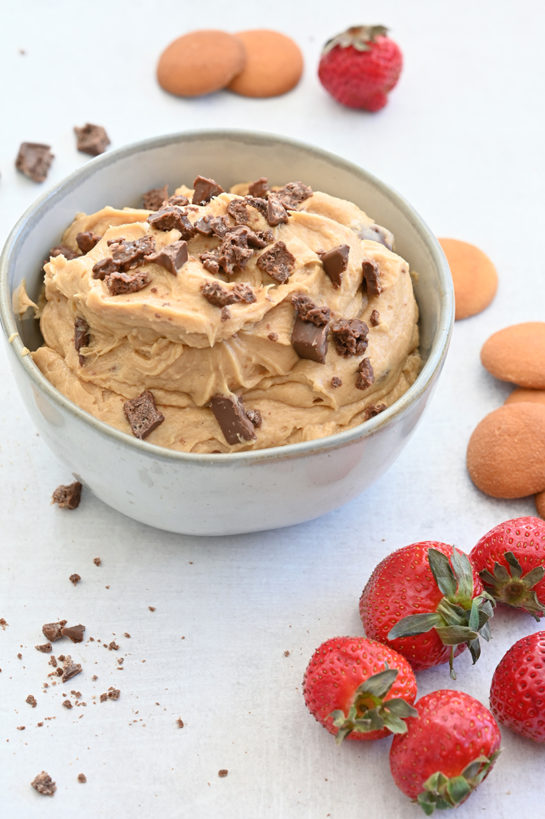 The cream base for this Crunch Bar Dip is simply cream cheese, peanut butter and whipped topping. I could eat this stuff with a spoon. It's a dream. Just go ahead and spread it on a graham cracker while you're at it. It's rich, so you only need a little bit.
Now mind you, I am a lover of most things dessert, am a self-proclaimed sugar junkie and will eat just about anything sweet without complaint. But could we could all agree this dip is just flat out sinful?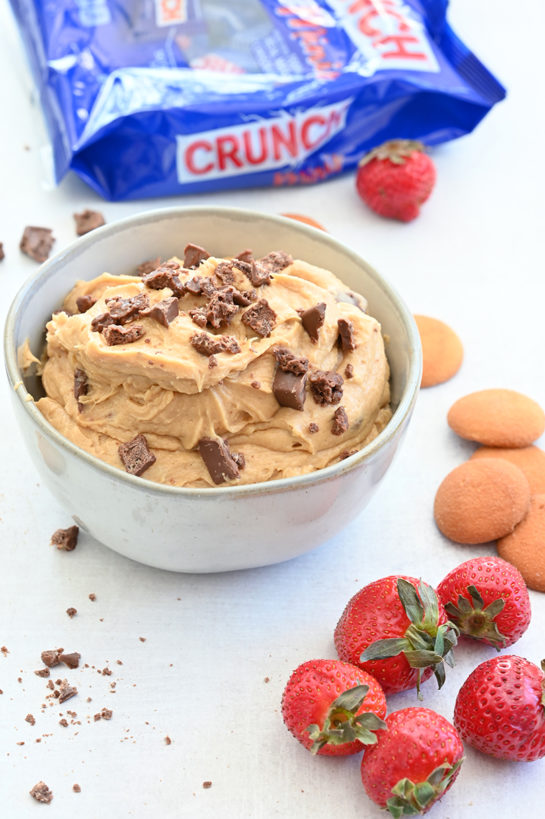 Very super unfortunately for me I was in the kitchen alone with nobody to share it with when I made this peanut butter Crunch Bar dip. Without any eye-witnesses to intervene, I was having trouble keeping myself together.
I kept thinking to myself, "Just one more bite won't hurt anything. You are dipping apples in it. You're eating fruit, so it's all okay!"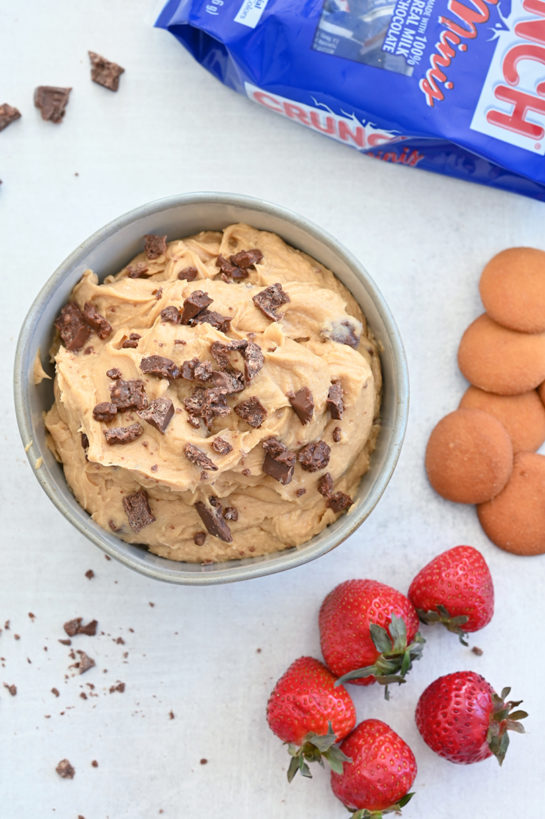 It's definitely one of those dips where you think you will just have a bite or two and end up scraping the bottom of the dish with a spoon…or your finger. I'm just guessing that this can happen.
This sweet Crunch Bar dip will be the star of your next party! It is the type of recipe that gets rave reviews from everyone that tries it. It's so delicious and rich and simple.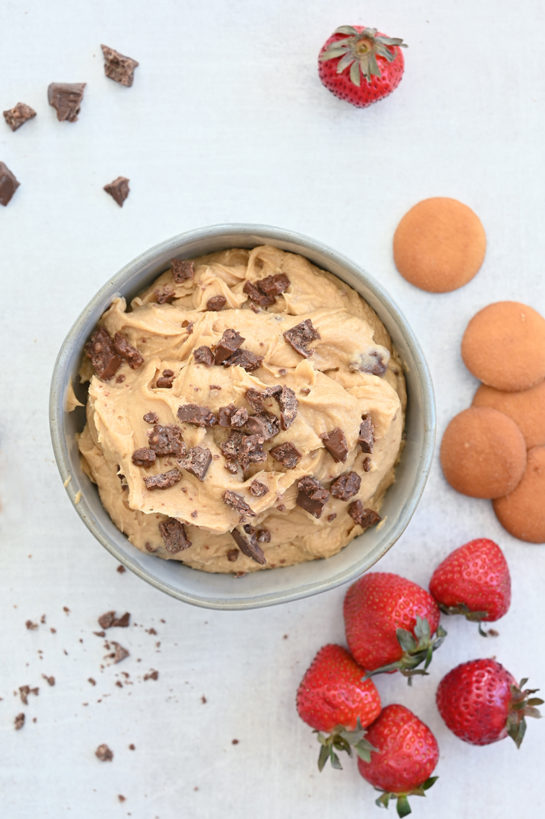 Find the Crunch Minis I used in this recipe at your local ShopRite store! Try not to eat them all beforehand.
It really doesn't get much easier than this and it makes me happier than I can even stand. This Crunch Bar Dip is like a last late summer hug. It is super addictive and comes with a fair warning from me. Eater beware!

Peanut Butter Crunch Bar Dip
Indulgent Peanut Butter Crunch Bar Dip is a sweet dunkable dessert dip recipe that's perfect for parties and made in less than 10 minutes. Slice up an apple and dig in!
Ingredients
1 (8 oz.) container whipped topping
1 (8 oz.) package cream cheese, softened to room temperature
1 cup creamy peanut butter
¾ cup powdered sugar
12 Crunch Minis, crushed
Extra Crunch Minis, crushed, for garnish
Instructions
In a large mixing bowl beat together (using a hand mixer or stand mixer) the softened cream cheese, peanut butter, and powdered sugar until well combined.
Fold in whipped topping with a spatula until well combined.
Add crushed Crunch Bar candy and mix in with a spoon.
Refrigerate until ready to serve. Add extra crushed Crunch bar to the top before serving!
Enjoy!