Slow Cooker Pumpkin Spice Lattes
Slow Cooker Pumpkin Spice Lattes meant for a crowd is the perfect recipe to serve at a fall holiday party! If you have a love for fall flavors and letting your crock pot do the work as much as I do,  you must make these!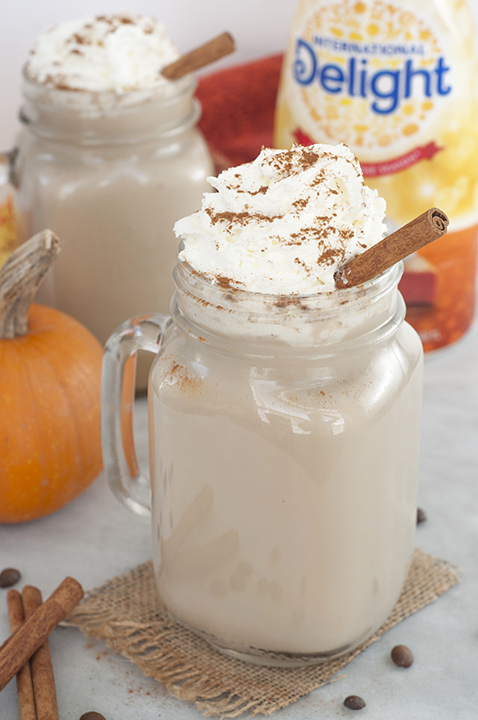 These Slow Cooker Pumpkin Spice Lattes, you guys. Summer is obviously my favorite season of all time and anyone who has been a regular reader of my blog knows that.
As much as possible, I resist and go into denial with the idea of the weather cooling off and all things summer coming to an end, but there's just something about fall.
I do have to admit that I love the cozy days/nights, the wonderful smells, and the comforting food.  It doesn't get any more seasonal than these Slow Cooker Pumpkin Spice Lattes!  Pumpkin Spice season doesn't last forever so I must use it in as many ways as possible… right this instant.

I'm so glad you're here! Follow along on

Pinterest

for more inspiration!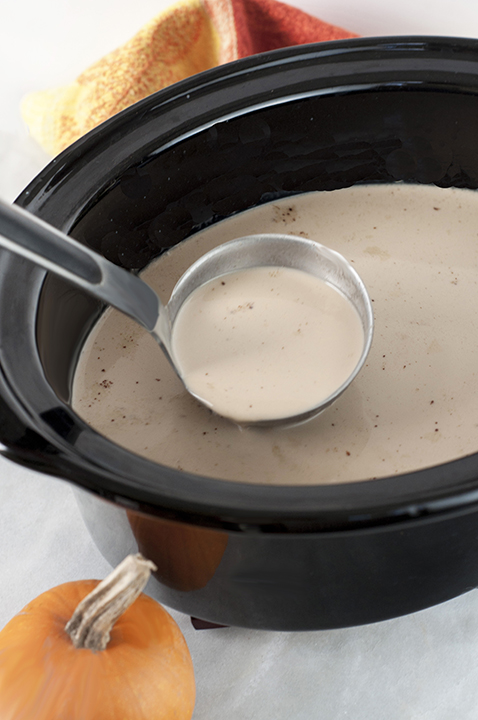 I love making hot drinks in the slow cooker and I've already done it with my Creamy Crock Pot Hot Chocolate and my Spiced Apple Cider.  A big part of me wanted to find a way to make a large batch of one of my favorite fall coffee drinks, the Pumpkin Spice Latte.
These Slow Cooker Pumpkin Spice Lattes will be the biggest hit at your parties because nobody in their right mind could pass up a warm caffeinated beverage loaded with pumpkin spice.  To get a bit creative, I used International Delight Pumpkin Pie Spice creamer as part of the dairy component in this recipe. 
This is seriously the perfect drink to serve at a fall breakfast or brunch, or as an after dinner drink.
Although this is a sweetened drink, it is much better than the coffee drinks you buy at the store and doesn't have all of those flavored syrups added to it. It's cheaper to make your own!
A little bonus is the added nutrition from using real pumpkin. The creamer gives it that extra boost of pumpkin spice flavor.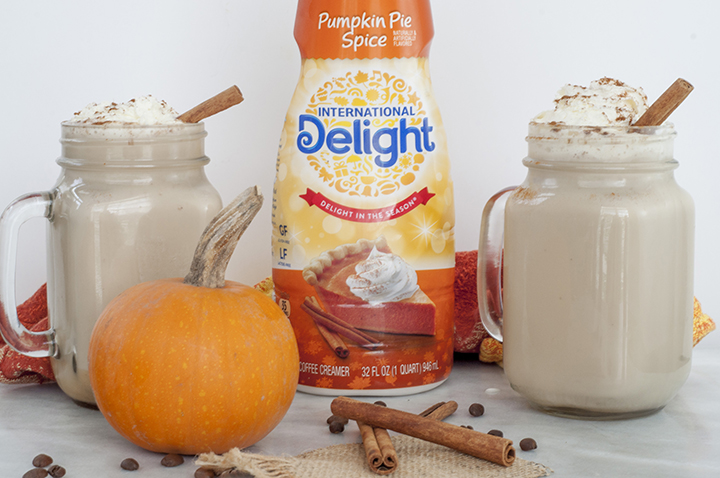 As you know (because I talk about it all the time), International Delight is the only brand I use for creamers, iced coffee, etc.  Their caramel creamer holds a special place in my heart and I've created many recipes using this creamer as well as other flavored creamers.
I've heard from some readers recently saying that they are still experiencing hot weather where they live and are awaiting the fall temperatures.  If that is the case for you, International Delight has a NEW Pumpkin Pie Spice Iced Coffee that would be perfect for you!  You can still enjoy the flavors of fall on those warm mornings.  No need for you to feel left out of pumpkin spice season!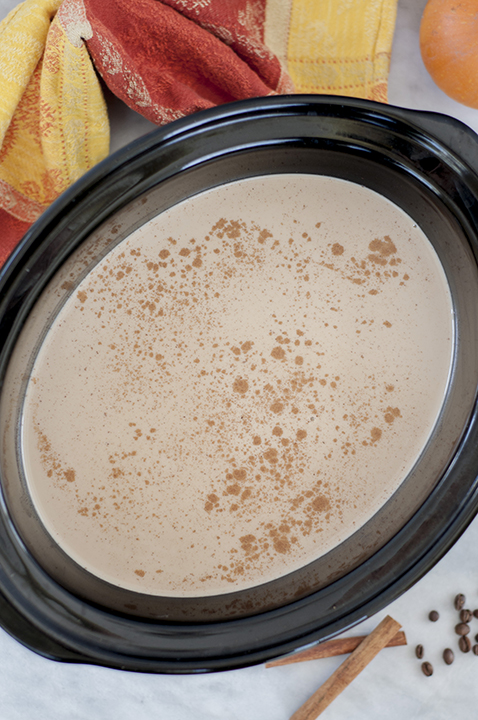 To make an iced version of these Slow Cooker Pumpkin Spice Lattes for all of you still enjoying that warmer weather, after slow cooking to mull the flavors, just chill it in the refrigerator and serve over ice.  Whether hot or cold, this stuff is happiness in a mug.
For leftovers, simple refrigerate it and reheat at a later time.  You can reheat these latte's one cup at a time in the microwave or heat up the whole batch in a large pot on top of the stove or in your slow cooker on the warm setting. This will keep in the fridge for several days. I love having it on hand for making a quick latte!
These Slow Cooker Pumpkin Spice Lattes are totally going to be an autumn tradition in my house and may be my signature fall beverage of choice for 2016.  Whether you make it for just an ordinary, cozy night in, Thanksgiving day, Christmas Eve, or just any ol' random party, just promise me you'll make it.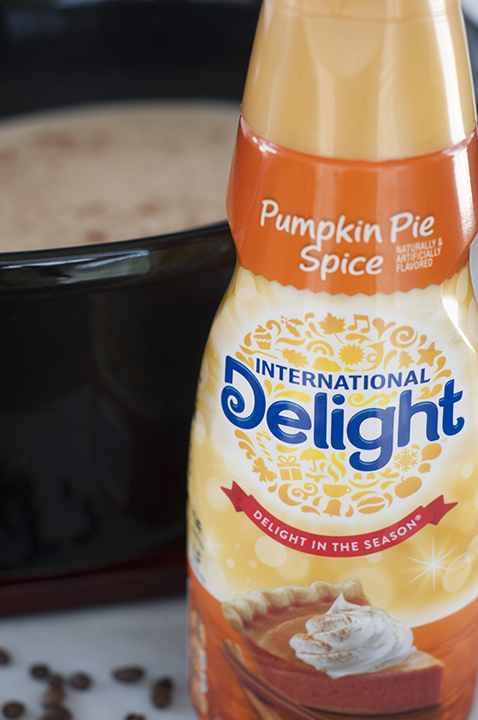 Note: I bought the gigantic 32 oz. size of the creamer because I want to use it in anything and everything (hey, go big or go home). Please know that you can also buy it in the pint size if you are just using it in your coffee each day and don't need it in large quantities.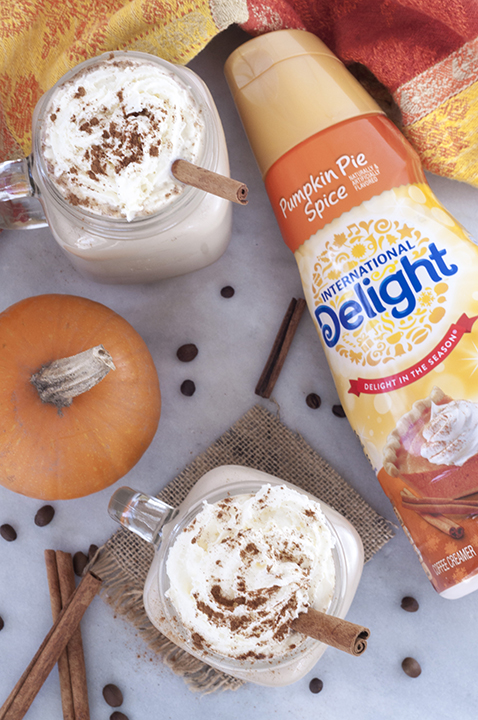 Slow Cooker Pumpkin Spice Lattes
Prep time:
Cook time:
Total time:
Slow Cooker (Crock Pot) Pumpkin Spice Lattes meant for a crowd is the perfect recipe to serve at a fall party! If you love fall flavors you must make these!
Ingredients
5 cups strong brewed coffee (can use decaf if serving to children)
3 cups whole milk
1 cup International Delight Pumpkin Pie Spice Creamer
½ cup heavy whipping cream
¼ cup canned pumpkin (not pumpkin pie filling)
⅓ cup brown sugar
1 teaspoon vanilla
2 teaspoons pumpkin pie spice
Whipped cream topping, if desired
Instructions
In slow cooker/crock pot, mix all ingredients except whipped cream topping. Beat with whisk until well combined.
Cover and cook on high heat setting for 2-3 hours, stirring once each hour. Switch to warm setting on your slow cooker if serving at a party and want to keep lattes warm.
Serve in mugs or mason jar drinking jugs, and top with whipped cream topping and caramel sauce.
Optional: Sprinkle top with cinnamon or nutmeg, garnish with a cinnamon stick for a stir stick.
This is a sponsored conversation written by me on behalf of International Delight. The opinions and text are all mine.