Orange-Glazed Eggnog Quick Bread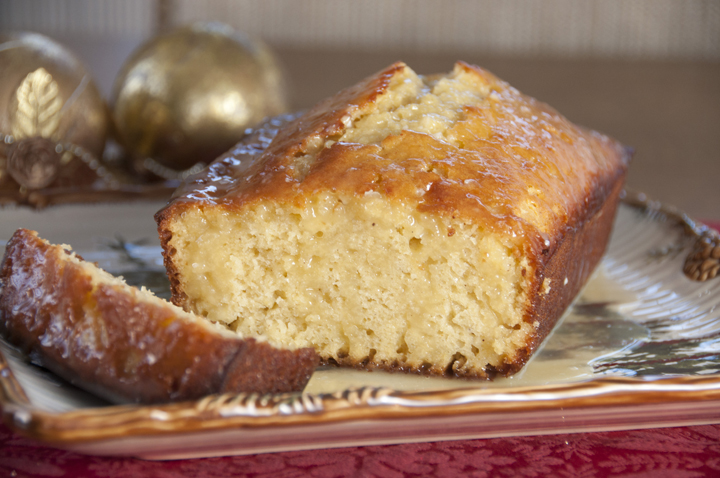 2 eggs, beaten
1 cup Bolthouse Holiday Nog (or regular eggnog)
2 teaspoons orange flavored extract
1 cup white granulated sugar
1 teaspoon vanilla extract
½ cup unsalted butter, softened
2¼ cups all-purpose flour
2 teaspoons baking powder
½ teaspoon salt
¼ teaspoon ground nutmeg
¾ cup powdered sugar
3 tablespoons Bolthouse Holiday Nog (or regular eggnog)
1 teaspoon orange extract:
Preheat oven to 350 degrees F. Grease bottom only of a 9x5-inch loaf pan.
Blend together the eggs, eggnog, orange extract, sugar, vanilla and butter in a bowl.
Sift together the flour, baking powder, salt and nutmeg in a separate bowl.
Add dry mixture to eggnog mixture and stir just enough to moisten (don't over-mix for best results); pour into prepared pan.
Bake for 50-60 minutes, or until a tester inserted in the center comes out clean (mine took the full 60 minutes). CHECK it after 50 and cover loosely with tin foil so the top doesn't brown too much. When done, cool for 10-15 minutes, and remove from pan. Cool completely on a wire rack and pour glaze over the top after you transfer it to a serving plate.
Serve or wrap tightly in plastic wrap and/or foil, and store in refrigerator.
In a small bowl, combine all glaze ingredients and pour over the bread.
Recipe by
Wishes and Dishes
at https://wishesndishes.com/orange-glazed-eggnog-quick-bread/