Old Fashioned Beef Stew
I hope everyone had a safe St. Patty's day weekend.  Did anyone do anything  fun?  I went to church, grocery shopped, and watched my #1 show, "Revenge".  So nothing really out of the ordinary and no corned beef and cabbage for me.  I'm not gonna lie – I will miss all the green food and drinks that come around this time of year.
I'm going to sound like a broken record here, but it's STILL snowing and mid-winter temperatures here in Rochester.  We are well below what should be our average temperatures for this time of year and no end of it in sight.  Spring, where are you?!?!

Since it's still wintery here, I thought I'd share a nice wintery recipe with you.  The house smelled so good while this was cooking and I prayed it would taste as good as it smelled.  Well, it definitely did.  I took a recipe I had seen on the Food Network a while back and changed it….I changed it quite a bit.  So whenever I do that, I'm completely shocked when something turns out just the way I had hoped it would (or at least edible).  Mr. Wishes and I both loved it! It was not too hard to make it and it is really tasty.  The spices really add a warmness that I think makes the stew something special.

I served this over buttered egg noodles because that was what I had on hand.  Some peeled and cut up Yukon gold potatoes would probably be awesome added to this stew!  Then you wouldn't even need to serve it over anything because that would take care of your starch. I would add more liquid if you are doing that, though.
You better believe this will be my go-to beef stew recipe from now on.  Between the incredible aroma and how good it looked, I may have done a "quality check" every few minutes during the last 1/2 hour of cooking.  Patience is definitely not my thing.  By the way, the leftovers were even better the next day…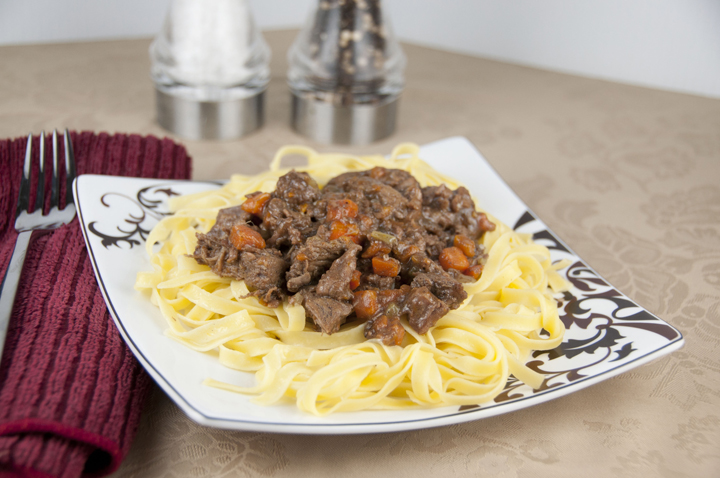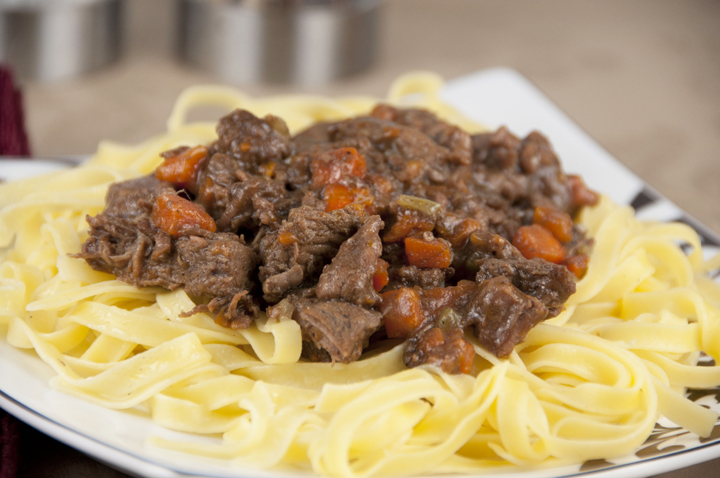 INGREDIENTS:
*makes 4-5 servings
2 pounds stew beef
2 tablespoons vegetable oil
2 cups beef broth
1/2 cup red wine (I used Burgundy)
1 tablespoon Worcestershire sauce
2 cloves garlic, peeled
1 or 2 bay leaves
1 medium onion, chopped
1 teaspoon salt
1 teaspoon sugar
1/2 teaspoon pepper
1/2 teaspoon paprika
Dash ground allspice or ground cloves
3 large carrots, sliced
3 ribs celery, chopped
2 tablespoons cornstarch
DIRECTIONS:
Brown meat in hot oil.  Add broth, wine, Worcestershire sauce, garlic, bay leaves, onion, salt, sugar, pepper, paprika, and allspice.  Cover and simmer 1 1/2 hours. Remove bay leaves and garlic clove.  Add carrots and celery.  Cover and cook 30 to 40 minutes longer.
To thicken gravy (if needs thickening), using a separate bowl combine 1/4 cup water and cornstarch until smooth. Add mixture to pot to create a nice gravy. Stir and cook until bubbly.