No-Bake Cinnamon French Silk Pie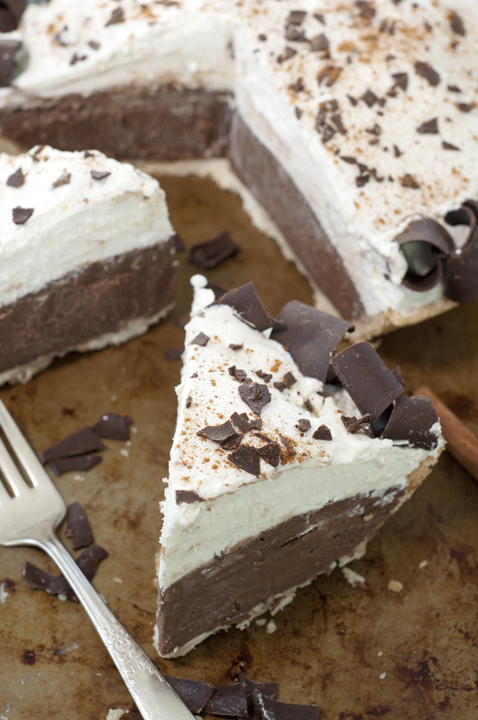 1½ cups graham cracker crumbs
5 tbsp butter, melted
2 tbsp granulated sugar
½ tsp cinnamon
⅔ cup granulated sugar
2 eggs
2 oz unsweetened baking chocolate
⅓ cup butter, softened
1 tbsp cinnamon
1½ cups heavy whipping cream
¼ cup powdered sugar
Chocolate curls and/or chocolate shavings, for garnish (optional)
Blend together graham cracker crumbs, melted butter, cinnamon and granulated sugar until it starts to clump together.
Press the graham cracker crust into a 9 inch pie pan.
In a small saucepan, beat granulated sugar and eggs with whisk until blended. Cook over medium heat until instant-read thermometer reads 160°F. Mixture should thicken a bit and coat back of metal spoon - you don't want it to be too runny.
Remove from heat; stir in chocolate until fully melted and smooth. Cool slightly; mix in softened butter until well incorporated.
Add cinnamon and mix thoroughly. Let cool until just warm; stir occasionally as it cools.
In large bowl, beat whipping cream until it begins to thicken. Add powdered sugar; beat until stiff peaks begin to form.
Fold half of the whipped cream into the chocolate mixture; pour into your pie crust. Top pie with remaining whipped cream (I made extra whipped cream because I like a LOT of whipped topping on my pie. Feel free to do so, also, but it's not necessary).
Garnish with chocolate curls or chocolate shavings and a dusting of cinnamon (optional). You can make chocolate curls by using a vegetable peeler to peel off chocolate length-wise from a 6 ounce bar of semi-sweet or dark chocolate.
Refrigerate until ready to serve or for at least 1 hour. Cover and refrigerate leftovers.
Recipe by
Wishes and Dishes
at https://wishesndishes.com/no-bake-cinnamon-french-silk-pie/