Mini French Toast Sausage Roll-Ups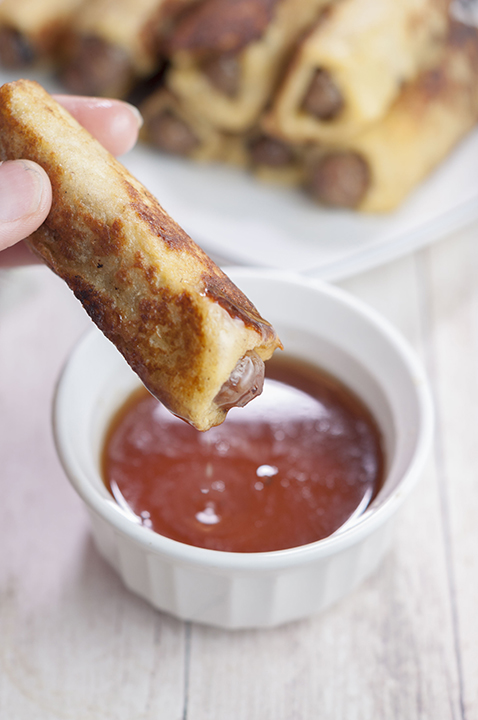 10 Johnsonville breakfast sausages
10 slices regular size sandwich bread
2 eggs
¼ cup heavy cream
½ teaspoon ground cinnamon
¼ teaspoon vanilla extract
butter, for greasing the pan
maple syrup, for dunking
Cook the breakfast sausages in a skillet according to directions on package.
While they are cooking, trim the crusts off the bread slices and flatten them with a rolling pin.
In a small mixing bowl, whisk together the eggs, cream, cinnamon and vanilla until combined..
Roll each sausage link up in one piece of bread and trim the ends off, if needed, to fit the sausage. If the sausage sticks out a bit, that's fine.
Heat a skillet or non-stick pan over medium heat and add about a tablespoon of butter; melt.
While butter is melting, dunk each sausage roll into the egg mixture, coat completely on all sides, let excess batter drip off, and place in the hot pan. Turn with tongs to cook on all sides. This will only take a few minutes.
When each side is nicely browned, immediately remove from pan to prevent burning.
Serve with maple syrup for dunking. Enjoy!
Recipe by
Wishes and Dishes
at https://wishesndishes.com/mini-french-toast-sausage-roll-ups/