Mango, Pineapple & Cranberry Salsa
  Summer is the time to experiment with different seasonal salsas. And why not take advantage of all of the juicy ripe fruit in season right now?  Chips and salsa or chips and guacamole are my go-to appetizer when the weather is hot.  We eat them constantly!  You have likely seen mango salsa here and there at restaurants or at the grocery store, but what about mango pineapple cranberry salsa? 🙂  I love adding mango to food and drinks…like this Banana-Mango Smoothie or my Mango Gaucamole.
This would be perfect for an appetizer, snack or a side dish for a BBQ party.  The nice thing about fruit salsas is that you can definitely serve them traditionally as you'd serve tomato salsa but you can also use them as more of a chutney served over some grilled chicken or pork.  You can also add anything you like to this….next time I might add black beans!
Enjoy!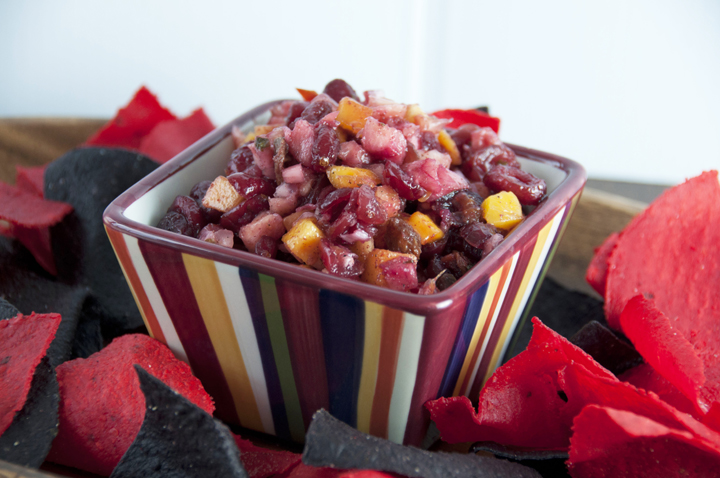 INGREDIENTS:
1 ripe mango, peeled, cored and diced small (about 2 cups)
1 cup finely chopped cranberries
1 cup diced pineapple
½ cup minced red onion
1 jalapeno pepper, seeded and minced
4 tablespoons lime juice
3-4 tablespoons chopped cilantro
Salt, to taste (I used about 1/4 teaspoon)
DIRECTIONS:
Mix all of the ingredients together in a bowl, toss well,  and season with salt, to taste.  Serve with your favorite tortilla chips.
The salsa can be stored in an airtight container in the refrigerator for a couple of days.