Hasselback Garlic Cheesy Bread
It's hard to believe it's July already.  It's even more difficult to believe that 2012 is already half over, but I'm looking forward to all that is coming up this month: 4th of July festivities (yay, fireworks!), lots of birthdays (my nephews turn 10 and 6!) and my brother's wedding is in less than 3 weeks!
So, I'm sure that by now everyone's heard of hasselback potatoes because there are so many recipes floating around out there and they seem to be growing quickly in popularity.  In case you haven't heard of them, they are the Swedish version of baked potatoes.  They were popularized as the namesake dish of the restaurant at the Hasselbacken Hotel in Stockholm, Sweden.  They are normally more or less a fancied-up baked potato stuffed with butter and garlic and then cooked until crunchy on the outside, and remain fluffy and tender on the inside.  They are prepared by making a series of deep (but not all the way through) slits along the top of the potato and you can put any toppings or seasonings inside the slits.  Good to know, right?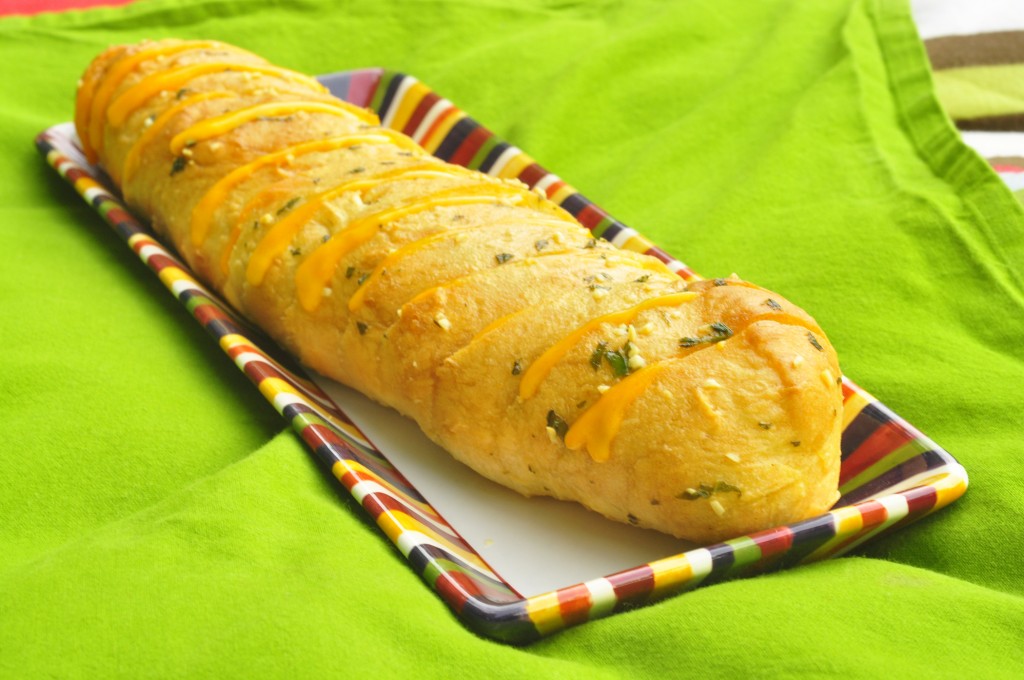 As soon as this idea of hasselback bread was put in my mind I knew I had to make it ASAP!  This is a very unique and delicious way to serve bread for any meal or to just have alongside some tomato soup, or any kind for that matter,  for a simple weeknight meal.
I'm just going to come out and say that this bread is AMAZING. Seriously.  If you are looking for ideas for any party, you should definitely make this bread.  I suppose you should be warned, though: it is quite addictive. In fact, maybe you should plan to bring more than two to your party. It's extremely gooey from the melted cheese and the homemade melted garlic basil butter really takes this bread to the next level.  While baking, it smells rich and wonderful and tastes as cheesy as I could have wished it to.
OK fellow cheese freaks:  you need to go and make this bread.  Oh, and you can use whatever cheese suits your fancy.
Have a safe and happy 4th of July!  Does anyone have any big plans?
INGREDIENTS:
1 cup Warm Water
1 Tablespoon Honey
1 envelope Active Dry Yeast (2 1/4 Teaspoons)
1 teaspoon Salt
3 cups Bread Flour
Olive Oil, For Greasing Surfaces
⅓ pounds Sharp White or Yellow Cheddar, Or Any Other Cheese You Prefer
Garlic basil butter (recipe below)
*If you need this done in a hurry, pre-made pizza dough or bread dough can be used
Garlic Basil Butter:
1/4 cup softened butter
1 teaspoon freshly chopped basil
1 teaspoon minced garlic (more or less, depending on your taste)
Combine ingredients in a bowl and mix to combine.
DIRECTIONS:
In a large bowl, stir water, honey and yeast together. Let yeast proof 5 minutes. Once you know yeast is active, stir in salt and the flour in 1/4 cup increments. If you are using a stand mixer, be sure to not increase your speed higher than a 2 or 'stir'. Once dough starts pulling away from the sides and the bowl seems to be pretty clean, set a timer for 5 minutes and walk away. Let the machine knead the dough. After 5 minutes, dough should be smooth and tacky but when touched shouldn't leave any dough on your fingers.
Grease the bowl and the dough. Cover with plastic wrap or a kitchen towel and let rise 1 hour or until doubled in size.
Punch down dough and cut into two equal portions. Form into two long baguettes the length of the cookie sheet.  Cover with plastic wrap and rise 30 minutes. Start to preheat oven to 400 degrees and place dough close to the oven where it's warm. Once oven is preheated, remove plastic wrap, from the dough reduce oven to 350 degrees, put the bread into the oven and bake for 20 minutes.
In the meantime, slice the cheese into thin slices and melt the butter.
Pull loaves of bread out of the oven after 20 minutes and brush with the melted garlic butter. Bake another 5-7 minutes or until bread begins to turn a golden brown. Remove from oven and cool 15 minutes.
Cut 1-inch slices 3/4′s of the the way through the loaves. Brush garlic basil butter in between each slice and fill with a slice of cheese. Bake another 3-5 minutes or until cheese is completely melted.
Serve immediately!
Recipe source:  adapted from food.com 
butter recipe from howsweeteats.com