Guinness Beer Bread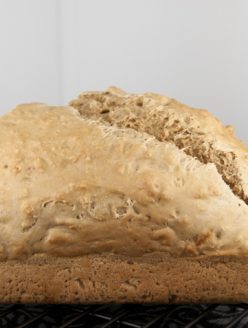 4 cups all-purpose flour
2 tablespoons baking powder
1 teaspoon salt
¼ cup granulated sugar
12 ounces Guinness stout
2 eggs, slightly beaten
Preheat oven to 375F degrees.
Sift together flour, baking powder, salt and sugar.
Add Guinness and eggs; stir just until blended.
Pour into greased 9x5x3 loaf pan.
Bake at 375F for approximately 50 minutes. Take out of oven and insert a knife and make sure the knife comes out clean – that means your bread is done.
Remove from pan and cool on wire rack.