Giant Pina Colada Cookie Cups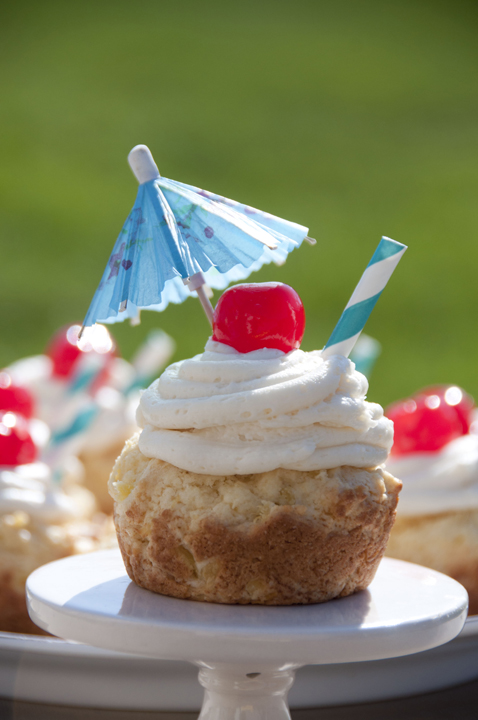 Serves:
10 cookie cups, depending on size
1 stick butter, softened to room temperature
2 large eggs
8 oz crushed pineapple, drained very well!
1 box white cake mix
1 tsp. coconut extract
3 Tbsp all purpose flour
¾ cup unsalted butter, softened to room temperature
3 cups confectioners' sugar
¼ cup heavy cream
2 teaspoons vanilla extract
½ teaspoon coconut extract
¼ teaspoon salt
Preheat oven to 350 degrees F (175 degrees C). Grease jumbo muffin tin with cooking spray.
Mix all the ingredients together in a bowl with an electric mixer. Drop batter into muffin tins (fill about half way).
Bake for 17-18 minutes or until set.
Make indentation/craters in cookie cups while still hot with the back of a tablespoon or small cookie scoop (step pictured above). This indentation is where you will put frosting into.
Cool completely IN the pan on a wire rack.
Run a butter knife around the edges of the cooled cookies to loosen and gently lift out. I didn't need to do this, I just pulled them out with my fingers.
In a bowl of a stand mixer or hand-held mixer fitted with paddle attachment, beat the softened butter on medium speed until smooth and creamy (about 2-3 minutes). Turn mixer off and add confectioners' sugar, heavy cream, vanilla, and coconut extract. Mix on low for 1 minute then increase to high speed and beat for 3 full minutes to get it nice and creamy. You can add powdered sugar if frosting is too thin or more cream if frosting is too thick, but mine was perfect.
Transfer frosting to a piping bag, or make your own piping bag using a ziplock bag (put filling in bag, work it to the bottom of one corner, twist off the top and snip off a small bit of the corner).
Frost the cookie cups (I used Wilton #12 piping tip) once they are completely cooled. Pipe the filling in high, swirling mounds into the indentation you made earlier and mound it on top, like frosting a cupcake. There may be leftover frosting depending how much you use on each cookie cup.
Top with a cherry, shaved coconut, and/or cup up straw pieces.
Recipe by
Wishes and Dishes
at https://wishesndishes.com/giant-pina-colada-cookie-cups/