Where to Eat in Boston
Where to eat in Boston: my review of the best Italian restaurants and bakeries.  Giacomo's, Panza, Bricco, Emack and Bolio's, Modern Pastry, and Mike's Pastry are true gems located in the North End Little Italy on Hanover street and are a must try for great food when eating here!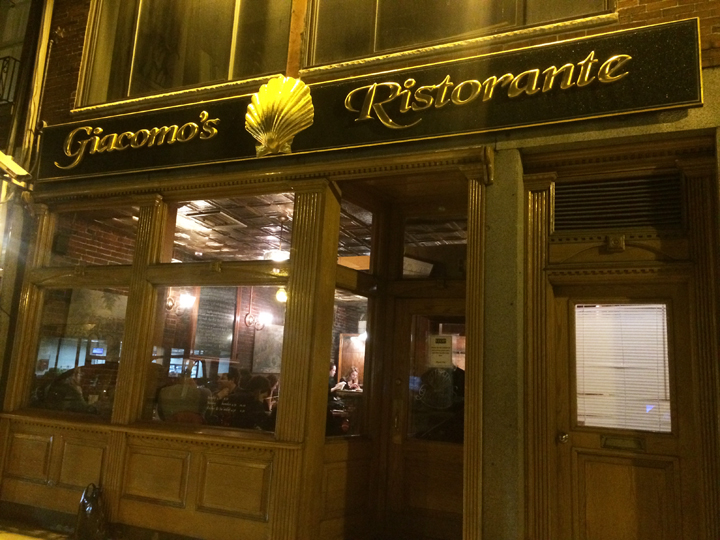 I find that whenever my husband and I travel that it's always a challenge to sort out the truly good restaurants from the tourist traps. Giacomo's and Panza, as well as the others restaurants I'm going to briefly tell you about in this Where to Eat in Boston post, fall firmly into the former. They lived up the great reviews we read on Yelp.  It was well worth the subway rides or the headache of parking and time spent to get there once we tasted the heavenly food.  All of these restaurants are casual dining and very close to each other, with the exception of Emack and Bolio's.  For some, you will wait in line outside (maybe even in the cold, depending on time of year) but I PROMISE you it's worth your time.
Giacomo's
The best food ever and is the place to eat in Boston!  The ONLY downside to eating here is the wait.  It's a first come first serve type of restaurant and it's a TINY space so you will be waiting outside whenever there is a line (and from what I've heard – there is always a line from 5 p.m until closing).  That's how you know you found a quality restaurant!  I wish it didn't take so long to get in and the line was daunting at first, but I really believe it was worth the wait and the line really does go by fast…..I think they need to buy the run down flower shop next door and expand!  We went on a Wednesday night and I think we waited in line for a total of 45 minutes, but you would wait that long for a lot of popular restaurants (the only difference is that you are outside waiting in this line, so keep that in mind in the colder months or on a rainy day and dress appropriately for the weather.)
The menu: full of selection, customizability (substitute their famous, homemade Fusilli pasta in any pasta dish for an extra 5$ – worth it), and reasonable prices.  For an appetizer, we ordered their special appetizer for the night – a large sphere of Burrata cheese on top of a small pile of tomatoes, roasted red peppers and basil and drizzled with balsamic vinegar.  It was perfectly creamy on the inside and the flavors were so good.  I ordered the delicious Butternut Squash Ravioli for my dinner and at just 15$ I was very happy with my choice – it was slightly sweet and very rich.  The food is all very fresh here and definitely a great place to eat in Boston! 
I have read that the servers are rude here, but honestly, I didn't have that experience at all.  Our waitress was really friendly and didn't make us feel rushed at all despite the line outside being ten deep.  The service was wonderful, efficient, and the food came out SO fast.  If you are looking for a slow dining experience or a romantic date night this might not be the best place because of the fast pace of the whole process and the fact that the space is so small that you sit right on top of other people…I didn't mind that much though.  It's all about the food and the experience here and it's my new favorite for Italian! The food is unmatched!
Note: this restaurant is CASH ONLY!  There is an ATM is right across the street, so make sure you have cash before you go in.
355 Hanover St
Boston, MA 02113
Panza
Things were a bit hectic when we showed up here and we waited over an hour for a table (I don't think that's typical, but I am not sure.)  Again, we waited out in the cold for most of the wait and ultimately got some of the best Italian food ever at the end of our wait which made it well worth it.  There would be nothing worse than disappointing food after waiting that long in the freezing cold!
The restaurant is a casual, intimate atmosphere and the staff were really nice and gave us complimentary bread to start, which was very good.  You also sit VERY close to other people here, so keep that in mind.  It's almost like you are seated at your table with strangers – that's how close 🙂  We spoke to some locals during our wait to be seated and they recommended the chopped salad.  I thought, "How good could a chopped salad be"?  I was wrong – it was amazing!  It had pancetta, artichokes, fresh mozzarella, and an amazing house Italian dressing.  I was very impressed!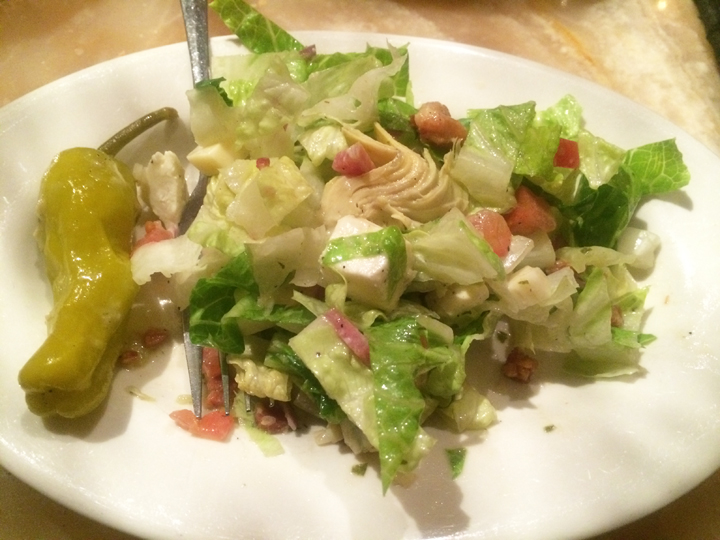 I had probably the best spaghetti carbonara ever here – I was absolutely in love!  The pasta was a perfect al dente and the sauce was the perfect amount of creaminess…and I am a pasta carbonara SNOB.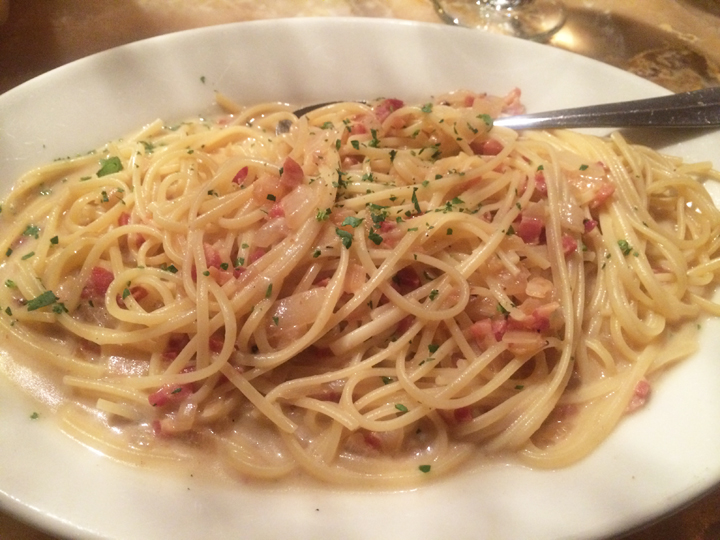 Overall, the experience was fantastic and it's a a top notch place to eat in Boston.  There was some room for improvement as far as the ease of getting a table efficiently, but that is trumped by the great food you will receive.  It is definitely worth the trip.
Note:  Apparently you shouldn't bother making reservations here, although they do take them, as some locals informed us that they overbook a lot and normally won't sit you anywhere near your reserved time.
Note: this place DOES accept credit card.
326 Hanover St
Boston, MA 02113
Bricco – North End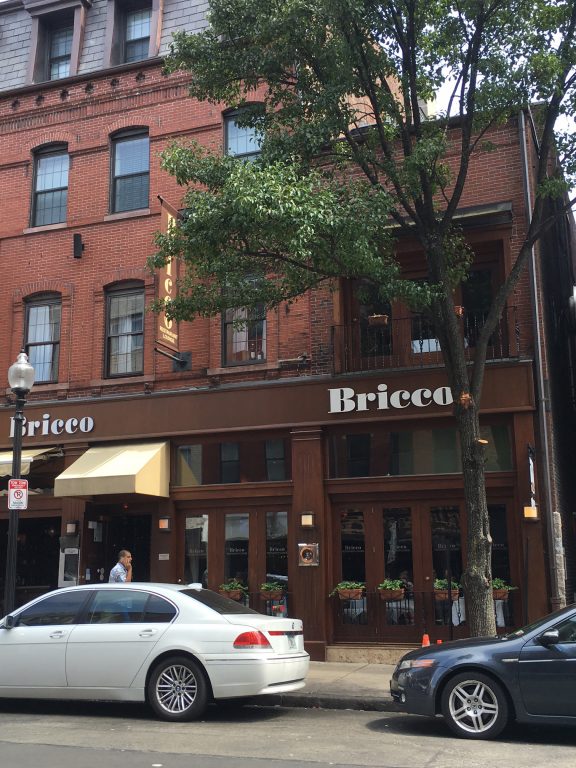 Bricco is a great place to eat in the trendy Italian part of the North End and they do take reservations so you may want to call ahead as it can get really busy.  My husband and I both loved the ambiance and low lighting.  The cool thing about this restaurant is that even in the late hours they still make their delicious brick oven pizzas and have several other late-night menu options!  We showed up around midnight as we were coming from the Red Sox game and ordered the Salsicce e Broccoli Rapa pizza.  It was a white pizza topped with spicy Italian sausages, broccoli rabe & mozzarella.  The crust was to die for and I am very picky about my pizza crust!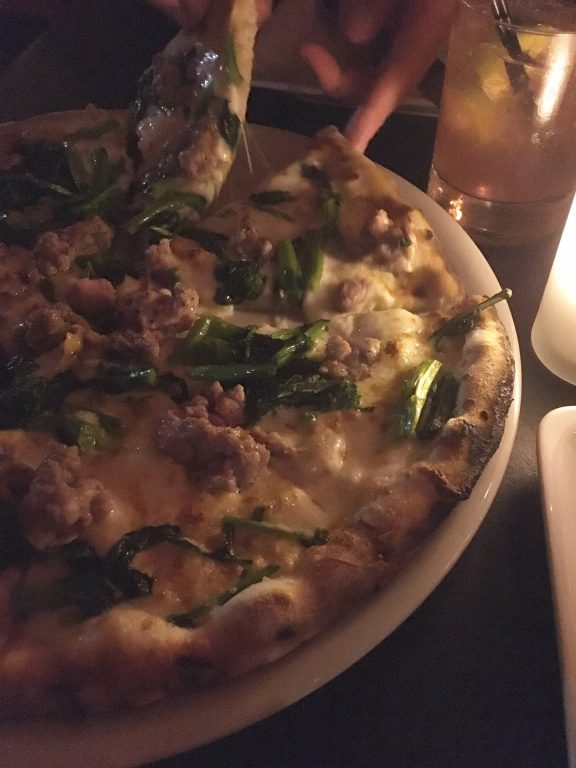 For a cocktail, I got the Italian Mule.  Being Italian, it just felt right 🙂  This drink had Belvedere infused with rosemary, cranberry juice, ginger beer, and fresh lime juice.  Delicious and refreshing for a hot summer night!
A lot of the popular restaurants in Boston have you seated right on top of the table next to you but not this place.  It's perfect for a romantic dinner but it IS a pretty loud so it's not the easiest place to have a conversation.  Overall, this restaurant was amazing with upscale atmosphere and wonderful Italian fare. The staff were very helpful in making recommendations from the menu.
Note: This place accepts credit card.
241 Hanover St
Boston, MA 02113
Carmelina's – North End
It's pretty tight inside as most restaurants are on Hanover St., but surprisingly less confining than others similarly designed (architecture-wise).  Next time, and there will be a next time, I'm getting the Mama's Sunday Pasta (with meatballs, short ribs, and sausages).
Note: They accept credit card here.
307 Hanover St
Boston 02113

Mike's Pastry
 If in Boston for the first time, you have to go to Mike's for the experience and I read that if you don't go here when you are a tourist in Boston, you're doing it all wrong.  When we saw person after person walking in the vicinity with Mike's Pastry boxes in their hands like there was a free handout or something, we knew we had to check it out.
Mike's Pastry is a long time family owned business and makes a great variety of jumbo sized pastries.  Many people were standing on the streets eating their pastries outside in the cold because the place itself was so packed inside and it's hard to get a table.  The best decision we ever made was to order our pastries and take them back to the hotel with us and eat them where we could actually sit and relax.  This bakery was packed to the brim at 10:30 PM both nights that we went and one of those days was a weeknight (yes, we went twice!).  The line was long but it went by pretty fast.  I think we waited about 10 minutes each time we went.  All of that being said, the end result was amazingly delicious pastries.  Being Italian and having eaten at authentic bakeries in Italy, I can't say these were the BEST cookies and cannoli I have ever had, but they were excellent:  heavenly rich decadent desserts of crisp, light cannoli stuffed with various flavored ricotta cheese filling – just the right amount of creamy and sweet – and soft-baked cookies.
We got an Oreo cannoli, a peanut butter cookie, and an M&M cookie.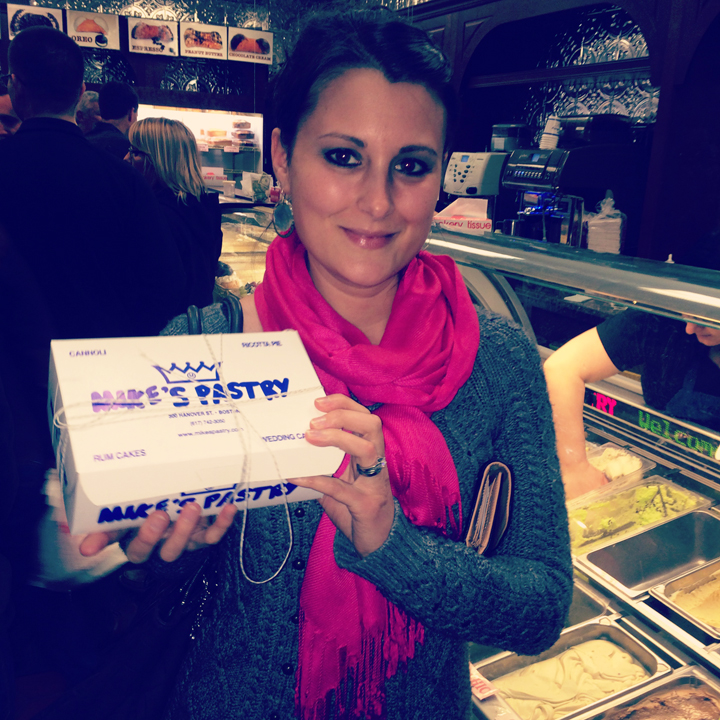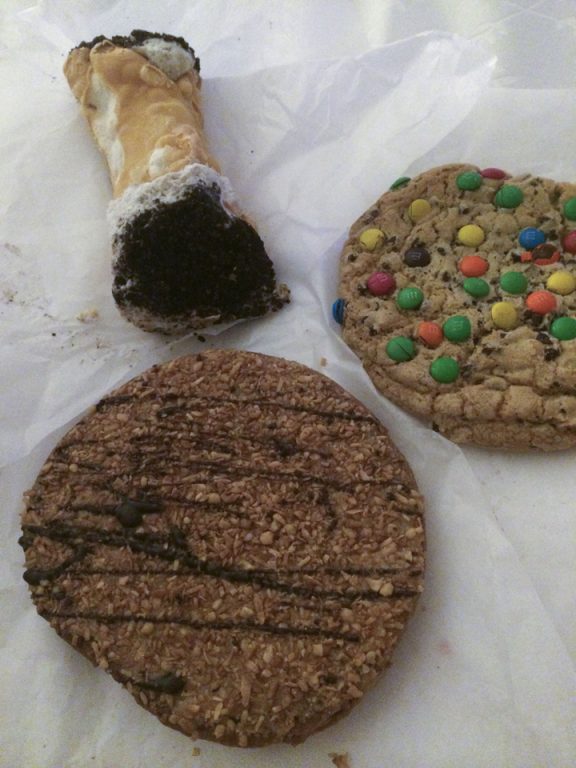 So, despite the long lines and stuffy environment from the crowds, there's a good reason to visit Mike's!  They also give you your sweets packed up in a white box with the blue writing on it, tied up in blue & white twine, the old fashioned way.  I loved that!
Note: Cannolis are $3.50 each so this place is a little overpriced, in my opinion.
Also note: this restaurant is CASH ONLY!
300 Hanover Street
Boston, MA 02113
Modern Pastry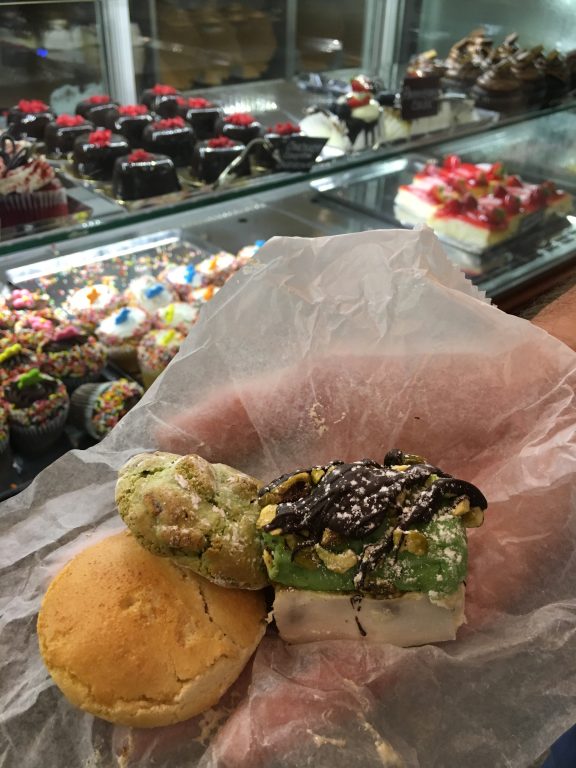 Modern Pastry is another family-owned and operated Italian Bakery that is right near Mike's.  I'm realize people have their opinions on which is better but I was happy with the pastries I bought at both.  I got the Torrone as well as two macaroons, one being pistachio flavored.  All were very tasty!  It's a bit overwhelming walking in there and seeing the endless desserts and pastries to choose from but I felt a bit less pressure here as I did at Mike's.  It wasn't quite as crowded at the time my husband and I walked in and we could sort of take our time in deciding.  At Mike's you need to know what you want before you even get up to the counter which gives me anxiety! Ha ha.
Note: this bakery is cash only!
257 Hanover St
Boston, MA 02113

Emack and Bolio's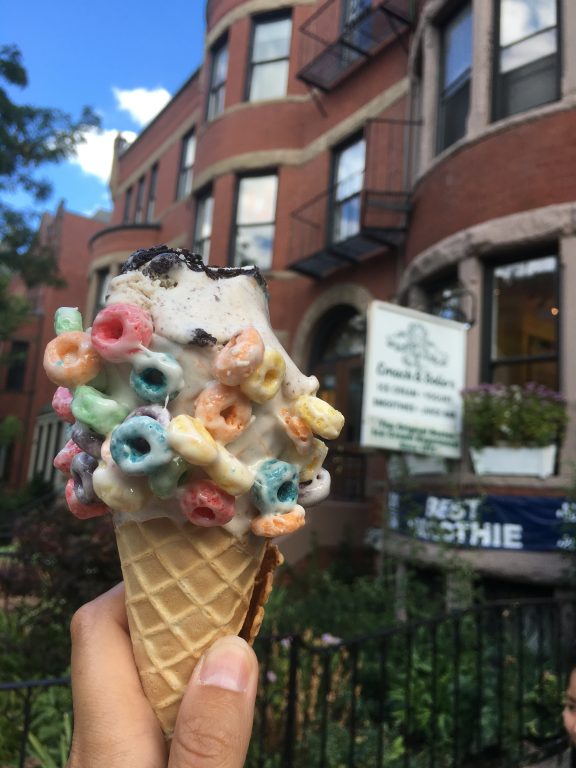 I had seen photos of this place on Instagram and actually stumbled across it while walking down Newbury Street in Boston (it's also in NYC).  We walked in to the very small store after a filling lunch, saw the amazing selection of flavors and the speciality cones I just could not resist.  I got the homemade Cookie Monster Ice Cream in a Fruit Loops Waffle Cone.  All of their ice cream is homemade and the waffle cones are just to die for (they have Lucky Charms, Rice Krispies, etc.).  The cone was perfect- not overly sweet like you may expect, but so tasty.  This place is definitely worth a visit!
Note: They accept credit card here.
290 Newbury St
Boston, MA 02115
I hope you enjoyed hearing my recommendations on where eat in Boston. Happy Boston Eating, everyone! You might also like the following post: Where to Eat and What to do in Chicago.