Butterfinger Chunk Cookies
These Butterfinger Chunk Cookies are so chewy, rich, buttery and the perfect dessert for any occasion or to use up leftover Halloween candy. You will be in love!
Happy Friday, everyone!  This week seemed to go on forever…anyone else?  I have an amazing recipe for you today that I think you should make time in your weekend to bake up.
These Butterfinger Chunk Cookies have definitely made it in to my top 3 all-time favorite cookie.   I may be partial to peanut butter and Butterfingers, but I truly can't see how anyone wouldn't love these.  The combination of chopped up Butterfingers and chunky peanut butter is soooooo delicious!  The candy bar chunks melt during baking, and they might not hold their round shape perfectly, but they are so peanut-buttery delicious that you won't even care and neither will anyone eating them.
They do come out a bit flat so don't expect a fat cookie.  They flatten as they bake in the oven, but looks don't matter to my taste buds!  Also, they have a very soft and chewy texture.  You will not be able to stop eating them.  I'll have to hide them in the freezer next time I make them if I want any left to give away to people.  You have been warned…
Have a great weekend and bake up some Butterfinger Chunk Cookies to make it even better!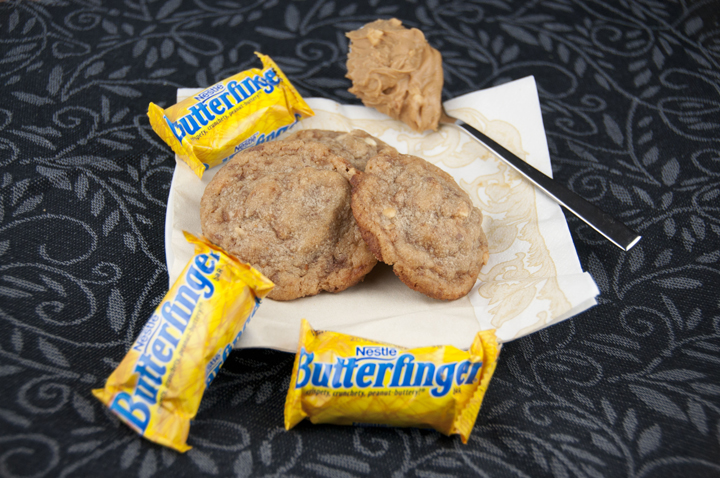 Butterfinger Chunk Cookies
Prep time:
Cook time:
Total time:
These Butterfinger Cookies are so chewy, rich, buttery and the perfect dessert for any occasion or to use up leftover Halloween candy. You will be in love!
Ingredients
½ cup unsalted butter, softened
¾ cup white sugar
⅔ cup lightly packed light brown sugar
2 egg whites
1¼ cups crunchy peanut butter
1½ teaspoons pure vanilla extract
1 cup all-purpose flour
½ teaspoon baking soda
¼ teaspoon salt
5 (2.1 ounce) Butterfinger candy bars, chopped (I used my food processor)
Instructions
Preheat oven to 350 degrees F.
Line baking sheets
with parchment paper or silicone baking mat.
In the bowl of a stand mixer fitted with the paddle attachment or in a large bowl with an electric mixer, cream the butter and sugars together until light and fluffy. Add the egg whites and beat well. Beat in
the peanut
butter and the vanilla, mixing until well combined.
In a small bowl, combine the flour, baking soda, and salt. Add the dry ingredients into the creamed mixture and mix until just combined. Stir in the chopped candy bars.
Using a medium cookie scoop (about 1 ½ tablespoons) shape dough into balls and place on the prepared baking sheets (give plenty of space in between so they don't run into each other while baking).
Bake in preheated oven for 10 to 12 minutes or until golden brown. Be sure to not over bake them though or they will get tough. Remove cookies from oven and allow them to cool for about 5 minutes on the cookie sheet before moving them to a cooling rack to cool completely.
Store cookies in an airtight container at room temperature for up to 2 days.
 Recipe source: allrecipes.com