Cinnamon Sugar Pumpkin Soft Pretzels and GIVEAWAY!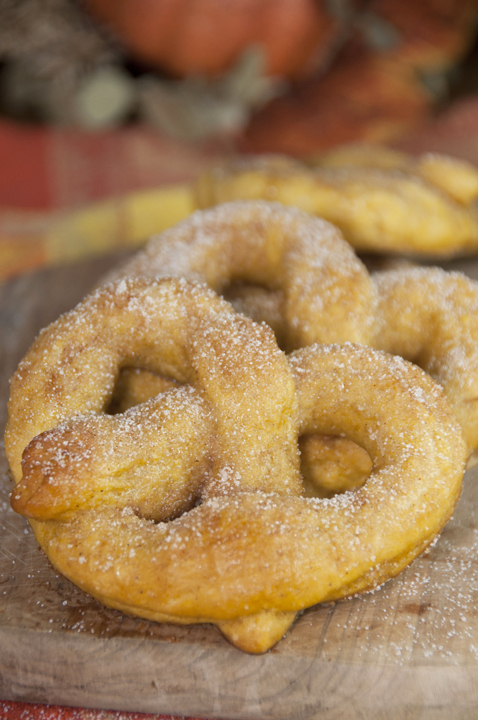 Serves:
7-9, depending on size
½t sugar
½c warm water
1t olive oil
¼c sugar
½t salt
2-1/2c flour
2c hot water
¼c baking soda
2T butter, melted
4T white sugar
1T cinnamon
¼t salt
In the bowl of a stand mixer, allow yeast, sugar, and warm water to stand until creamy, about 10 minutes. Add pumpkin puree and oil and mix gently, followed by sugar, pumpkin pie spice and salt.
Gradually add flour until dough comes together and forms a ball. Knead with the dough hook attachment 5-10 minutes.
Cover bowl with a kitchen towel and allow to rise in a warm place at least 1 hour.
Preheat oven to 425. Grease a large baking sheet.
Prepare your hot water. Pour into a shallow dish, add baking soda, and stir. Set aside.
Turn dough out onto lightly floured work surface and divide into 7-8 evenly sized balls. Roll balls into foot-long ropes. Twist each rope into a pretzel shape.
Dip each pretzel into the baking soda bath and place directly onto a greased baking sheet or Silpat mat. Bake 8-9 minutes, watching carefully. Pretzels should be golden brown on the outside and cooked through.
Melt butter and brush on top of each hot pretzel. Sprinkle with cinnamon sugar mixture. Serve warm.
Recipe by
Wishes and Dishes
at https://wishesndishes.com/cinnamon-sugar-pumpkin-pretzels-giveaway/