20 Minute Cheesy Chicken Enchilada Soup
Flavorful and filling

20 Minute Cheesy Chicken Enchilada Soup recipe

is super easy to cook up and full of the BEST flavors!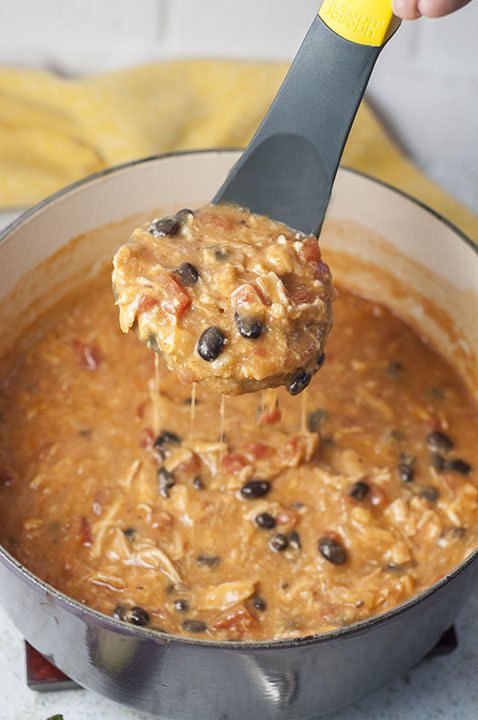 Oh hi guys! Boy, do I have the most amazing soup recipe to share with you today or WHAT. This 20 Minute Cheesy Chicken Enchilada Soup has more flavor than you could ever think to ask for in a soup. I ate it 3 days in a row and was sad to see it end.
I NEVER eat a meal three days in a row without wanting to cry of food boredom. The avocado and crunchy tortilla chips added on top right before consuming was the best decision ever and gave it great texture.
I'm so glad you're here! Follow along on Pinterest for more inspiration!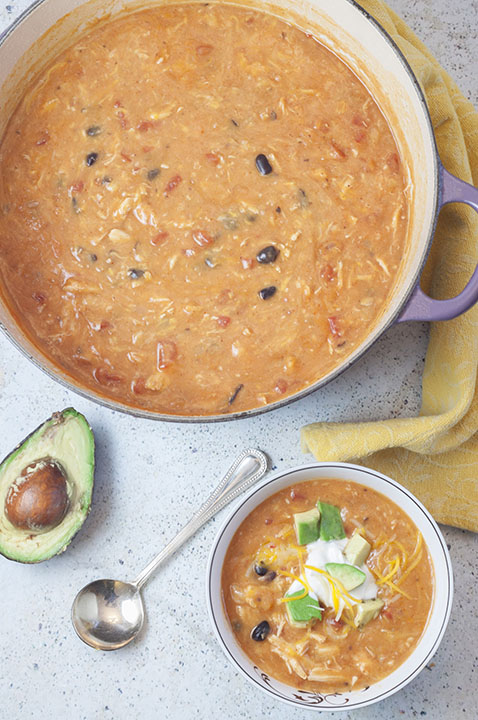 So, guess what? I am in San Antonio, Texas this week! My very first time in Texas and I am beyond excited. I don't know if I've ever told you guys this before, but I have it on my bucket list to visit all 50 states in my lifetime.
I don't count just being in the airport in a particular state, but actually setting on the ground. When driving down to Virginia Beach years ago, I actually made my in-laws pull over at the West Virginia welcome center so I could walk around and count that as a state I've visited.
Somehow, everyone just stopped questioning my weirdness at some point in time. I got out of the car, walked around the welcome center, and had Mr. Wishes snap my photo outside of it. Hey, if you don't have a picture to prove it then it didn't happen, right?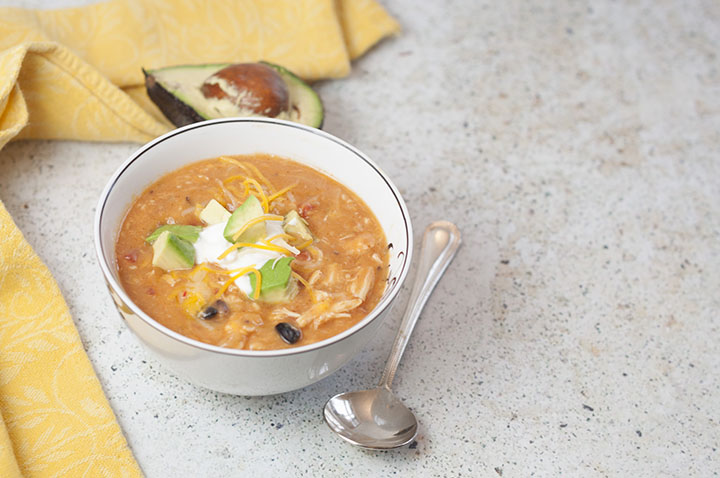 So my point is – I'm crossing Texas off the list finally. Mr. Wishes had to come here for a work conference and I'm stoked to explore the city of San Antonio. Does anyone have any "must see" or, preferably, "must eat" ideas for me?
If you're loving the Mexican food recipes and soups, you will love this Chicken Tortilla Soup. And how about some Greek Chicken Soft Tacos and Homemade Guacamole to go along with it?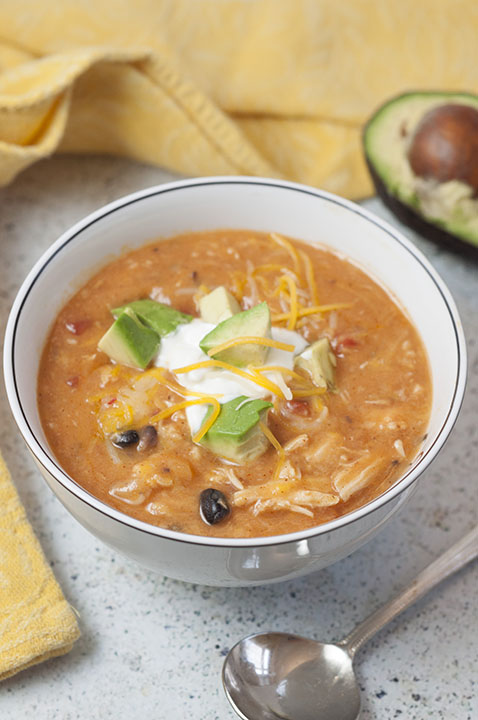 Here is a step-by-step video on how to make this 20 Minute Cheesy Chicken Enchilada Soup:
20 Minute Cheesy Chicken Enchilada Soup
Prep time:
Cook time:
Total time:
Flavorful and filling 20 Minute Cheesy Chicken Enchilada Soup recipe is super easy to cook up and full of the BEST flavors!
Ingredients
2 tablespoons olive oil
1 cup diced white onion
3 cloves garlic, minced
½ cup flour
3 cups chicken stock
2 cups cooked, shredded chicken
1 10-ounce can red enchilada sauce
1 (14-ounce) can black beans, rinsed and drained
1 (14-ounce) can diced tomatoes, with juice
½ teaspoon ground cumin
8 ounces sharp cheddar cheese, freshly grated
1 teaspoon salt
optional toppings: tortilla chips/strips, diced/sliced avocado, sour cream, chopped fresh cilantro, and/or pico de gallo
Instructions
Heat the oil in a large pot over medium-high heat. (To save time, peel and dice the onion for the minute or so that the oil heats.)
Add the onion and saute for 5 minutes, or until cooked and translucent. Add the garlic and saute for an additional minute until fragrant, being careful not to burn it.
Whisk in the flour and cook for an additional minute.
Pour in half of the chicken stock, and stir until completely combined and no lumps remain.
Add in the rest of the chicken stock, and stir quickly to combine.
Add in the chicken, enchilada sauce, black beans, tomatoes, salt and cumin, and stir until combined. Continue stirring occasionally until simmering.
Reduce heat to medium-low and let it simmer for about 3 minutes, stirring occasionally so that the soup does not burn to the bottom of the pan.
Slowly stir in the cheese until combined. Season with salt, to taste.
Serve your soup warm with toppings of choice. Enjoy!
Recipe source: slightly adapted from gimmesomeoven.com