Caramel-Glazed Country Apple Fritter Bread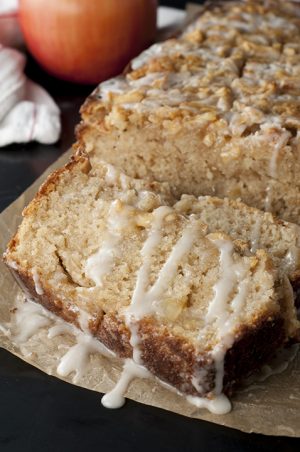 ⅓ cup light brown sugar
1 teaspoon ground cinnamon
⅔ cup white sugar
½ cup butter, softened
2 eggs
1½ teaspoons vanilla extract
1½ cups all-purpose flour
1¾ teaspoons baking powder
½ cup International Delight Simply Pure Caramel Creamer (or use milk, almond milk, etc.)
2 apples, peeled and chopped (I used 1 gala and 1 Granny Smith)
½ cup of powdered sugar
2-3 tablespoons of International Delight Simply Pure Caramel Creamer to get desired consistency (or use milk, almond milk, etc.)
Preheat oven to 350 degrees. Spray your 9x5-inch loaf pan with non-stick spray.
Mix brown sugar and cinnamon together in a small bowl. Set aside.
In another medium-sized bowl, beat white sugar and butter together using an electric mixer or in the bowl of a stand mixer until smooth and creamy.
Beat in eggs, 1 at a time, until blended in then add in vanilla extract and stir.
Whisk flour and baking powder together in another small bowl then add into the creamed butter mixture and mix until just blended.
Mix creamer into batter until smooth.
Pour half the batter into the prepared loaf pan then add half the chopped apples on top.
Pour the remaining batter over apple layer and top with the remaining apples. Sprinkle the brown sugar/cinnamon mixture on top.
Lightly pat apples into batter and carefully swirl brown sugar mixture through apples using a knife.
Bake in the preheated oven until a toothpick inserted in the center of the loaf comes out clean, approximately 50-60 minutes (mine took closer to 60). Cover loosely with foil the last 15 minutes or so of baking to prevent browning on top.
To make glaze, mix powdered sugar and creamer together until well incorporated.
Let bread cool for about 15 minutes before turning out onto a wire rack to cool completely. Drizzle the glaze on top right before serving. Enjoy!
Recipe by
Wishes and Dishes
at https://wishesndishes.com/caramel-glazed-country-apple-fritter-bread/