Baked Buttermilk Chicken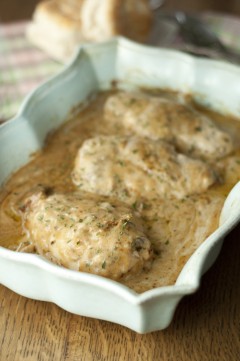 4-5 boneless, skinless chicken breasts
1½ cups buttermilk
¼ cup all-purpose flour
¼ cup unsalted butter
½ teaspoon salt
¼ teaspoon black pepper
½ teaspoon cayenne pepper
1 (10 ounce) can cream of mushroom soup
1 tablespoon dried parsley, for garnish (or use fresh)
Preheat oven to 425F.
Melt butter in a 9x13 inch pan.
Place ½ cup of the buttermilk onto a shallow dish, set aside the rest.
In another shallow dish, mix together the flour, salt and two kinds of pepper.
Dip chicken in the buttermilk and then dredge the chicken into the flour mixture.
Place the dredged chicken in the prepared pan.
Bake uncovered for 30 minutes.
Turn the chicken over and bake for 15 minutes more.
Combine the remaining 1 cup of buttermilk and the cream of mushroom soup.
Pour over chicken and bake for an additional 15 minutes.
Transfer the chicken onto a serving platter and garnish with parsley.
Stir the gravy up real well and then transfer to a gravy boat or other serving dish.
Serve topped with the pan gravy and a side of mashed potatoes or rice.