Bacon Alfredo Pasta Bake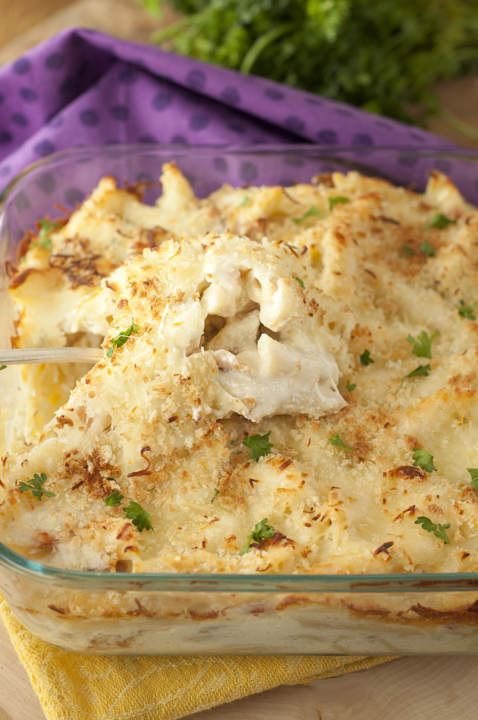 1 lb. pasta (short cut, i.e. Penne)
2 cups Ragu Alfredo sauce
8 oz. sour cream (or Greek yogurt)
8 slices bacon, crisply cooked, crumbled
15 oz. ricotta cheese
2 teaspoons garlic, minced
2 eggs, beaten
¼ cup Parmesan cheese, shredded
1 tablespoon parsley, chopped
Salt and pepper, to taste
2 cups good-quality mozzarella cheese, shredded
½ cup Panko bread crumbs
Cook the pasta until just al dente, according to box instructions.
Drain and rinse pasta under cold water. This will stop the cooking process.
Mix pasta with the Ragu Alfredo sauce, sour cream/Greek yogurt and crumbled bacon.
Mix together the ricotta, garlic, eggs, Parmesan and parsley in a bowl until combined.
Sprinkle the pasta/sauce mix with salt and pepper, to your liking.
Add the ricotta mixture to the pasta mixture and stir to combine all ingredients.
Pour pasta into a 9x13 baking/casserole dish.
Top evenly with the mozzarella cheese.
Sprinkle bread crumbs evenly over everything.
Bake at 350 degrees F for 30 minutes or until set and edges are bubbly (might take a little longer depending on how hot your oven cooks).
For a crispy top, broil at 450 degrees F for 2-3 minutes or until the cheese starts to brown and breadcrumbs turn a golden brown. I like to do this. Keep a good eye on it during the broiling to be sure the cheese doesn't burn. Serve warm. Enjoy!