A Giant Cupcake
A Giant Cupcake recipe is too much fun for any holiday!  This is a show-stopper dessert for your Valentine!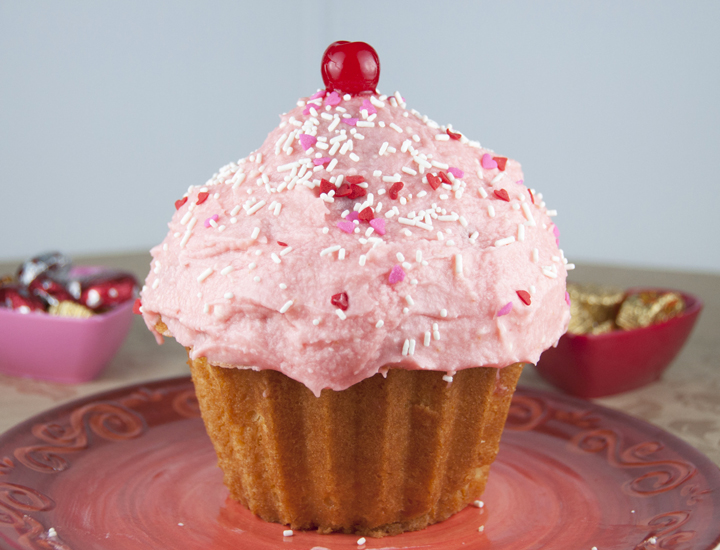 Cupcakes are huge right now (no pun intended) and have been for several years it seems.  I got this Wilton Cupcake Pan as a gift last Christmas from my husband and it was such a cool idea and so much fun to bake with.  Bigger is always better when it comes to desserts!  Today is our 4th wedding anniversary and there is no better way to celebrate.
I enjoy making cakes from scratch, but this time I went with a pound cake box mix (two boxes to be exact, Betty Crocker brand), but I did make the buttercream frosting from scratch (recipe below).  Not only was this a time saver for me, but it ensures that anyone reading this can get the same results.  I also researched a little and found that a pound cake is the right texture to hold the weight of the top of the cake and frosting and stands up better to the slicing. I prefer cakes from scratch, but I have to say this was a very good cake! So, when you are in need of a larger cupcake, give this idea a try.  It takes about one and a half boxes and I just followed the instructions on the box for the ingredients to add.  You can just make both boxes and use the leftover batter for regular sized cupcakes so it doesn't go to waste.  You can also use a regular cake mix, which produces six cups of batter. I've heard this has worked well for people.  A denser cake definitely works best. You can use your favorite homemade pound cake recipe, also.
Cakes baked in a giant cupcake pan are slightly larger than a standard layer cake and therefore require more batter. For most of the pans, you need approximately 6 cups of batter — 3 1/2 cups for the base/bottom portion of the mold and 2 1/2 cups for the top of the cupcake.
Baking
To cook your giant cupcake, you'll need to preheat the oven to 325 degrees, and thoroughly grease and flour the pan before adding the batter. Take care to grease all of the crevices to prevent the cake from sticking.  Avoid filling the pans all the way to the top; leave at least a half inch of space to accommodate the expanding batter and prevent it from overflowing.  After baking the cake for 55-60 minutes and turning the pan halfway through, check it with a cake tester or toothpick to see if it's done (if the toothpick comes out clean), adding time in two-minute increments until the cake is finished baking.
Filling
Make sure the cake is completely cooled before releasing the cake.  If you try and take the cake out while the cake or pan is still warm, your cake will fall apart. It should cool in approximately 1 hour.  Once the cake is baked and cooled, you need to level the two pieces so they fit together better. Use a serrated knife to trim the layers. An easy trick to get even layers is to place the cooled cake pieces back into the pan and use the pan as a guide for trimming the pieces. You can save the excess cake pieces and serve them with ice cream later on as not to waste them. Spread a thin layer of frosting on the cake layers as an adhesive to hold the top and bottom together then place them on top of each other.  I decorated the top only, just like you would with a regular cupcake.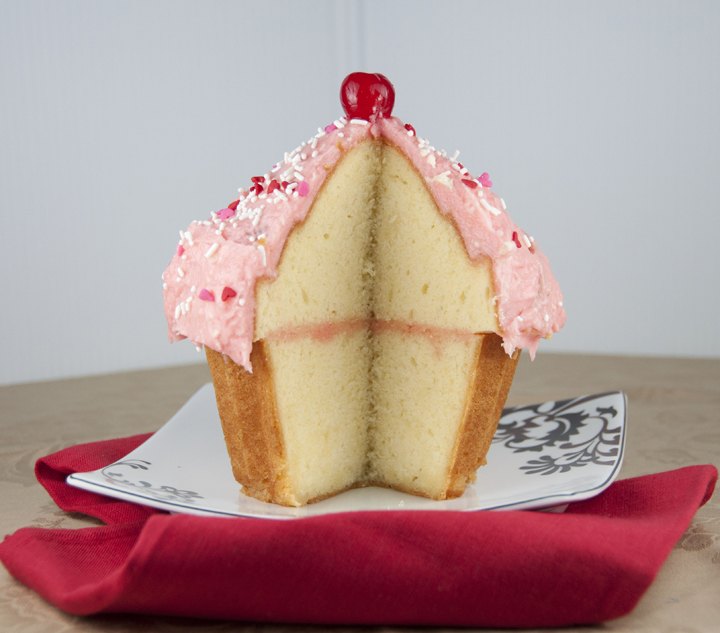 Overall, this cake was moist and evenly cooked.  It was really quite tasty (for a box mix). I was prepared to test another cake and bake the halves separately, which I am sure would work great, but it certainly is preferable to bake the cake all at once and that worked out perfectly for me.
I think this would be great to bake for a child's birthday.  It is such a cute idea!  My hubby loved the cake because it is so unique and quite impressive compared to traditional cakes.  You can add a twist  with the decorating for different holidays.  Enjoy!
A Giant Cupcake
Ingredients
Frosting recipe I used:
1 cup unsalted butter (2 sticks or ½ pound), softened (but not melted)
3-4 cups confectioners sugar, sifted
¼ teaspoon table salt
1 tablespoon vanilla extract
up to 4 tablespoons milk or heavy cream
Cake (see above)
Instructions
Beat butter for a few minutes with a mixer with the paddle attachment on medium speed. Add 3 cups of powdered sugar and turn your mixer on the lowest speed (so the sugar doesn't blow everywhere) until the sugar has been incorporated with the butter. Increase mixer speed to medium and add vanilla extract, salt, and 2 tablespoons of milk/cream and beat for 3 minutes. If your frosting needs a more stiff consistency, add remaining sugar. If your frosting needs to be thinned out, add remaining milk - 1 tablespoon at a time.