15+ Fall Inspired Recipes
15+ Fall Inspired Recipes – round out your fall holidays and celebrations with these festive main course, side dish, drink, and dessert recipes!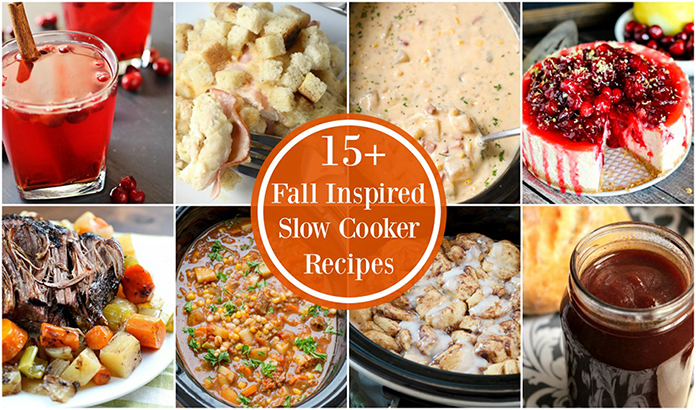 Welcome to November and 15+ Fall Inspired Recipes! I can hardly believe we are approaching the end of the year already. Thanksgiving is just a few weeks from now (crazy) and Christmas is right around the corner. I have to admit, I hate the weather getting colder, but the holidays are my favorite time of the year. I guess you can say I love the food most of all (minus the peppermint). I eat cookies and fudge year-round but I love it when they are seasonally appropriate, am I right?! I also want to make a huge batch of that warm crock pot cranberry cider right NOW. We all know what a apple cider freak I am. Is it cold enough for this yet?
I love the idea of making a cranberry cheesecake in the slow cooker. I'm intrigued and can't wait to see how it comes out! Desserts in the slow cooker are something I never remember are a "thing". My crock pot cinnamon bun casserole can be a dessert OR breakfast for the holidays. It's seriously amazing and gets rave reviews!
I hope you all find something new to try in this list and happy November!
Slow Cooker Cranberry Cheesecake
Crock Pot Roast with Vegetables
Slow Cooker Chicken Enchilada Soup
Slow Cooker Beef & Vegetable Soup
Sriracha Lime Slow Cooker Turkey Tenderloin
Slow Cooker Beer Bratwurst with Onions & Peppers
Slow Cooker BBQ Chicken Sandwiches
Slow Cooker Chicken Cordon Bleu
Crock Pot Cinnamon Roll Casserole
Slow Cooker Cheesy Ham Chowder
4 Ingredient Slow Cooker Pulled Pork
Slow Cooker Buffalo Chicken Pasta
Make sure you pin this 15+ Fall Inspired Recipes roundup to your Pinterest board so you don't lose any of these great recipes!