Well, it's a new year and it's my first post of the year because I have been somewhat of a slacker.  I don't even have an excuse as to why.
Raise your hand if you are pretty sure you have gone up a solid dress  size over the holidays but are too scared to get on the scale and see what the actual  damage is.
Anywho, one of my favorite things about the colder months is the food.  All the one-pot dinners, stews, soups, casseroles.  Comfort food that warms you up and keep you feeling cozy even as you  battle your way through the mounds of snow and subzero wind chills (with the exception of all you lucky southerners!).
You can make this particular soup with turkey or chicken, whatever meat you have on hand.  Give this recipe a try this winter!   The flavors are really able to shine after slow cooking.
Thank you all for the fantastic posts, comments and blog love for the past few months since my blog's birthday back in September.  I never thought I'd have so many followers in such a short amount of time and it excites me to the max!  I'm still a work in progress over here so I really appreciate all of the support everyone has given!  May 2012  be filled with light, love, abundance and blessings.
♥ HAPPY NEW  YEAR!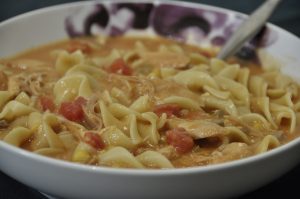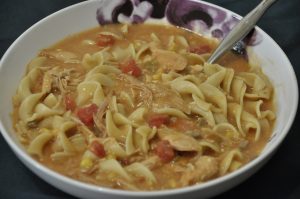 INGREDIENTS:
3-4 cups leftover turkey (or chicken), chopped
1 lb of egg noodles
20 oz chicken broth
1 can black beans (drained)
1 can whole kernel corn (drained)
1 can Rotel
1 can diced tomatoes
1 small can green chilis
1 can tomato paste
1 can cream of mushroom soup or cream of chicken
4 ounces of your favorite cheese, shredded  (I used white american and cubed it to help with the melting process)
Pepper, to taste
Ground Cumin, to taste
Garlic Powder, to taste
PREPARATION:
Mix all (except the noodles) in the slow cooker and cook on high for 3 hours or low for 6 hours. All of the ingredients are cooked and just needed to be warmed through so be sure you don't cook too long.
In the last half hour, cook the egg noodles separately on stove top, drain and mix in the crock pot with the rest of the ingredients right before serving.
Delicious!
Enjoy! 
- Craving more?
Sign up for the Wishes & Dishes Newsletter
for a fresh serving of content delivered every week to your inbox! And stay in touch on
Facebook
,
Twitter
,
Pinterest
and
Instagram
for all of the latest updates!