Bust out the crock pot people!
I'm off gallivanting in beautiful, sunny southern Florida with Mr. Wishes this week because he is here for work and I'm writing this blog post just to rub it in all your faces.  No, I'm nicer than that.  I have actually cooked up some goodies in the Wishes and Dishes kitchen last week to keep you drooling while I'm here living it up in Miami.
As great as it is to be basking in the sun and warmth, I  really can't complain seeing as our Winter has been pretty much nonexistant back in Rochester, New York this year.  Often when people talk about Rochester winter weather, the talk turns to how brutally cold it has been or how deep the snow is.  That has definitely not been the case this year and it's been joyous.  We have had above-normal temperatures and not much snow at all.  I hope I'm not jinxing anything now as we are still not out of the woods!
I like any pot roast cooked slowly so the crock pot is my favorite appliance to prepare this dish.  This is pretty much a throw-and-go recipe. We really loved the sauce on this roast, most of all.  It was flavorful, sweet, rich, and just a hint of spice.  Enjoy!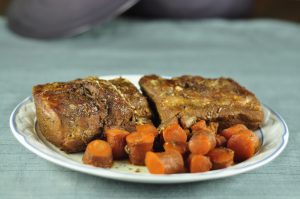 INGREDIENTS:
1 boneless pork loin roast, 4 to 6 pounds
1 clove garlic, halved
salt and pepper
1 1/3 cups brown sugar, divided
1 tablespoon Dijon mustard
1 tablespoon balsamic vinegar
1/4 teaspoon cinnamon
DIRECTIONS:
Wash pork roast, trim excess fat, pat dry, and rub with garlic halves.
 Sprinkle with salt and pepper, then prick the roast all over with a fork or skewer.
In a bowl, combine 1 cup of the brown sugar, the mustard, and vinegar. Rub all over the roast.
If desired, add any vegetables to the bottom of the pot that you want to cook with the roast, such as carrots, potatoes, asparagus or peas.  (The flavors of the vegetables and meat will intermingle while slow cooking.)
Place roast in crock pot. Cover and cook on LOW for about 6 hours (check internal temperature for doneness).
Combine the remaining 1/3 cup brown sugar with cinnamon;  spread the mixture over the top of the roast.
*Lift the lid of your crock pot approximately 30 minutes before serving and check if the sauce has thickened. If it's not thick enough, pour a flour (or cornstarch) mixture into the pot and stir well.  Replace the lid and turn the heat up to high for the remaining 30 minutes of cooking time.  Turn the heat off after the meal has finished cooking and allow it to set for 5 to 10 minutes. The sauce will thicken upon standing.
- Craving more?
Sign up for the Wishes & Dishes Newsletter
for a fresh serving of content delivered every week to your inbox! And stay in touch on
Facebook
,
Twitter
,
Pinterest
and
Instagram
for all of the latest updates!