Crunchy pecans, soft tomatoes and green chilies create the perfect texture for this healthy Pecan Grape Chicken Salad recipe with a kick.  The combination of pecans and sweet grapes make it a taste sensation for summer lunch or dinner!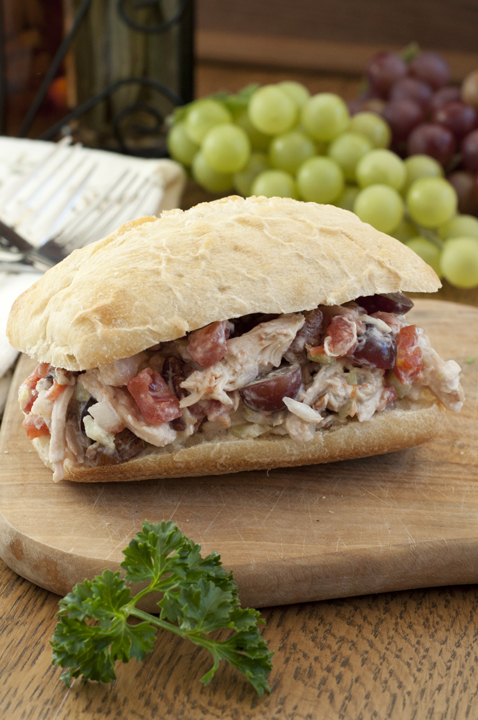 This week is flying by! I know that extra day off earlier this week helped with that.  It's SO hot here this week – mid 80's and humid – just the way I like it, yet makes me thoroughly confused as to what time of year it actually is.  Anyone else?
Did you know that May is National Salad Month?  Well, now you know.  Chicken salad is one of those foods I can eat every day of my life and never get sick of it.  There are endless possibilities when it comes to chicken salad which is why it just never gets old.  This Pecan Grape Chicken Salad is inspired and adapted from Redpack Tomatoes' Sassy Chicken Salad recipe.  I love that it has a little bit of a kick to it thanks to the green chilies!  I love me a little spice.  Once you toast the pecans, you can literally throw this together in just a few minutes with your already cooked chicken.  I also love using already peeled and already diced tomatoes such as these Redpack diced tomatoes- they are cheaper than the tomatoes you will find in the produce department at the grocery store (at least from what I have seen!).  That makes this salad even easier to put together.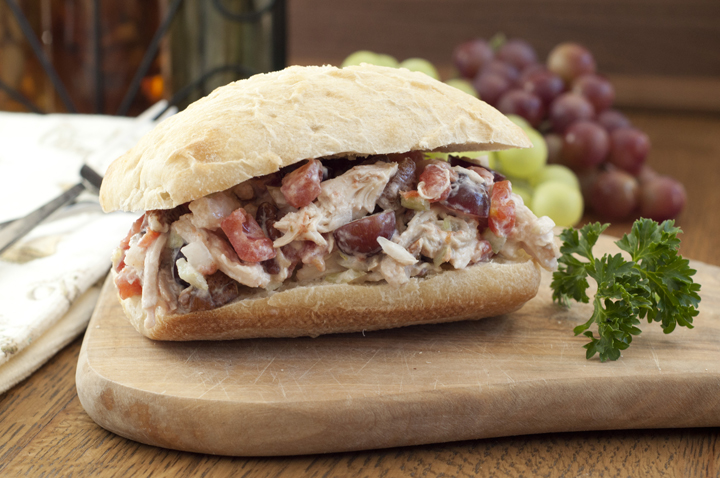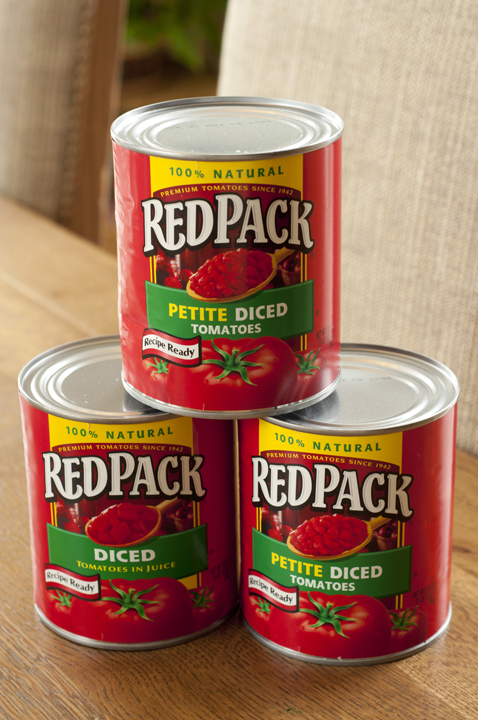 A little bonus for you is that this pecan grape chicken salad is made with Greek yogurt instead of mayonnaise, which we all know what that means – tons of calories cut that equals a healthy, guilt-free lunch or dinner.
To celebrate National Salad Month, Redpack Tomatoes is hosting their second annual "Toss in the Flavor" promotion.  From now until June 10th they will be sharing their new collection of Redpack salad recipes on Facebook featuring Redpack Petite Diced Tomatoes along with seasonal fruits and vegetables – just in time for summer!  As part of this fun promotion they will also be giving away a $400.00 Grand Prize Picnic Gift Basket that includes tools you need to chop, spin, mix, dress and toss in your favorite summer salad!
In a perfect world, every chicken salad recipe would have grapes and crunchy, toasted nuts in it – it's how chicken salad was meant to be eaten.  The end.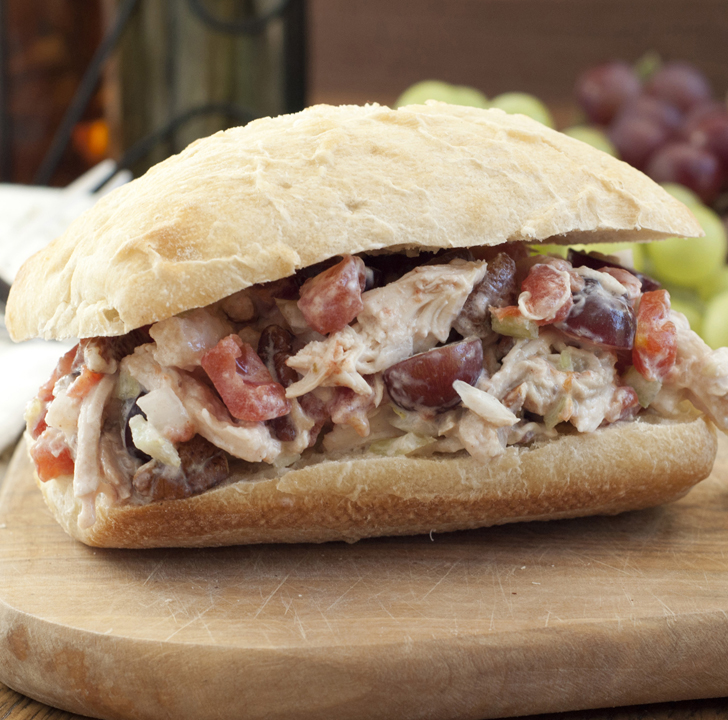 Pecan Grape Chicken Salad
Recipe type:
lunch, dinner
Crunchy pecans, soft tomatoes and green chilies create the perfect texture for this healthy Pecan Grape Chicken Salad recipe with a kick.
Ingredients
1 (10 ounce) can REDPACK® Petite Diced Tomatoes
1 (4 ounce) can green chilies, drained
½ cup plain Greek yogurt
1 tablespoon raw honey
2 cups cooked chicken breast
1 cup diced celery
1 cup red grapes, halved
½ cup chopped toasted pecans
Instructions
In a medium bowl, combine tomatoes, chilies, Greek yogurt and honey.
Stir in chicken, celery, grapes and toasted pecans*.
Cover and chill for 1-3 hours before serving so that the flavors can come together.
Serve on your favorite bread, roll or croissant. Enjoy!
*Note: To toast pecans, bake uncovered in ungreased shallow pan in 350 degree oven for about 10 minutes, stirring occasionally, until golden brown. Another option is to toast them in the microwave. Place a single layer on a microwave safe plate and cook on high for 2 minutes. Stir and cook for 1 more minute.
 Disclaimer:  Redpack was nice enough to send me product samples to use in this recipe but I was not compensated for this post.  All opinions are 100% my own, as always.
- Craving more?
Sign up for the Wishes & Dishes Newsletter
for a fresh serving of content delivered every week to your inbox! And stay in touch on
Facebook
,
Twitter
,
Pinterest
and
Instagram
for all of the latest updates!