A milkshake is the perfect drink for a hot summer day or a midnight snack.  Here I give you an amazing recipe for a cool, refreshing milkshake that I promise will have you craving more. The best part is, you only need THREE ingredients to make the best milkshake of your life.
This recipe was inspired from our time living in Miami where we would frequent a place that sold this amazing drink called "The Peanut Butter".  This place became one of our favorite hang-out spots and was called Segafredo.  You would probably think "Yeah, nothing too special" if you just read the description in the menu, but let me tell you – it was special…it was more than special.
Let me tell you a little story….. Mr. Wishes ordered this the first night we ever went to Segafredo on Lincoln Road.  I asked him for a taste…..one taste turned into 3…which then turned into 5….until I was cut off from any further "tastings".  From there on out, every time we would go to Segafredo I would order something else, like maybe something with Midori in it, and he would get the beloved "Peanut Butter" drink.  My mindset was that this way I can have my own drink and half of his, too.  That didn't go over too well once he caught on to my little scheme.
So one night, shortly after our return to New York, I eagerly started trying to find a copycat recipe for this mind-blowing milkshake.  I refused to go God-knows-how-long without another one of these drinks.  That was not going to happen.  I knew the 3 ingredients that went into it, but not the measurements.  Meanwhile, Mr. Wishes is in the kitchen literally just throwing ingredients together and whipping up this concoction that tasted EXACTLY like the original.  Boom. First try. Done. Perfection. Sometimes I seriously think he should be the one with the food blog instead of me.  I hate it how he seems to be good at everything! Ha ha.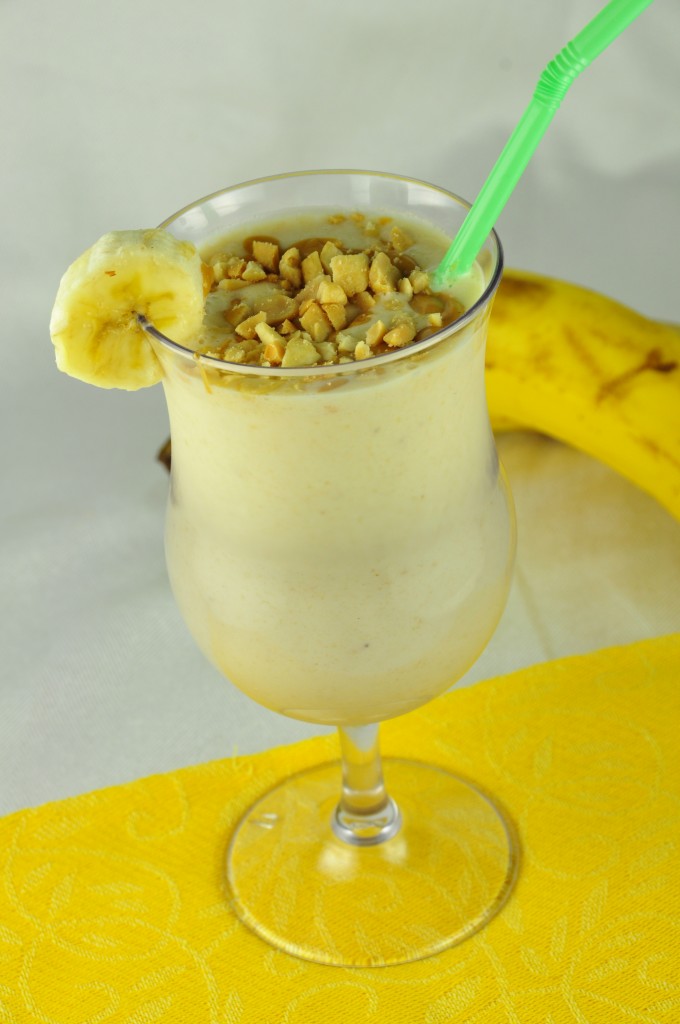 INGREDIENTS:
*This makes two large milkshakes*
3 cup vanilla ice cream, softened (I used low-fat)
1 cup peanuts (salted or lightly salted)
1 medium-large size banana
DIRECTIONS:
Blend until smooth and peanuts are good and chopped. Pour into a glass and enjoy immediately!
Top with additional chopped peanuts and melted peanut butter if you are feeling adventurous (like I did!)
- Craving more?
Sign up for the Wishes & Dishes Newsletter
for a fresh serving of content delivered every week to your inbox! And stay in touch on
Facebook
,
Twitter
,
Pinterest
and
Instagram
for all of the latest updates!