Nothing beats homemade meatballs smothered in a creamy gravy sauce. This ground beef recipe is sure to become a requested dinner at your house.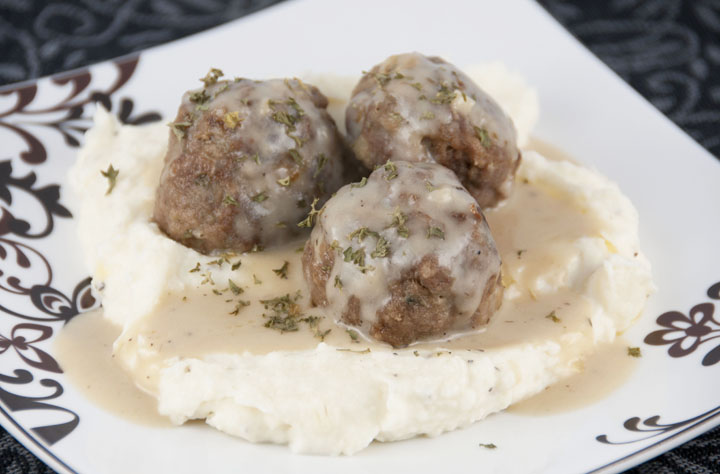 Well, this was a LONG day to say the least.  I tried doing a one day juice cleanse just to try it out and have been starving and on-edge all day!  Have any of you ever done a juice cleanse before? Does the hunger pain go away after a while?  I have zero tolerance for being hungry so maybe I'm never meant to juice/diet/fast….ever!  By the way, I only made it 23 hours and the caved to food (leftovers of these meatballs!).
Oh, it probably also doesn't help that my food blogger status results in a life that revolves around food…whether it be baking, cooking, or looking at food photos all day long on the internet. #foodbloggerproblems
OK so this dinner was the bomb!  Oh wait, is that not a cool thing to say anymore?  Oh well.  It smelled so good while baking and I am DEMANDING that you try this meal out sometime!  The gravy is in the running for the best gravy I've ever tasted and it's not even overloaded with calories and fat like most gravy that I've had in the past.  The meatballs tasting as good as they taste with the oats combined with this to-die-for gravy really makes for one of the best meals ever.
Mr. Wishes and I both licked our plates clean (some of us multiple times…i.e. MYSELF).  I will definitely be making this again and again.
Meatballs with Creamy Beef Gravy
Prep time:
Cook time:
Total time:
Nothing beats homemade meatballs smothered in a creamy gravy sauce. This ground beef recipe is sure to become a requested dinner at your house.
Ingredients
Meatballs:
1 egg, lightly beaten
¼ cup milk
2 T. BBQ sauce
1 t. Worcestershire sauce
¾ cup quick oats
¼ cup finely chopped onion
¼ cup minced fresh parsley
1 t. salt
¼ t. pepper
1½ lb. lean ground beef
4 T. flour
Cream Sauce:
2 T. butter
3½ T. flour
¼ t. dried thyme
¼ t. salt
⅛ t. pepper
14 oz. can beef broth, reduced sodium preferred
⅔ cup milk
2 T. minced fresh parsley
2 T heavy cream, for thickening (optional, but thickens the gravy nicely!)
Instructions
In a bowl, combine all of the meatball ingredients EXCEPT the beef and flour. Add beef and mix well. Shape into balls (I make mine about 2 inches in diameter). Roll in flour, shaking off excess. Place 1 inch apart on cookie sheet and bake, uncovered, at 400 for 10 minutes. Turn meatballs, bake 8-10 minutes longer or until no longer pink.
Meanwhile, for the sauce, melt butter in a saucepan over medium heat. Stir in flour, thyme, salt and pepper until smooth. Gradually add broth, milk and cream; bring to a boil. Cook for 5-10 minutes, whisking frequently to prevent burning on the bottom, until slightly thickened.
Drain meatballs on paper towels; transfer to a serving dish. Top with sauce and sprinkle parsley over the top. Serve over rice, mashed potatoes, or egg noodles (I used mashed potatoes and it was SO good!).
- Craving more?
Sign up for the Wishes & Dishes Newsletter
for a fresh serving of content delivered every week to your inbox! And stay in touch on
Facebook
,
Twitter
,
Pinterest
and
Instagram
for all of the latest updates!