Forget the pie crust and get all the flavors of fall in a quick and easy bread with brown sugar and cinnamon topping that's as sweet as apple pie.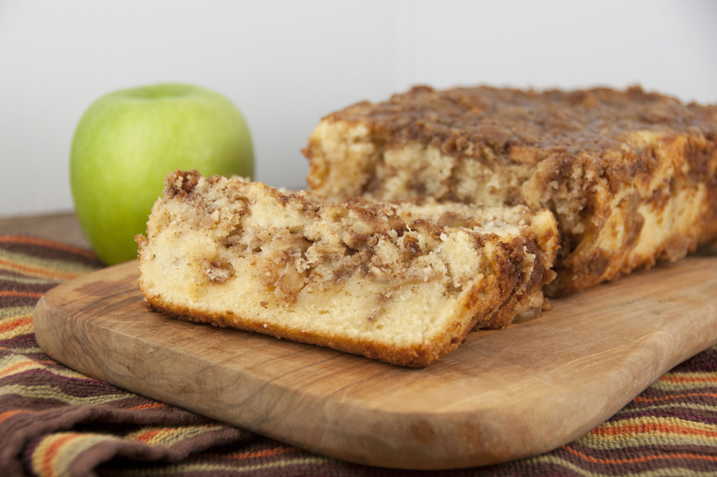 I have to admit that I definitely mourn the end of summer's blueberries, strawberries and peaches, but the end of summer and beginning of the fall season is a lot easier to swallow given the plethora of fresh apple dessert recipes.  I'm normally more of a berry person when it comes to fruit, but this season I'm going to teach myself to love apples just as much 🙂
I began my apple phase by baking this bread from a recipe I had written down from a while back in my  recipe book.  It has all the flavors of an apple pie, but in the form of a bread.  I'm all about the warm and cozy taste and texture of apple pie, but I'm having fun reworking those flavors into other desserts… this bread being one of them.  I ate at least one slice of this bread for breakfast, dessert, and for a snack.  I just couldn't get enough of it and it's suitable to eat at any time of the day.  It got my wheels turning on everything I can do with it the next time I make it – apple bread french toast, anyone?
This is fantastically moist bread that I can see being perfect to start a day of apple picking…or Thanksgiving morning.  The scent in my house was heavenly while this was baking.  I loved the texture change that came from dicing the apples as opposed to shredding them like a lot of recipes call for.
Yup, this Cinnamon Apple Pie Bread is the stuff my fall dreams are made of, my friends.  Bring on the apples, pumpkins and array of browns and orange.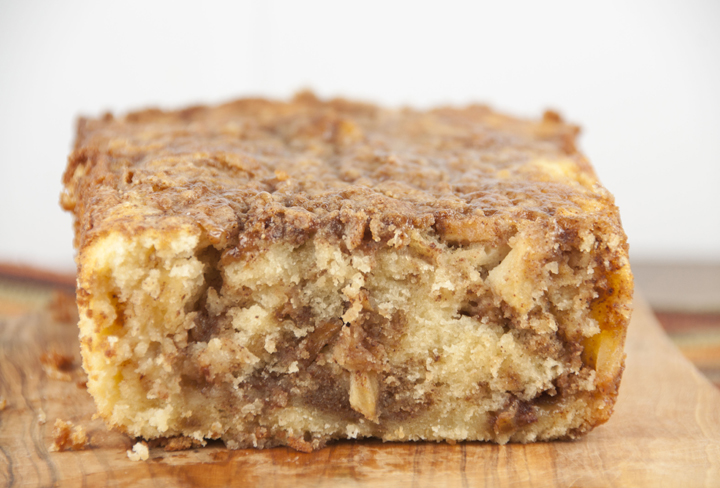 Cinnamon Apple Pie Bread
Forget the pie crust and get all the flavors of fall in a quick and easy bread with brown sugar and cinnamon topping that's as sweet as apple pie.
Ingredients
⅓ cup light brown sugar (not packed)
1 teaspoon ground cinnamon
⅔ cup white sugar
½ cup butter, softened
2 eggs
1½ teaspoons vanilla extract
1½ cups all-purpose flour
1¾ teaspoons baking powder
½ cup milk
1 apple, peeled and chopped (I used Granny Smith)
Instructions
Preheat oven to 350 degrees. Grease and flour a 9 x 5-inch loaf pan. Mix brown sugar and cinnamon together in a bowl and set aside. Beat white sugar and butter together in a bowl using an electric mixer until smooth and creamy. Beat in eggs, 1 at a time, until incorporated; add vanilla extract and stir until incorporated.
Combine flour and baking powder together in another bowl; stir into creamed butter mixture. Mix milk into batter until smooth. Pour half the batter into the prepared loaf pan. Next add half the apples and half the brown sugar cinnamon mixture. Lightly pat/push apple mixture into batter.
Pour the remaining batter over apple layer; top with remaining apples and add more brown sugar/cinnamon mixture. Lightly pat/push apples into batter; swirl brown sugar mixture through apples using a finger or spoon (I cleaned my hands and used my finger because it was easier).
Bake in the preheated oven until a toothpick inserted in the center of the loaf comes out clean, 30 to 40 minutes. Mine took about 35. If you notice it getting too brown on the top, cover it loosely with tin foil and continue baking until the inside is done. Enjoy!
- Craving more?
Sign up for the Wishes & Dishes Newsletter
for a fresh serving of content delivered every week to your inbox! And stay in touch on
Facebook
,
Twitter
,
Pinterest
and
Instagram
for all of the latest updates!