Triple Layer Mexican Party Dip
Loaded with guacamole, cheese, sour cream, and Pico de Gallo, this Triple Layer Mexican Party Dip is a fun way to enjoy your next Mexican food night!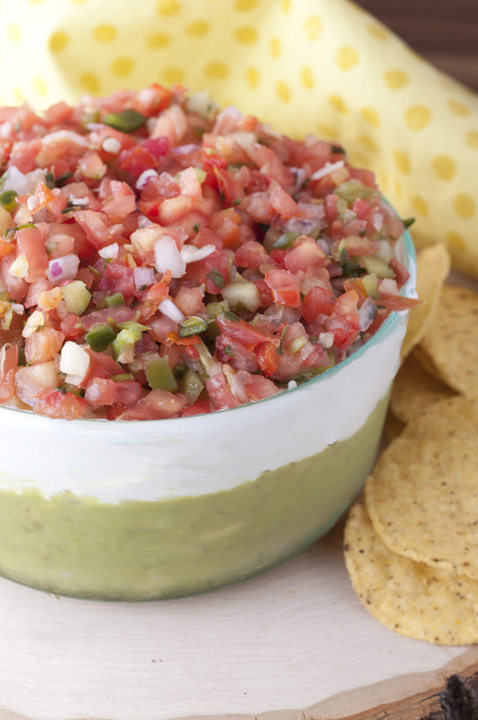 It's Thursday and it's time for some Mexican food and drinks!  Aren't the colors just amazing in this dip?  One of my favorite appetizer dip recipes on my blog is my Fiesta 7 Layer dip.  Don't get me wrong, I love all 7 of those delicious layers, but 3 is much easier and MUCH faster to make!  I also love the "jazzed up" version of the sour cream layer in this Triple Layer Mexican Party Dip for something a little bit different and unique!  I adapted the guacamole from my Classic Guacamole recipe in order to better fit in with the other layers and flavors of the dip.  This tastes awesome, people!  I may or may not have made a meal out of it the last time I made it.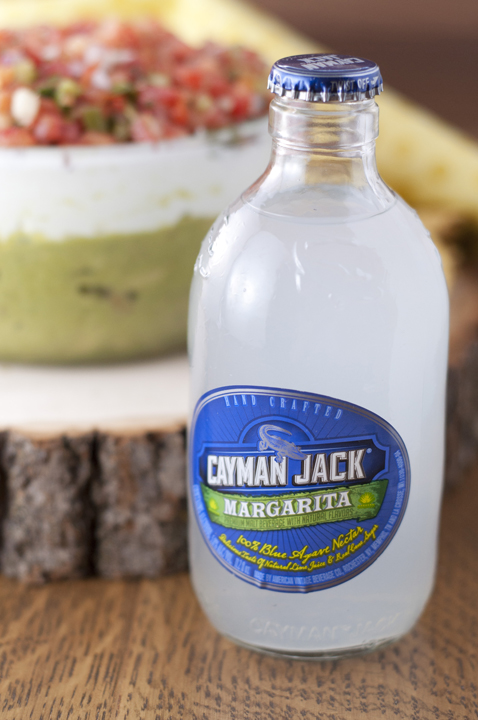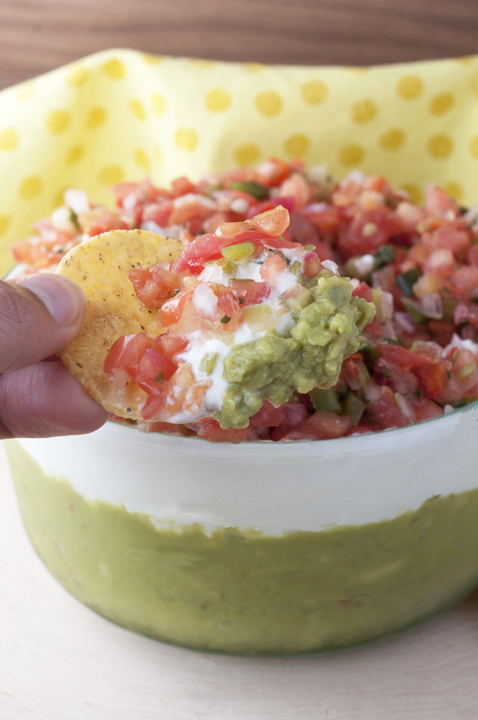 So, we have the party dip…now we need a drink to go along with it.  What goes better with a Mexican party dip than a refreshing margarita?  I have never been excited about a margarita that comes from a bottle before I discovered Cayman Jack margaritas.  Cayman Jack is a hand-crafted, ready-to-serve margarita that is available in bottles OR cans.  There is no need to get that blender dirty!  The key lime flavor in the margarita and the burst of lime in the guacamole layer of this Triple Layer Mexican Party Dip paired perfectly together!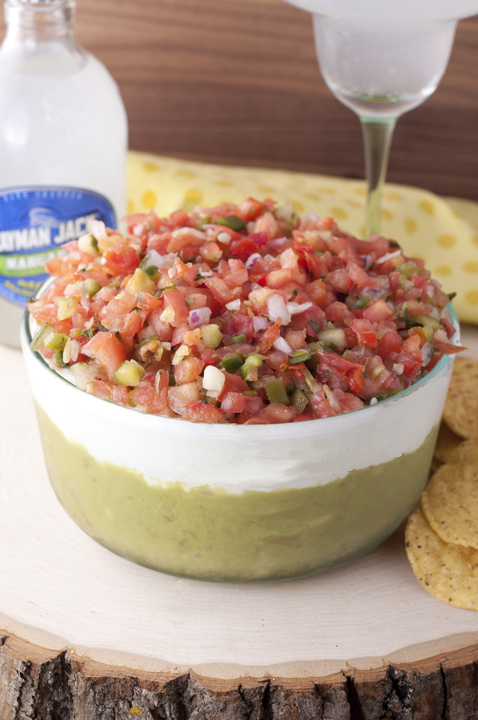 Cayman Jack is made from premium natural ingredients discovered around the world, including organic key lime juice.  They use 100% blue agave nectar from Jalisco, Mexico and pure cane sugar from south-central Brazil to naturally sweeten the drink.  The taste is great!  Cayman Jack doesn't believe is using anything else as a sweetener, such as high fructose corn syrup.  You can drink them straight out of the bottle or pour one in a glass over ice!  There is just the right amount of alcohol in their margaritas and they are so refreshing any time of the day.  The flavor is very fresh and clean, not too sweet, and has a strong lime scent that I love.  Perfection!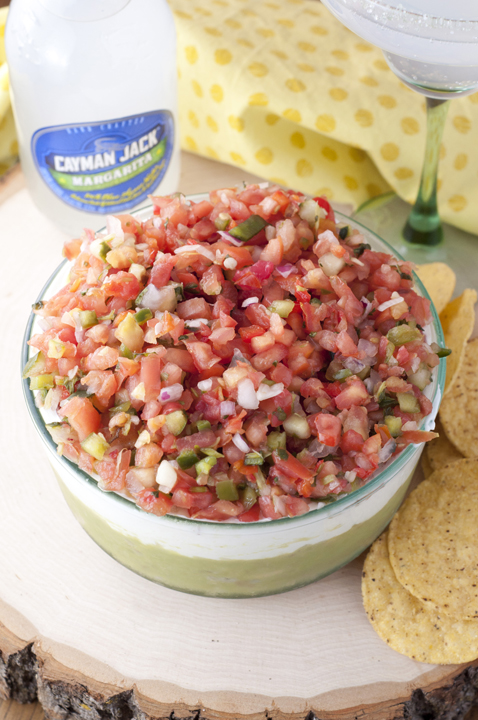 Go ahead and pack these margaritas for a beach, a summer picnic, or serve them at your next party!  Oh, and football season is upon us….you can break these out at the next game day get-together.  No matter what, they must be enjoyed alongside this Triple Layer Mexican Party Dip.  I plan on enjoying both this coming weekend while sitting by the campfire with friends.  Pure bliss!
Interested in learning more about Cayman Jack?  Check out their website and social media pages below!  You can purchase Cayman Jack at select grocery, convenience and liquor stores nationwide.  Enjoy!
Webpage
Facebook
Twitter
Instagram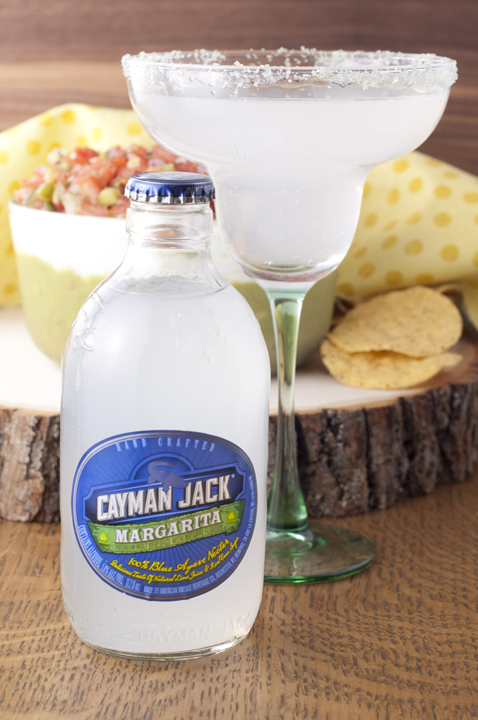 Triple Layer Mexican Party Dip
Loaded with guacamole, cheese, sour cream, and Pico de Gallo, this Triple Layer Mexican Party Dip is a fun way to enjoy your next Mexican food night!
Ingredients
Guacamole:
2 avocados, halved, seeded, and peeled
juice from ½ of a freshly squeezed lime
¼ teaspoon kosher salt
1 tablespoon minced cilantro
¼ small red onion, minced
¼ jalapeno pepper, minced
Cheese Layer:
½ cup sour cream
3 tablespoons finely crumbled goat cheese (or other salty, soft cheese)
2 tablespoons cream cheese, softened
1 tablespoon lime juice
1 tablespoon minced cilantro
1 pinch of salt
Pico de Gallo:
1 cup fresh tomato, diced small
½ cup bell peppers (I used green), diced small, optional
3 tablespoons red onion, diced small
½ fresh lime, juice only
1 tablespoon fresh lemon juice
2 tablespoons minced cilantro
½ tablespoon minced garlic
1 teaspoon minced jalapeno
¼ teaspoon kosher salt
dash of pepper
Instructions
Guacamole:
In a medium mixing bowl, mash the avocado, lime juice, and salt with a fork until it reaches your preferred consistency.
Stir in the cilantro, red onion, and jalapeno.
Cheese Layer:
Place the sour cream, cream cheese, goat cheese, and lime juice in a medium mixing bowl and mash the cream cheese and cheese into the sour cream until mostly smooth. Stir in the cilantro, and taste. Add a pinch of salt, if necessary.
Pico de Gallo:
Combine all ingredients in a small bowl and let rest for several minutes.
Assemble:
Layer the guacamole in the bottom of a glass serving bowl and smooth evenly. If necessary, press the guacamole against the sides of the bowl so there are no air pockets (it looks prettier that way). Spread the creamy cheese layer on top of the guacamole.
Drain any excess liquid from the Pico de Gallo and spoon it on top to cover. Serve with good quality tortilla chips and a Cayman Jack margarita!
Recipe source:  heavily adapted from soupaddict.com
This is a sponsored conversation written by me on behalf of Cayman Jack. The opinions and text are all mine.