Triple Layer Mexican Party Dip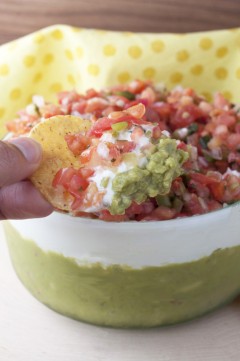 Guacamole:
2 avocados, halved, seeded, and peeled
juice from ½ of a freshly squeezed lime
¼ teaspoon kosher salt
1 tablespoon minced cilantro
¼ small red onion, minced
¼ jalapeno pepper, minced
Cheese Layer:
½ cup sour cream
3 tablespoons finely crumbled goat cheese (or other salty, soft cheese)
2 tablespoons cream cheese, softened
1 tablespoon lime juice
1 tablespoon minced cilantro
1 pinch of salt
Pico de Gallo:
1 cup fresh tomato, diced small
½ cup bell peppers (I used green), diced small, optional
3 tablespoons red onion, diced small
½ fresh lime, juice only
1 tablespoon fresh lemon juice
2 tablespoons minced cilantro
½ tablespoon minced garlic
1 teaspoon minced jalapeno
¼ teaspoon kosher salt
dash of pepper
Guacamole:
In a medium mixing bowl, mash the avocado, lime juice, and salt with a fork until it reaches your preferred consistency.
Stir in the cilantro, red onion, and jalapeno.
Cheese Layer:
Place the sour cream, cream cheese, goat cheese, and lime juice in a medium mixing bowl and mash the cream cheese and cheese into the sour cream until mostly smooth. Stir in the cilantro, and taste. Add a pinch of salt, if necessary.
Pico de Gallo:
Combine all ingredients in a small bowl and let rest for several minutes.
Assemble:
Layer the guacamole in the bottom of a glass serving bowl and smooth evenly. If necessary, press the guacamole against the sides of the bowl so there are no air pockets (it looks prettier that way). Spread the creamy cheese layer on top of the guacamole.
Drain any excess liquid from the Pico de Gallo and spoon it on top to cover. Serve with good quality tortilla chips and a Cayman Jack margarita!
Recipe by
Wishes and Dishes
at https://wishesndishes.com/triple-layer-mexican-party-dip/