Strawberry Topped New York-Style Cheesecake
This silky smooth Strawberry Topped New York-Style Cheesecake recipe is the perfect combination of tangy cheesecake and sweet summer berries! It also looks beautiful on your table!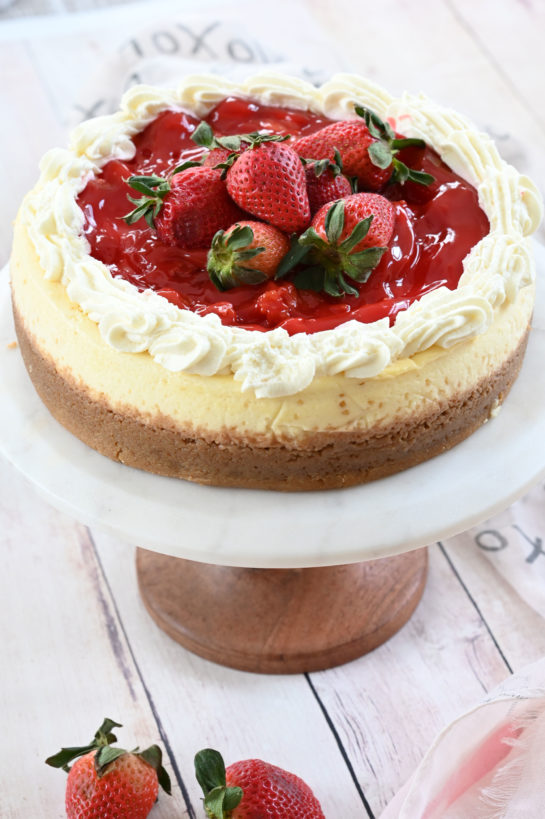 I'm so excited for this NY style strawberry cheesecake that I can't even stand it.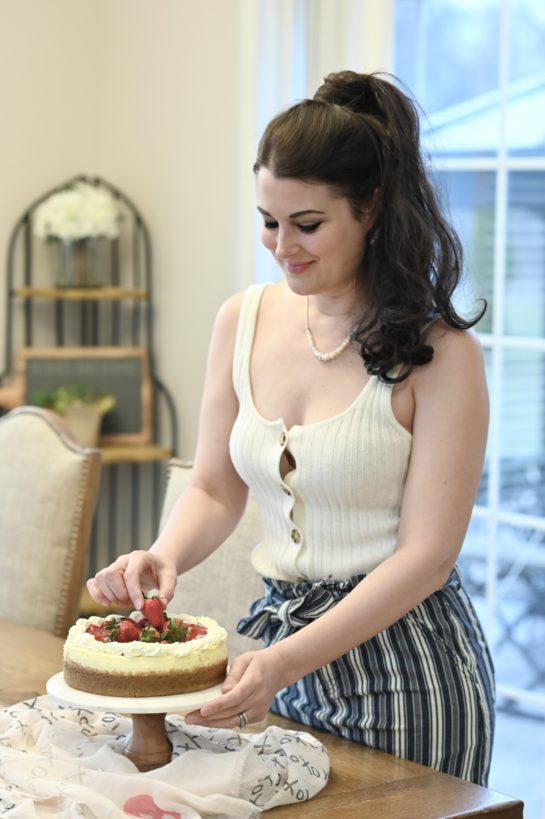 I have only been waiting FOREVER AND A DAY to share this strawberry cheesecake with you. I literally made it like two mother's days ago. Is that even proper grammar?
I wasn't feeling any of the typical cheesecake recipes or pies and wanted something different. Like something not filled with chocolate or lemon or coconut. Crazy, I know.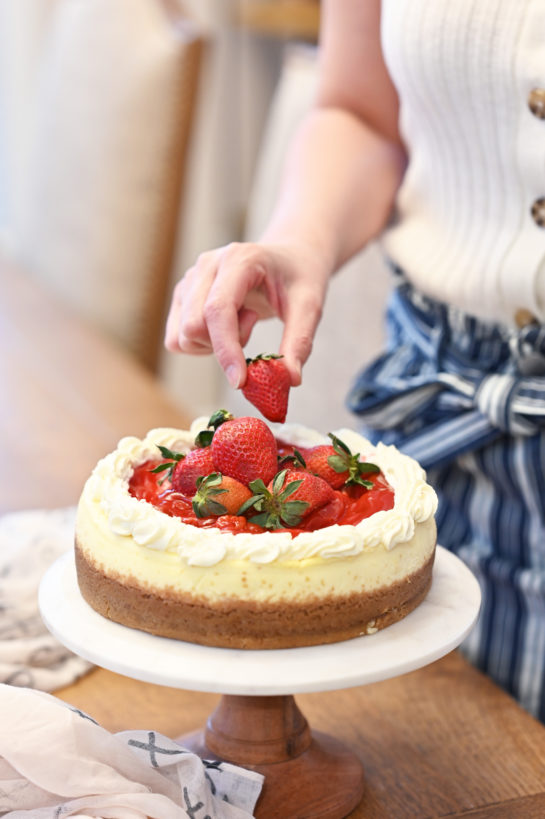 This strawberry cheesecake was the most popular breakfast, lunch and snack in our household. It was gone in two days flat. You will for sure feel like a professional baker with this gorgeous dessert.
It has been a heck of a week, my friends. I didn't have any help with Eliza this week at all since my mother-in-law is on vacation to Florida for 17 days. She normally comes 2-3 times a week to help me. I didn't realize how much I got done in those couple of short hours she would come over because I definitely got NOTHING done this week! Come back, Mary! (She doesn't read my blog posts, really.)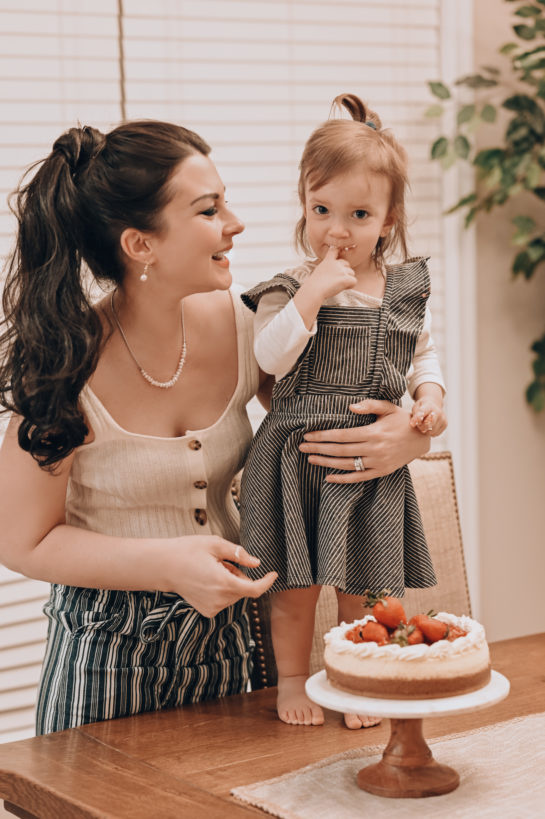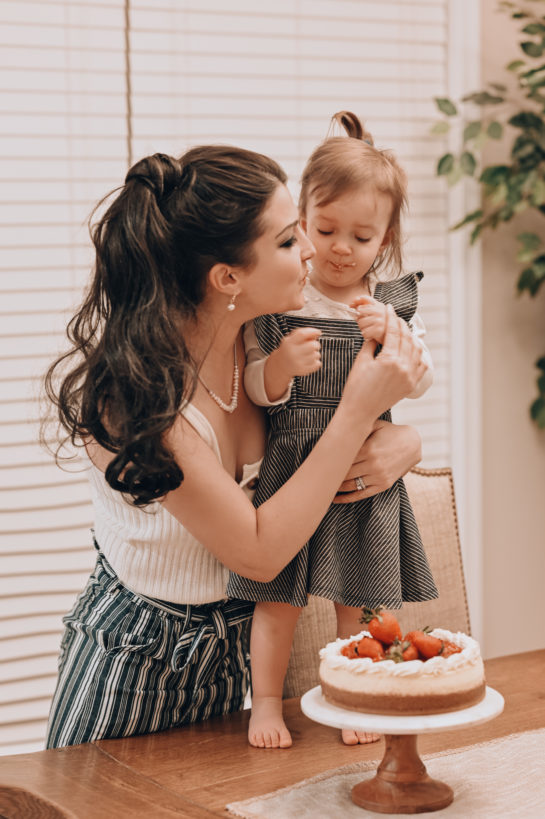 My sweet aunt Sheryl also couldn't come help me out this week and I basically have nothing to show for the week now as far as productivity. I am jumping on here to hopefully finish up this blog post and share this strawberry cheesecake recipe with you while I stick my daughter in front of the TV for a bit. Mother of the year here! Just kidding – I never claimed to be that and never will.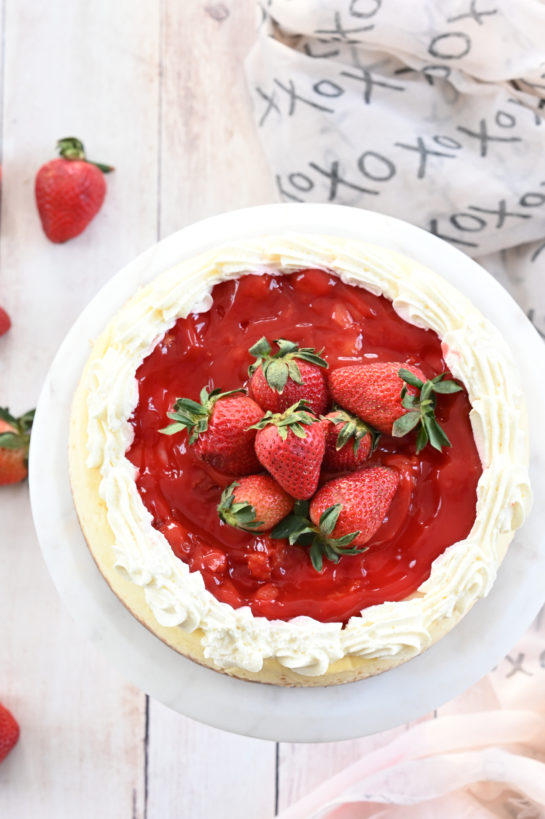 On top of it all, I'm not feeling well at all! I have had a horrible headache for days which I equate to staying up until 3 a.m. working every night. As Toby said in "This is Us", "I love my kids but I'm just not sure I want to spend ten hours a day with them." Haha! I love some aspects of that show and the candid moments with the characters you get every so often. Do you watch that show?
Say hello to my dinner tonight and please make it soon!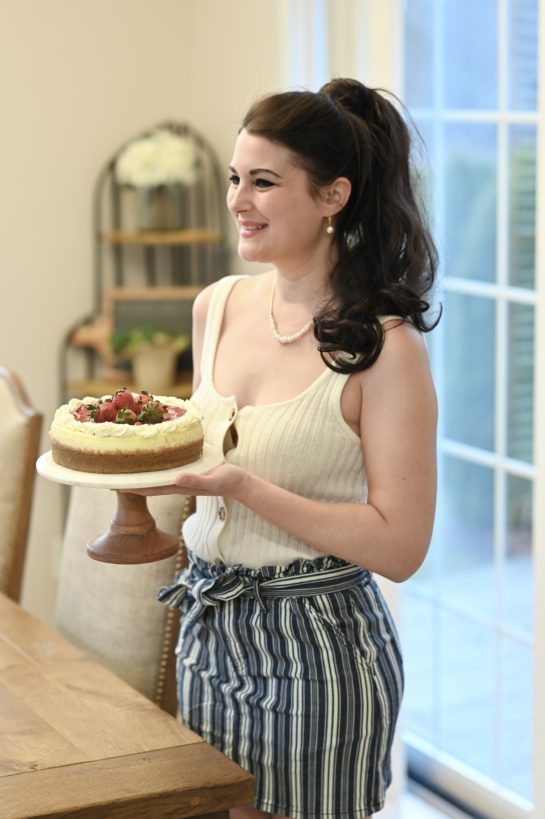 Here are some more cheesecake recipes that are perfect for Spring:
Lemon Blueberry Cheesecake Bars: these bars are easier than a cheesecake because they are in bar form! Super fun to eat!
New York Style Blueberry Cheesecake: this recipe is similar to the one I'm sharing today, except it uses a blueberry topping. It is super easy to make!
Caramel Macchiato Cheesecake: a personal favorite of mine if you are a cheesecake lover like myself.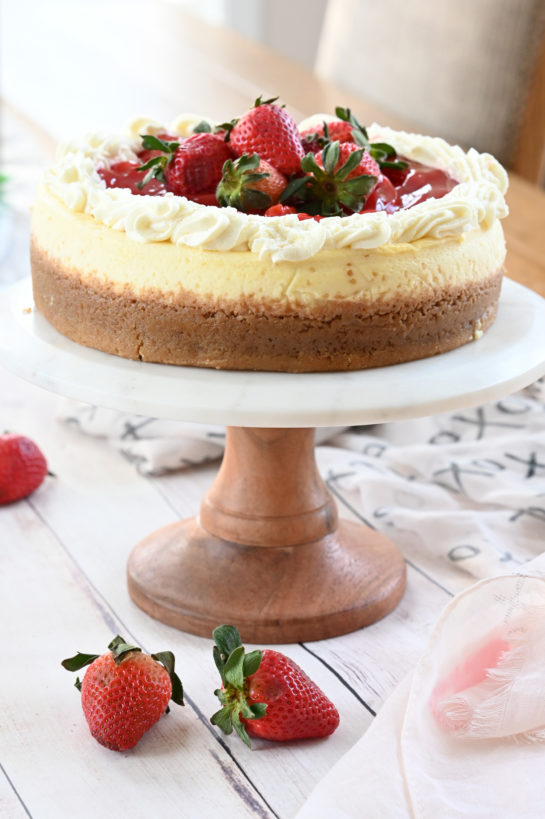 Strawberry Topped New York-Style Cheesecake
Prep time:
Cook time:
Total time:
This silky smooth Strawberry Topped New York-Style Cheesecake recipe is the perfect combination of tangy cheesecake and sweet summer berries! It also looks beautiful on your table!
Ingredients
1 cup graham cracker crumbs
2½ tablespoons unsalted butter, at room temperature
1½ tablespoons sugar, plus 1½ cups
2½ pounds cream cheese, softened
1 lemon, zested
1 orange, zested
½ teaspoon vanilla extract
3 tablespoons all-purpose flour
5 eggs
2 egg yolks
½ cup sour cream
1 vanilla bean, seeds scraped from inside of pod and reserved
1 teaspoon bourbon
Strawberry Sauce:
2 pints fresh strawberries
½ cup sugar
1 cup water
1 teaspoon finely grated lemon zest
2 tablespoons brandy
Instructions
Preheat oven to 375 degrees F.
Butter the bottom of a 9-inch springform pan. In a mixing bowl,
combine graham cracker crumbs, butter, and 1½ tablespoons
sugar and mix well. Press onto bottom of springform pan and bake until
golden, about 8 minutes. Set aside to cool. When completely cooled,
butter the sides of the pan.
Lower oven temperature to 350 degrees F.
In a large mixing bowl with an electric mixer, combine cream cheese,
/2 cups sugar, zests, and vanilla and beat until light and creamy.
Add the flour, then the eggs and yolks 1 at a time, mixing well after each
addition. Add the sour cream, vanilla bean seeds, and bourbon and mix
until smooth. Pour mixture into prepared pan. Wrap the pan in foil and
place in a roasting pan. Fill the roasting pan with enough hot water to
come half way up the sides of the pan. Bake for 1½ hours.
Transfer cake to a cooling rack and let cool completely. Refrigerate
cake overnight before serving. Cut into wedges and top with
strawberry sauce.
Strawberry Sauce:
Combine berries, sugar, water and zest and cook until berries are soft
and the liquid is thick, about 10 minutes. Stir in the kirsch or brandy
and cook for 1 minute.
Remove from the heat and let cool. Spoon on top of the cheesecake
and serve