Slow Cooker Angel Chicken
Did everyone have a great weekend?  I had a really nice one.  Friday I got a job of baby-sitting for my 16-month-old adopted "niece", Elliana, all day and night while my friends/her parents went to Niagara Falls for a special dinner with their relatives.  I absolutely adore (translation= borderline obsessed with) her so, needless to say, I was in my glory having her all to myself all day!  Saturday we did yard work all day then went to dinner with those same friends at a new-to-us Italian place we'd never been to called Red Fidele's.  The food was really good and it was especially nice to have Italian food after so long seeing as all we ate in California was Mexican food….NOT that I'm complaining because it was the best Mexican food I've ever had!  Sunday we went to church and Mr. Wishes and I came home and made lunch together (a recipe I'll be sharing with you soon for breakfast burritos) and went running together.  We ran a 4.5 mile trail which doesn't seem too bad but it was pretty much ALL brutally steep hills.  I'm going to be in for a hurtin' tomorrow, that's for sure!  We then took a walk along the canal and got frozen custard at Pittsford Farms Dairy (I ordered Key Lime and Vanilla twist….soooo good!).  It was a great weekend!
I got this recipe a few years ago when it was spreading like a wildfire all over the web and I finally made it.  I wish I had gotten around to it sooner because it turned out really good and was super easy.  You just throw everything in the slow cooker and it does it's thing!  We both loved this meal and I will definitely be making this on a regular basis.  If you can't find golden mushroom soup (I had a hard time finding it but after some hunting I found it at Tops and Walmart) you can always substitute cream of chicken soup.  Also, you can swap out the white wine and replace it with chicken broth.  The recipe is very adapable!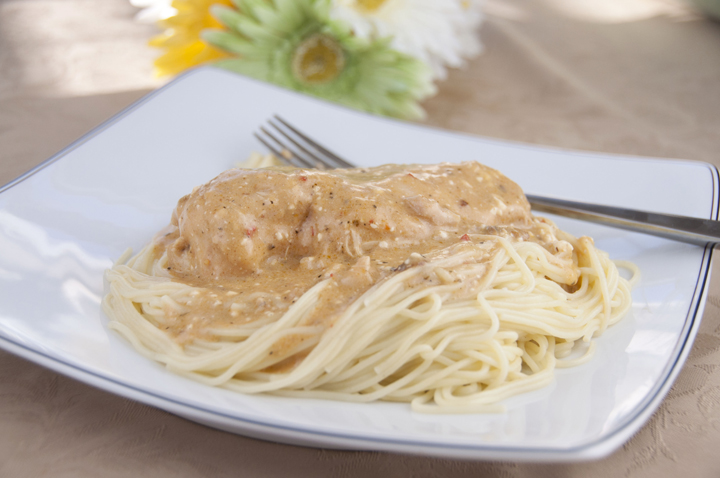 INGREDIENTS:
3-4 chicken breasts
3 Tbs. butter
Italian dressing mix – 1 packet
1 can golden mushroom soup (cream of chicken works, too)
4 oz. cream cheese
3/4 cup white wine
angel hair pasta, cooked
DIRECTIONS:
Put the chicken in the crock pot.  Melt the butter and soften the cream cheese in the microwave.  Stir those together with the Italian dressing mix, the soup and wine then pour over chicken.  Cook on low for 5-6 hours.
You can break the chicken up a bit with a fork or spoon after it has cooked or leave whole.  Serve the chicken with the sauce over the cooked pasta.
Enjoy!