Minnie Mouse Sugar Cookies
These cute Minnie Mouse sugar cookies are the easiest and the best-tasting sugar cookie recipe – great for a child's Disney themed birthday party or baby shower!  Frost them any way you like, but these will be your new go-to cut-out cookie.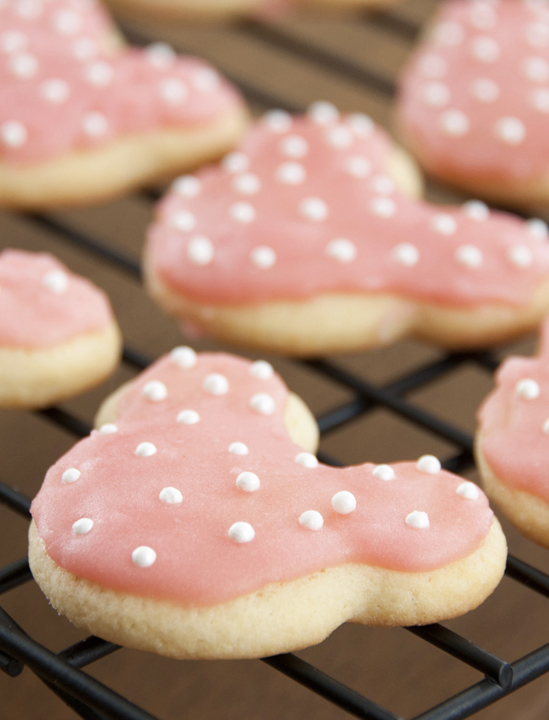 Happy 4th birthday to my blog today! Let us celebrate with these Minnie Mouse Sugar Cookies. Are these not the cutest cookies you've ever seen?  OK, maybe I am just biased.
We all know by now that I have an unhealthy obsession with Disney World.  I feel compelled to mention it in my blog posts constantly….my post about Greek Lasagna on Tuesday, for instance.  My hubby feeds the monster by bringing me there every so often.
I never went as a kid so I'm simply making up for lost time from my "deprived" childhood (that's what I like to tell myself).  Mr. Wishes went many times as a child so his spoiled rotten self (ha ha) isn't quite as thrilled to skip merrily through the parks with me, but hey, he takes one for the team.
I finally found the sugar cookie recipe that makes me stop in my tracks on the search for the perfect recipe.  I have had a lot of good ones, but this is my favorite.
I played around a little bit with different recipes and found I like the mixture of the shortening and butter, instead of just butter OR just shortening as the fat in the recipe.  The butter gives it the good flavor but the shortening helps keep them "fluffy" and keep their shape better while baking.  I'm no baking expert, but this is just what I found to be my preference.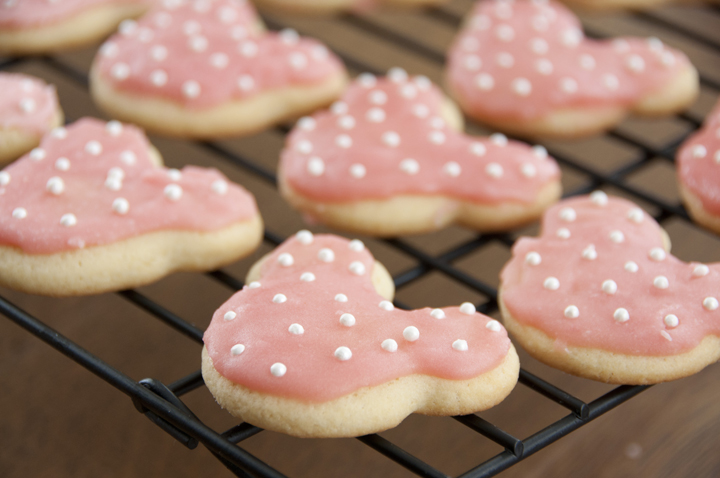 I actually made these cookies for a a get-together with friends where the food theme was "mini" night:  any sort of food you want to bring, but the miniature version of it. I decided to be a little bit clever and literally make mini "Minnie" cookies.
I was so excited to finally get to put my cookie cutter to good use!  These particular Minnie Mouse Sugar Cookies would be loved by any Disney fan in your life.  You can even decorate them as "Mickey" for boys!
There are endless possibilities for frosting and decorating these cookies!  I, of course, chose to devote these cookies to my love for all things Disney.  They also would be perfect for a baby shower!
I used this strawberry buttercream frosting recipe for these cookies and it was just perfection.  You can use your favorite frosting recipe that you typically use on sugar cookies, but I loved the strawberry taste with the sugar cookies for something different.  Of course, the pink color made them more "girlie" and fun.  Enjoy!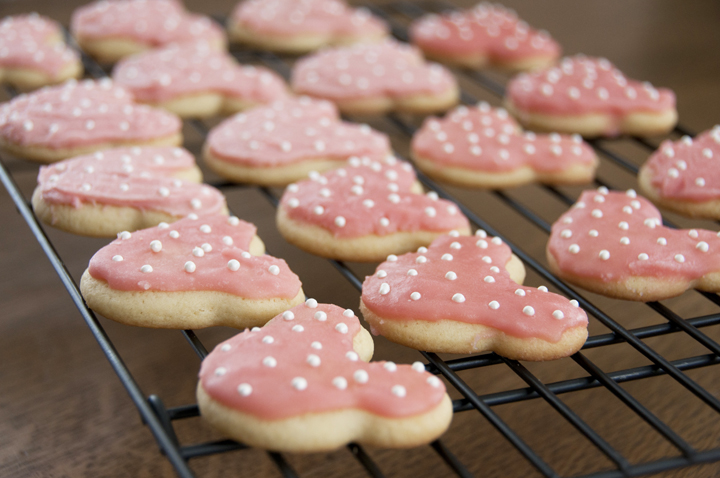 Minnie Mouse Sugar Cookies
Prep time:
Cook time:
Total time:
These cute Minnie Mouse sugar cookies are the easiest and the best-tasting sugar cookie recipe for a kid's birthday party or baby shower.
Ingredients
5 cups all-purpose flour
2 teaspoon baking powder
¾ cup butter, softened
¾ cup butter-flavored shortening
2 cups white sugar
4 eggs
2 teaspoons vanilla extract
1 teaspoon salt
Strawberry buttercream frosting (recipe here)
Pearls, for decorating (optional)
Instructions
In a large bowl, sift together the flour, baking powder, and salt. Set aside.
In a large bowl, cream together butter, shortening and sugar until smooth and no lumps remain.
Beat in eggs and vanilla.
Slowly stir in the flour, baking powder, and salt mixture.
Cover, and chill dough for at least one hour (or overnight).
Preheat oven to 400 degrees F (200 degrees C). Roll out dough on floured surface ¼ to ½ inch thick. Add a little more flour as needed for sticky dough.
Cut into shapes using Mickey Mouse (or any) cookie cutter.
Place cookies 1 inch apart on ungreased cookie sheets.
Bake 6 to 8 minutes (depending on size and thickness) in preheated oven. Cool two minutes on baking sheet so they can set and then transfer to wire racks to cool completely.
Frost and decorate once completely cooled.