KIND Bars and Granola Review
KIND bars and granola are nutritionally dense, with no refined sugar and the right combination of natural protein, carbs and healthy fats.  This is my personal review on their products!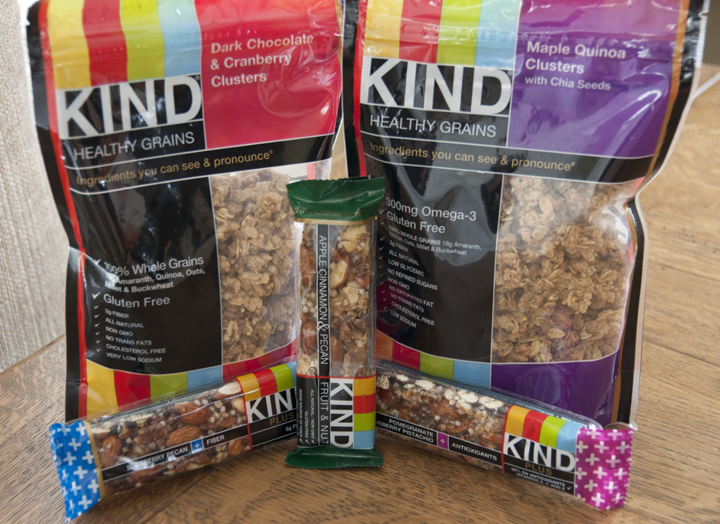 If you are ever looking for a fast way to get your nutrients you should try out KIND snacks.  My husband and I discovered their granola last year in the organic section at the grocery store and have been addicted ever since.  He eats the peanut butter granola mixed in with his Greek yogurt for breakfast every single morning.  We both LOVE the peanut butter clusters!
Kind was "kind" enough (ha ha) to send me some samples for review and I'm so glad they did.  Doing this review introduced me to some flavors I had not seen yet and others that I have really been wanting to try!
BARS
KIND bars are nutritionally dense, with no refined sugar and the right combination of natural protein, carbohydrates and healthy fats so you won't get hungry again right away and resort to snacking on junk food that you will regret later.  Naturally, these are perfect for me being the huge snacker that I am.  The ingredients in these bars are all natural, gluten free, wheat free, dairy free, non-GMO, and quite simple- but the quality of the ingredients makes for BIG flavor!  They use the naturally occurring sugars in the dried fruit and honey.  These naturally occurring sugars make them sweet and the natural fats in the nuts make them taste wonderful.
The  flavors I was sent were:
Pomegranate Blueberry Pistachio
Apple Cinnamon & Pecan
Blueberry Pecan
I absolutely love these bars and my favorite was the blueberry pecan…probably because I am partial to blueberries when it comes to fruit.  It was loaded with fiber and protein and I almost felt guilty eating it because it tasted so good!  These bars are the perfect treat that you can snack on with your morning coffee or have as a mid-afternoon snack. They will keep you energized and awake during your exciting days at work or school 🙂  I have never had a "healthy" product taste so good. It didn't have that aftertaste that a lot of healthy products have. Pure deliciousness in every bite and I highly recommend them, especially for satisfying a sweet tooth!
 GRANOLA
The flavors I was sent were:
Dark Chocolate & Cranberry
Maple Quinoa Clusters with Chia Seeds
The granolas are also gluten-free and full of REAL food.  Can't beat that!  One thing about granola is it is highly addictive so you need to portion it out so that you don't go overboard. I generally eat the granola dry, straight from the package, but I have eaten it with milk, making for a delicious, nutritious breakfast.  It would also go great with almond milk and is a healthy alternative to sugary cereals, or in handfuls while on a long hike.
Something I don't like about a lot of store-bought granola is that it is crumbled too much. You end up with thousands of tiny chunks. This is not true with the KIND brand. There are big and small chunks, with the right texture and crunch.  Added to that is a simply delicious flavor.
Dark Chocolate & Cranberry – This one was super tasty and my favorite of the two.  The chocolate was just enough and not too overpowering so you had the flavor without all the calories and fat.  The dark chocolate with the tangy cranberry taste was just awesome!
Maple Quinoa Clusters with Chia Seeds – This is a new flavor (at least I've never seen it before in stores!) and is SO yummy. The maple is very subtle so there is a little bit of a sweetness but it is just the right amount.  I also really loved this one!
What I enjoy most about KIND granola/bars is the simplicity of the ingredients.  It allows you to choose and eat foods with as little ingredients as possible, as minimally processed as possible, and whole, natural food.  Their bars and granola  fit the "clean eating" bill for the most part.
They may be a bit pricier than some other bars/granolas and on-the-go foods, but you are paying for quality. I've seen a single bar range from $1.19-2.15. You can often times find them on sale, or you can also buy them in bulk.  They are certainly worth their price, in my opinion.
If you go to the company's website, you can also see what they stand for. Their philosophy includes this quote:  "Be KIND to your body, your taste buds, and the world."  Their website has some handy dandy information where you can find KIND bars near you.  I am lucky enough to live in an area where my local grocery store, Wegmans, carries them.
Thank you to the people at KIND for sending me these fantastic bars and granola to try out!
Disclaimer: KIND company sent me samples to review but all opinions expressed are entirely my own, as always.  I was NOT compensated to write this review.