Homemade Bread Stuffing
I've never met a stuffing I didn't like, but I do tend to prefer the more simple and traditional bread stuffing.  This might be because the stuffing is my favorite part of the Thanksgiving meal and I don't like to "mess" with it at all.  I'm a stuffing purist like that!  I literally will have my entire plate full of stuffing and sweet potatoes and the tiniest piece of turkey on the side.  I do enjoy turkey, but Thanksgiving is all about the side dishes for me.
This simple stuffing I'm sharing with you today is flavored with poultry seasoning, onion, and celery and can be jazzed up with your favorite additions.  I always thought it was impossible to make a good, moist stuffing that wasn't cooked inside a turkey but lo and behold, it happened…and it is possible.
If you are using leftover baguettes with a hard crust, make sure you remove the tough parts of the crust first, because they will absorb a lot of the liquid you add.  I think this works best with a high-quality white sandwich bread like Pepperidge Farm and don't take the crust off.  Also, if you're adding any extras – nuts or fruit (slivered almonds, raisins, diced up apples, etc), do it just before adding the chicken broth.  Mr. Wishes likes raisins and sausage in his stuffing because he's weird 😉
How do you like your stuffing?
Happy Thanksgiving!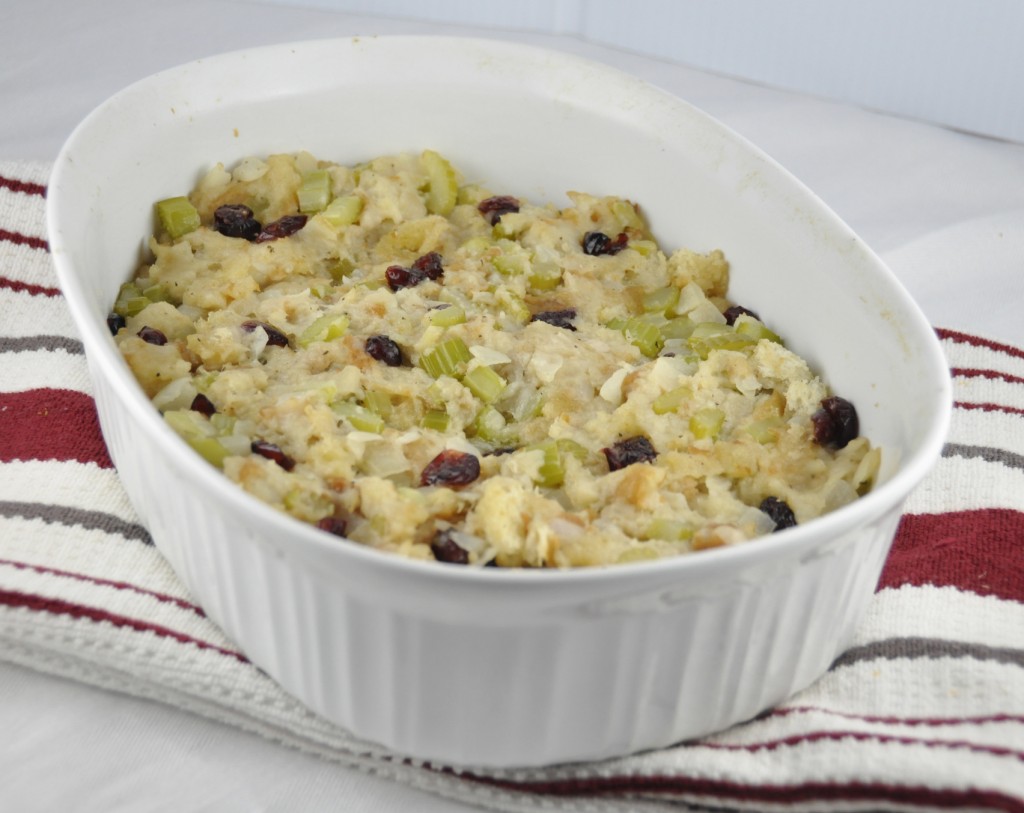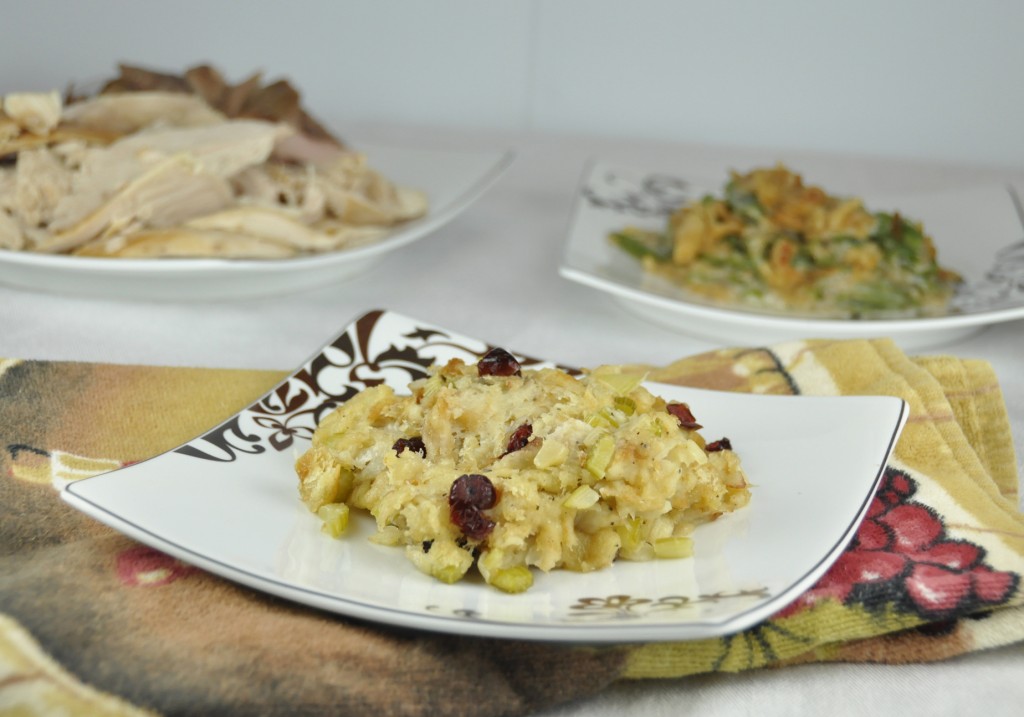 INGREDIENTS:
*double this recipe for a large crowd/stuffing a large turkey. This would be the perfect amount for stuffing a 10-12 pound turkey
1 (1 pound) loaf stale, dry white bread
3/4 cup butter
1 onion, chopped
4 stalks celery, chopped
2 teaspoons poultry seasoning
salt and pepper to taste
1 cup chicken broth
6 oz Craisins or raisins, optional but great for color
DIRECTIONS:
Cut or rip stale bread into cubes.  Don't use use fresh bread.  After bread is cut into cubes, you can dry in the oven at a low temperature (275 degrees F.) until dry, about 15 minutes.  If you are using old bread without drying it out, reduce the liquid in the recipe or you'll end up with mush.
In a Dutch oven, melt butter over medium heat. Cook onion and celery until soft. Season with poultry seasoning, salt, and pepper. Stir in bread cubes until evenly coated. Moisten with chicken broth; mix well.
Chill, and use as a stuffing for turkey, or bake right away in a greased casserole dish at 350 degrees F for 30 to 40 minutes.