Filet Mignon with Blender Bearnaise Sauce
Perfect Pan-seared Filet Mignon with Blender Bearnaise Sauce for two is a simple recipe for a special occasion dinner and is sure to impress!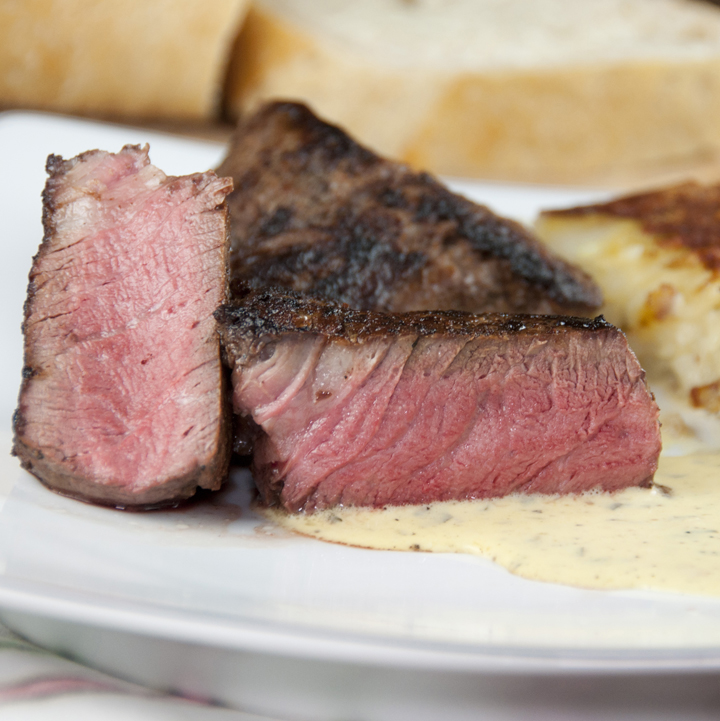 Mr. Wishes and I like a good steak once in a while, but since it can be pricey, we save the indulgence for special occasions or date nights.  For our anniversary this year we cooked up these juicy beef tenderloin steaks – it really makes for a glorious meal and the taste was spot on!
Filet Mignon is known as the king of steaks for a reason: if it's cooked right, it can be cut with the side of your fork. It is one of the most tender cuts of steak that you can buy and, therefore, it doesn't require any fancy seasonings.  I have tried many different variations of seasoning and I always come back to just plain ol' kosher salt and fresh cracked black pepper!  I also prefer my steaks pan seared or grilled.  It really brings out the flavor.
It's really easy to overcook filets, so as long as you're careful, they will turn out perfect every time!  I always cook mine to medium-rare (Certified Angus Beef taught me well!) but you can cook it to your liking.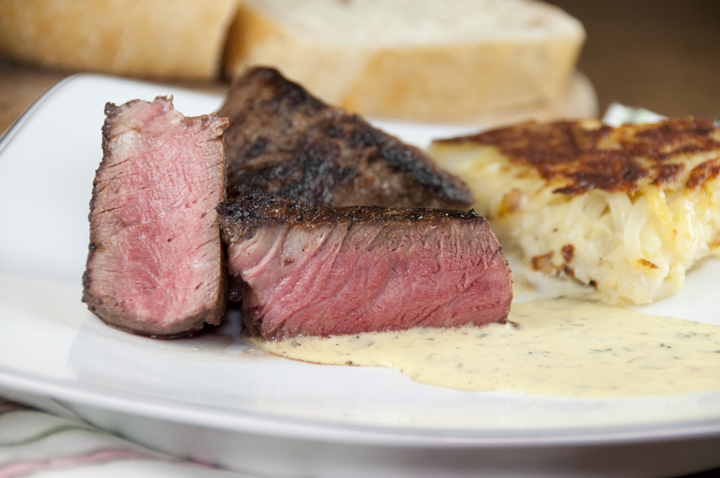 I like to mix it up with the steak sauces and try different variations.  Honestly, filets don't NEED any sort of sauce because they do a fine job of holding their own, but once in a while it's fun to have a special sauce to go with them.  I wanted more of a "fancy" sauce this time and made the Bearnaise sauce right in the blender.  If you have never tried this classic French sauce, you must try it!  The filet was perfect but the real show stopper was the Bearnaise because it just added that perfect touch.  It was simple and worked like a charm.  You can drizzle the Bearnaise sauce over the top of the steaks or serve it on the side for dipping.
I served this Filet Mignon with Blender Bearnaise Sauce alongside a potato hash, roasted asparagus and sourdough bread (because we are those weird Italians who just HAVE to have bread with every meal).  Enjoy!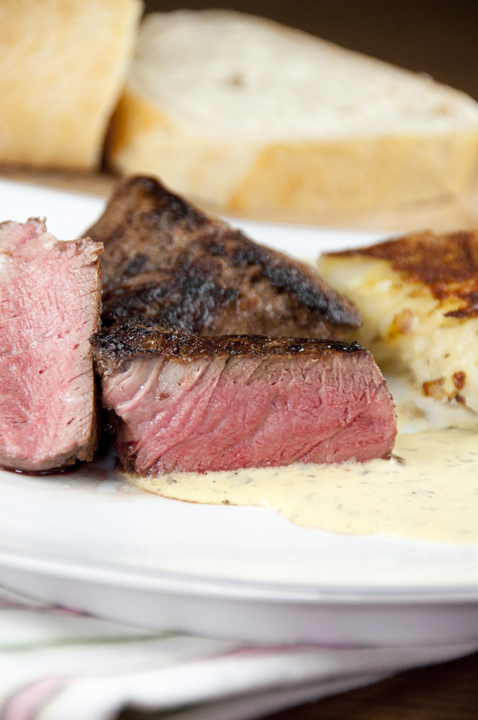 Filet Mignon with Blender Bearnaise Sauce
Prep time:
Cook time:
Total time:
Perfect Pan-seared Filet Mignon with Blender Bearnaise Sauce for two is a simple recipe for a special occasion dinner and is sure to impress!
Ingredients
2 tenderloin steaks/filet mignon (preferably Certified Angus Beef )
Extra-virgin olive oil
Kosher salt and freshly ground black pepper
Blender Bearnaise Sauce:
½ of a bunch fresh tarragon
1 shallot, minced
⅛ cup champagne vinegar
⅛ cup dry white wine
2 egg yolks
½ stick butter, melted
Salt and freshly ground black pepper
Instructions
Take the beef tenderloins and drizzle with olive oil. Season well all over with plenty of kosher salt and freshly ground black pepper all over. Make sure they are at room temperature before cooking.
Place a cast iron skillet over medium-high heat on the stove top, add a small amount of oil to the pan. When oil shimmers, place tenderloins in pan. When juices begin to rise to the surface of the meat, about 2-3 minutes, flip steaks with tongs and sear the other side for another couple minutes and check doneness with an instant-read thermometer.
Thermometer when inserted into the thickest part (from the side) of the meat should read 135 degrees F for medium-rare.
Remove from pan and tent with foil while you let it rest for 5 minutes before cutting into.
Make the bearnaise reduction first. In a small saucepan, combine half of the tarragon, shallots, vinegar and wine over medium-high heat. Bring to a simmer and cook until reduced by half. Remove from heat and set aside to cool. Blend yolks and bearnaise reduction together in a blender. With the blender running, add ⅓ of the butter in a slow steady stream. Once it emulsifies, turn the blender speed up to high and add the remaining butter. Add the remaining half bunch of fresh tarragon leaves, season with salt and pepper and give it 1 more buzz. Set aside in a warm spot to hold the sauce.
 Recipe source:  sauce from Tyler Florence, Food Network