Crock Pot Pumpkin Bread Pudding
Crock Pot Pumpkin Bread Pudding recipe is so simple to make – just put it all in the Crock pot and let it cook. You can make this the night before, refrigerate, then drizzle it with warm caramel sauce before serving.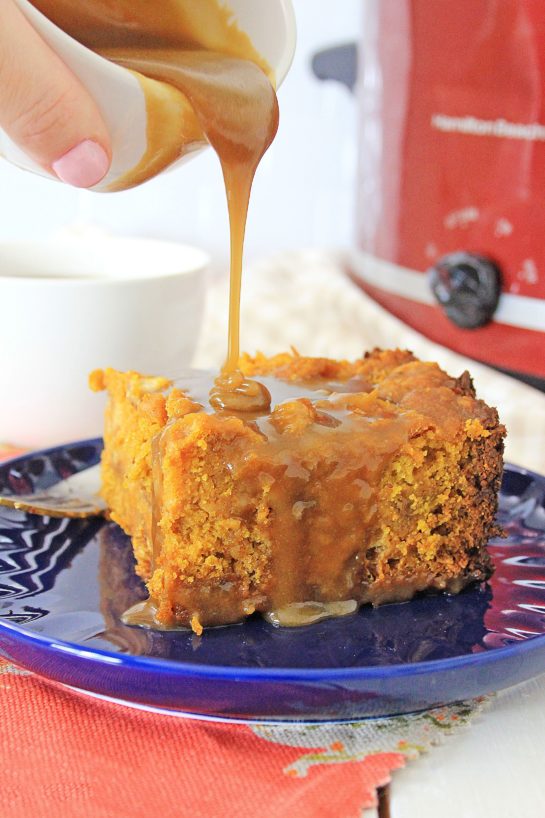 Hello, crock pot pumpkin bread pudding! Bread pudding might be my new favorite thing.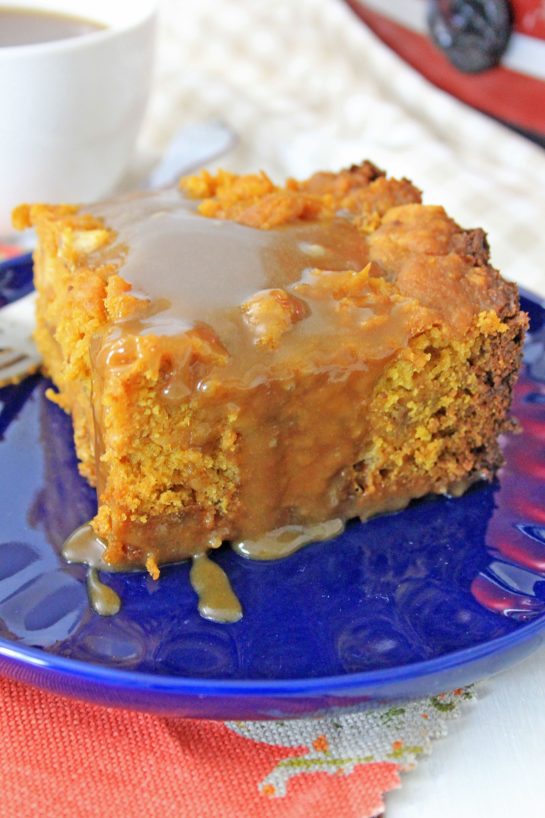 Because 'tis the season for fall comfort food. And comfort food this is. There is so much going on in this recipe but I promise it all comes together to create an autumn flavor explosion in your mouth. It would make a fabulous Thanksgiving dessert or breakfast along with my pumpkin donut muffins.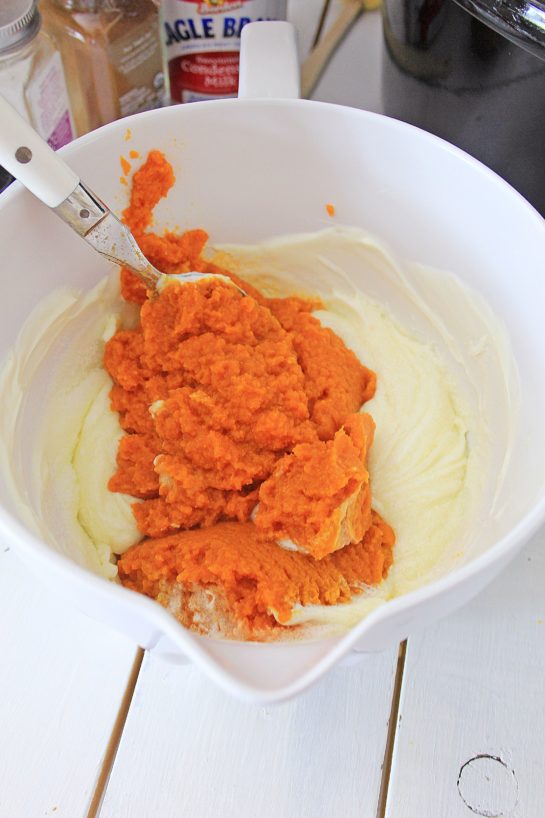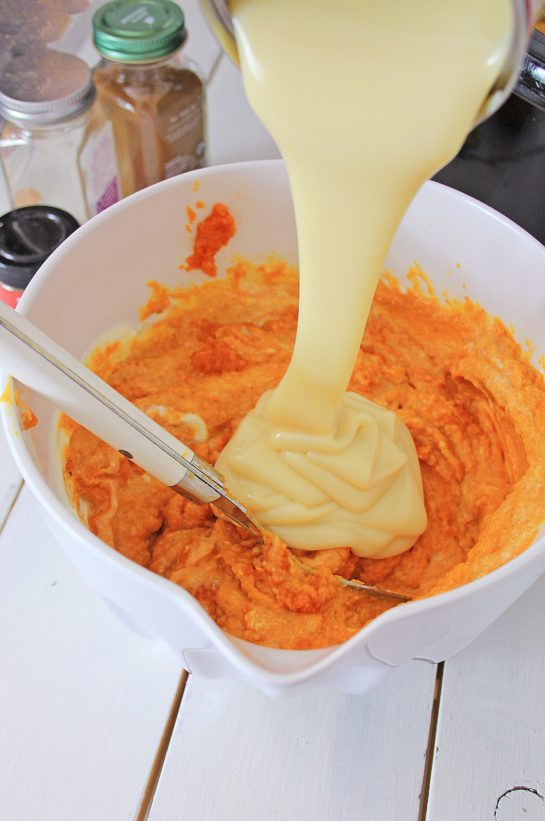 Bread pudding is a bread-based dessert that is popular in many countries. Though different countries tend to vary their flavorings and ingredients, the basic ingredients include cubes of stale bread (or muffins, donuts, etc.), milk or cream, eggs and oil or butter.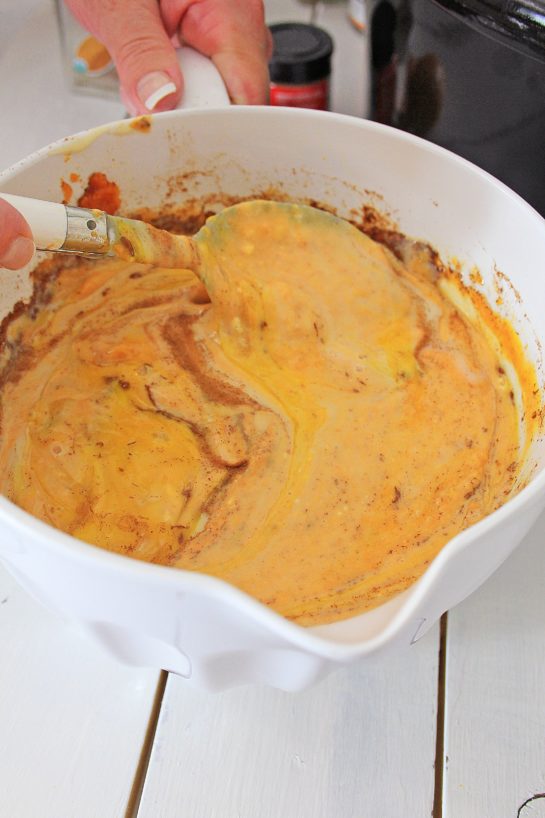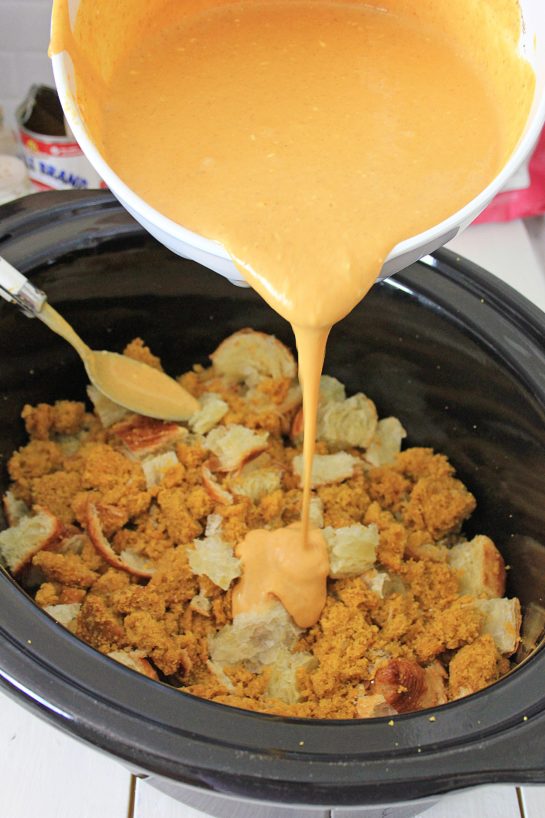 The bread is then typically soaked in liquids, mixed with other ingredients and baked. Bread pudding is seriously such a comforting, cozy dessert.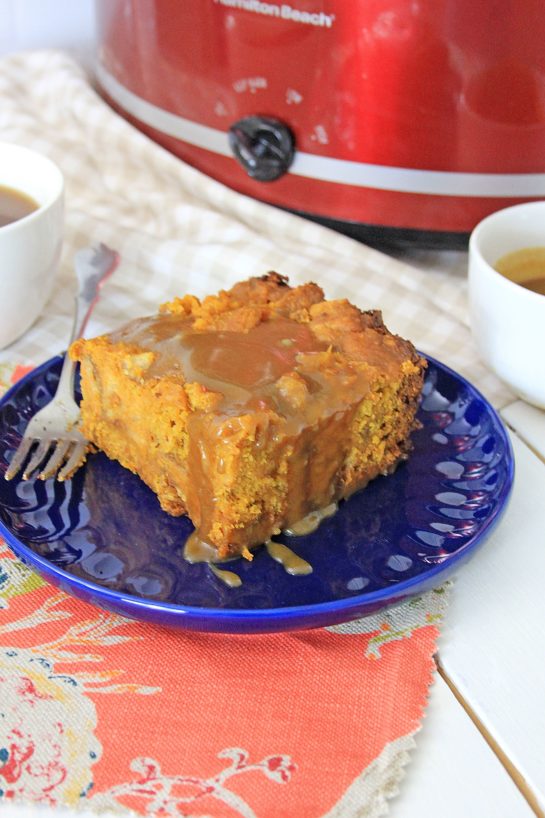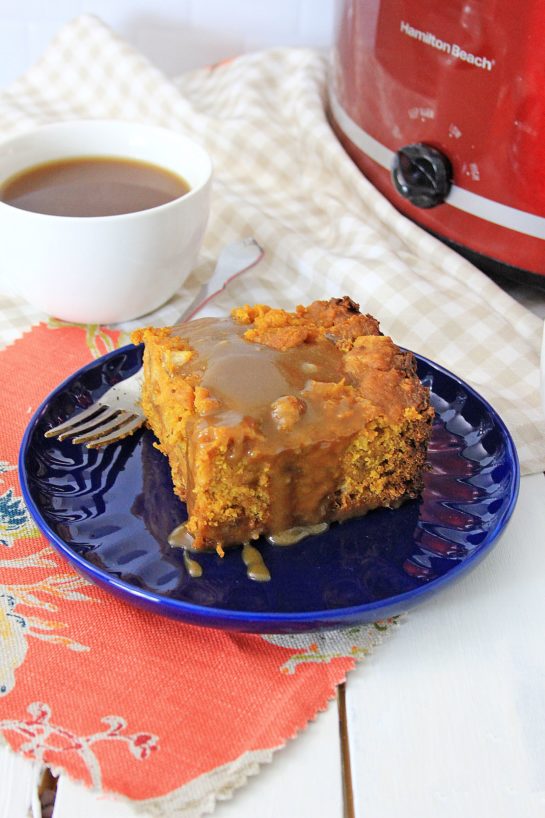 My pumpkin bread pudding has a delicious hint of cinnamon and creamy flavor, much like my Bourbon-Glazed Chocolate Chip Pumpkin Bread. You can add in raisins or chopped pecan if you like, but I like it best served with just a drizzle of caramel sauce and vanilla ice cream.
I mean, you guys I don't even worship at the altar of pumpkin. But this one is SO good, along with my other pumpkin recipes.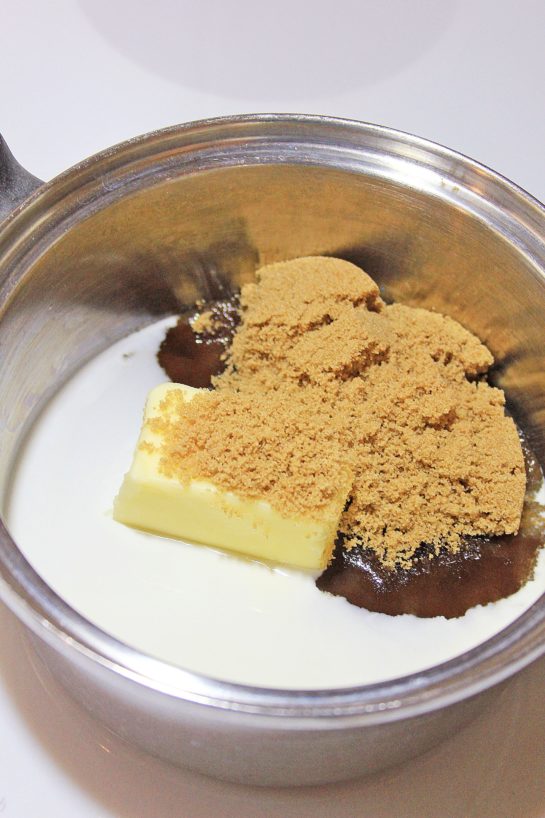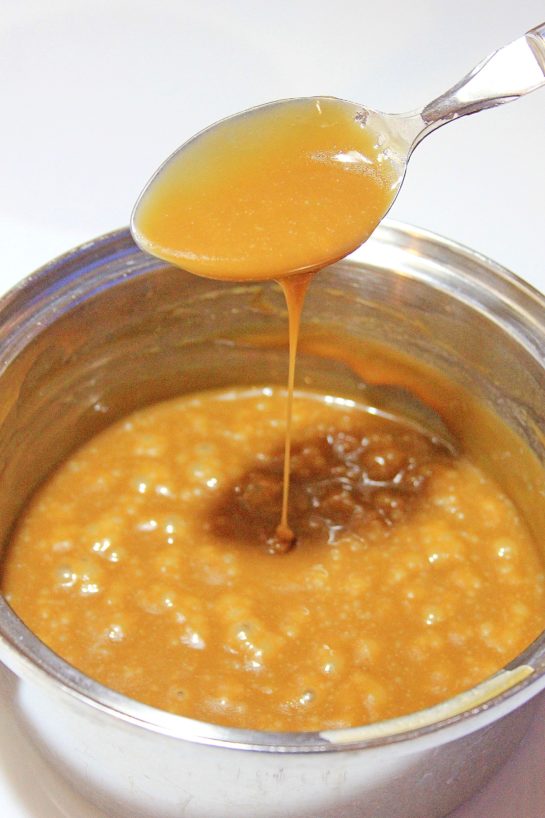 You guys seriously need to try this. I'm all in on fall immediately after trying this pumpkin bread pudding. It is most definitely proof that you don't need a bunch of fancy ingredients or kitchen equipment to make a super tasty dessert like this and my Pumpkin Cheesecake Bars.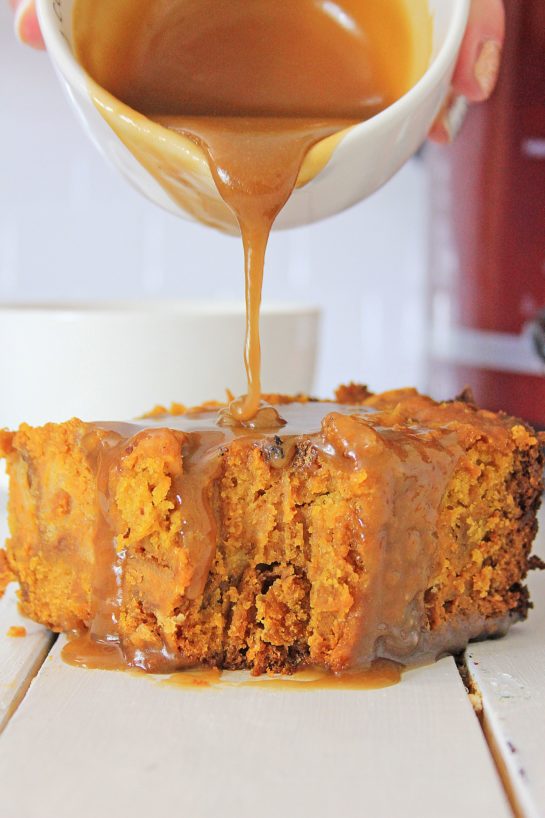 I promise this pumpkin bread pudding is an irresistible dessert classic like my Pumpkin Cream Cheese Swirl Muffins. Equal parts creamy and textured and it makes for a great comfort food for the holidays this year.
This particular recipe is best served warm and is especially delicious with ice cream and caramel syrup! It is one of those things that is amazing to make ahead of time for a party or get together or even just an average fall weekend.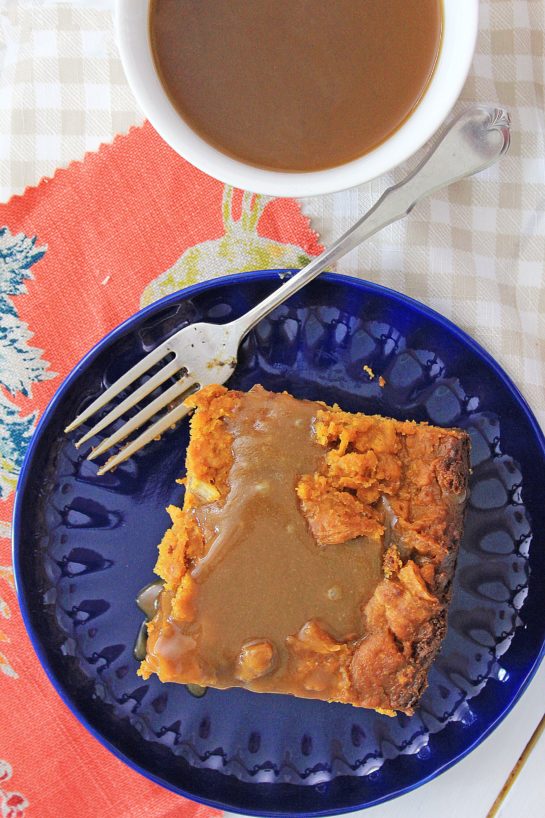 Bread pudding is seriously underrated. That's why this pumpkin dream bread pudding was born.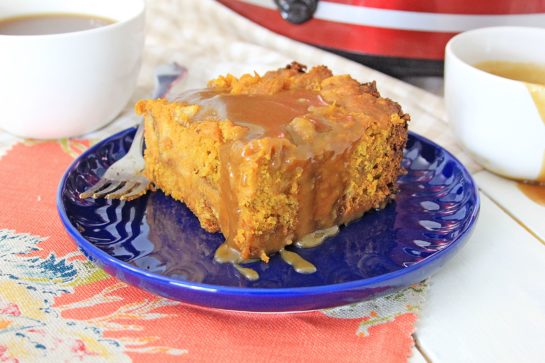 Crock Pot Pumpkin Bread Pudding
Prep time:
Cook time:
Total time:
This Bread Pudding is so good, and the caramel sauce makes it really delicious! It's so simple to make, because you just put it all in the Crockpot and let it cook. You can make this the night before you need it, and keep it in the fridge, then slather it with warm caramel sauce, and it's just wonderful.
Ingredients
6 large store-bought Croissants, cubed
6 Jumbo store-bought pumpkin muffins - cubed (you could also use a loaf of pumpkin bread cut in cubes)
1 8 oz. package of cream cheese, softened to room temperature
1 15 oz. can of Pumpkin
1 can Sweetened Condensed Milk
1 large egg
1½ Tbsp Cinnamon
1 tsp Pumpkin pie spice
1 Cup Sugar
1 teaspoon Vanilla
CARAMEL SAUCE:
1 stick of Butter
1 cup of Brown Sugar
½ cup of Milk
2 teaspoon Maple Syrup
Instructions
Spray your Crock pot/slow cooker with Cooking Spray, and turn heat setting to HIGH.
Place the Croissants on a cutting board and cut into 1 inch cubes.
Cut the pumpkin muffins into 1 inch cubes (roughly), and add both to the crock pot, tossing with your hands to blend. Place lid on the Crock pot.
In a large measuring bowl, or bowl with a pouring spout, place the 8 ounces of cream cheese, and place the bowl in the microwave.
Microwave for about 1 minute, stirring half way through, to help soften the cream cheese.
Stir the cream cheese with a large spoon until it's very smooth.
Stir in the sugar (1 cup) and keep stirring until the sugar is completely blended.
Add the can of pumpkin, and stir to blend well.
Add the Sweetened Condensed Milk, Egg, Cinnamon, Pumpkin pie spice, and Vanilla, and stir until blended and smooth.
Pour mixture over cubed Croissants and pumpkin muffins; mix together.
Cook on high for 1 to ½ hours, and then turn the heat to low, and finish cooking, for about 2 - 3 additional hours, or until a knife inserted in the middle comes out clean.
CARAMEL SAUCE:
In a heavy bottom sauce pan, melt butter over Medium heat.
Add the Milk, and Brown sugar, stir to combine; dissolve the brown sugar.
When the sauce boils, turn the heat to low, and continue to stir, and add the Vanilla. Stir continuously or it will stick in the bottom!
Continue to stir until the mixture begins to thicken nicely.
Keep stirring and cooking for about 5 minutes, then turn off the heat, remove the saucepan, and stir in the Maple Syrup.
NOTE: If you serve this right away, it will stay the same consistency. If you serve at a later time, the sauce will thicken. Simply put the pan back on low heat, and stir in about 1 Tablespoon of butter, and a few drops to several drops of milk, and stir. The sauce will begin to thin. Just keep adding a few drops of Milk slowly until you get it to the consistency you prefer.
To serve: spoon the Bread Pudding from the Crockpot, or cut it in pieces and remove it with a Cake server. Place the Bread Pudding on a dessert dish, or bowl, and spoon Caramel Sauce over the top.
NOTE: You can also serve this with Whipped cream. Since Crockpot's cook a little differently, just watch the Crockpot to make sure it doesn't start to burn in the bottom when it's on high. You may need to turn it to low right at the one hour mark, or it may take the additional half an hour to cook a bit more before you turn to low. ALSO: The Croissants and Jumbo Pumpkin muffins can be purchased at your local market. If you can't find the pumpkin muffins, but the store has pumpkin bread in loaves, that will work fine. You're going to cube them, so it doesn't really make that much difference if it's a muffin, or a loaf. The beauty of Bread Pudding is using what you have or can find, and it will still come out delicious when you add the pumpkin cream cheese mixture, and the Caramel sauce.