Creamy Pumpkin Alfredo Pasta
Homemade Cheesy and Creamy Pumpkin Alfredo Sauce served over pasta makes the perfect fall dish that your whole family will love.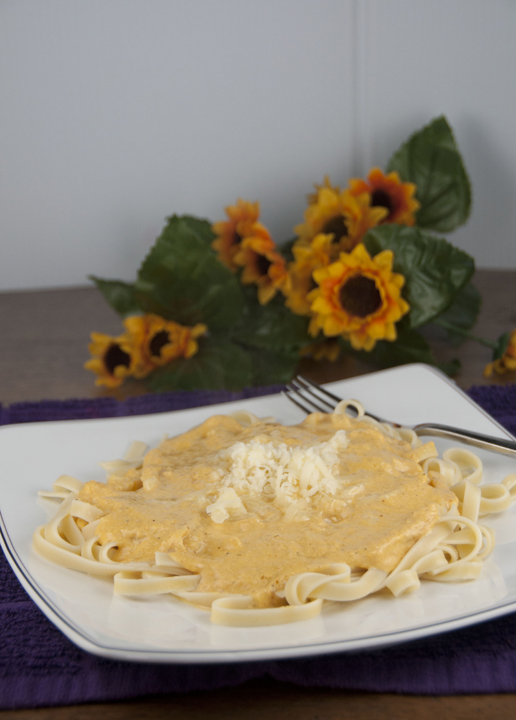 Welcome to your new favorite pasta dish for the fall!  How was your weekend? Mine was great but COLD…very cold.  Don't judge me, but my Christmas tree as well as all of my holiday decorations have made their appearance.  I held out as long as I could and just couldn't wait any longer.  My nine foot tall tree is there in my living room in all it's glory…with the beautiful, colorful lights gleaming so bright that you can see from all the way down the street.  All of you, along with all of my neighbors, are judging me…I can feel it.  I love the Christmas season so much and just like to see it last as long as possible.  Nothing wrong with that, right?!  I'll keep telling myself that.
This Pumpkin Alfredo dish I'm sharing with you today is an easy, no-fuss dish you can make right at home.  I have already made it several times so you can trust me that this is worth your while.   It's also on the cheaper side to make and quick for a weeknight meal.  It contains  simple ingredients and the sauce is SO great that you can use it in a variety of creative ways.  This pumpkin Alfredo sauce renders a smooth, rich coating on the pasta and the pepper adds some spark to the richness of the sauce.  The flavors in this sauce are just perfection.
Serve this with a side of fresh broccoli or cauliflower if you make it (and you really should).  Enjoy!
.
Creamy Pumpkin Pasta
Prep time:
Cook time:
Total time:
Cheesy and Creamy Pumpkin Sauce similar to an Alfredo sauce and served over pasta makes the perfect fall dish your whole family will love.
Ingredients
12 ounces of noodles (I use linguine or fettuccine)
2 Tablespoon butter (unsalted)
2 shallot, minced
1 garlic clove, minced
1 cup pumpkin puree
½ teaspoon ground nutmeg
¼ teaspoon ground ginger
1 cup fat-free milk
1 cup heavy cream (can use half and half)
½ cup Parmesan cheese, grated or shredded (plus more for garnishing)
½ cup white cheddar cheese, grated
¼ teaspoon sea salt
¼ teaspoon freshly ground black pepper
Instructions
Cook pasta according to package directions.
Melt butter over medium heat in a sauce pan. Add minced shallots and garlic and sauté for about 3-4 minutes, stirring occasionally.
Add pumpkin puree, nutmeg and ginger to pan and stir to combine.
Add milk and cream to the pan and stir to combine.
Raise heat and cook until mixture just begins to boil. Keep stirring occasionally so it doesn't burn at the bottom.
Reduce heat to low and simmer for about 5-7 minutes. Mixture should begin to thicken and slightly reduce.
Stir in cheeses and season with salt and pepper.
Spoon sauce over noodles, garnish wish some extra Parmesan, and serve immediately.
Recipe source:  slightly adapted from dinner-mom.com