Blog Anniversary $250 Amazon Card Giveaway!
I can't believe I've been blogging here on Wishes and Dishes for three years now.  Time flies when you're having fun!  But 3 whole years and 406 recipes later, I really wanted to do something different and special and have a giveaway to show my appreciation for my readers who have stuck with me for so long….for whatever reason! Bless your hearts 😉  Turns out, a bunch of my blogging friends were on the same wavelength as me and we teamed up to bring you this marvelous giveaway….scroll on down to enter.
Flavor the Moments – 2nd Anniversary!
Spoonful of Flour – 2nd Anniversary!
Myself– 3rd Anniversary!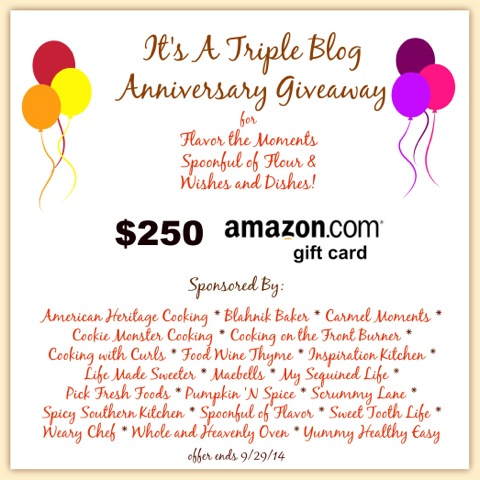 Below are the other blogs sponsoring the giveaway – pop on over and say "hi"!:
American Heritage Cooking * Blahnik Baker * Carmel Moments *
Cookie Monster Cooking * Cooking on the Front Burner *
Cooking with Curls * Food Wine Thyme * Inspiration Kitchen *
Life Made Sweeter * Maebells * My Sequined Life *
Pick Fresh Food * Pumpkin 'N Spice * Scrummy Lane *
Spicy Southern Kitchen * Spoonful of Flavor * The Sweet {Tooth} Life *
Weary Chef * Whole and Heavenly Oven * Yummy Healthy Easy