Avocado BLT Pasta Salad
Avocado BLT Pasta Salad recipe is the

popular combination of bacon, lettuce and tomato mixed with a creamy avocado dressing in this crowd-pleasing side dish!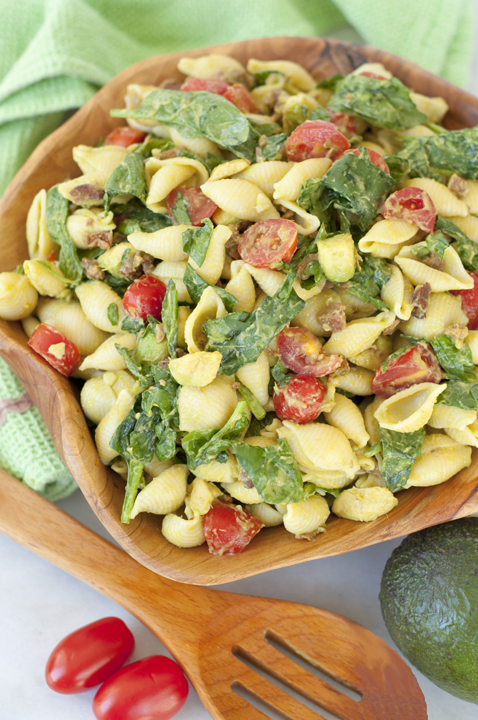 Ahhhh the last long weekend of summer is coming up next week!  I can hardly believe it.  Luckily, good food always distracts me from thinking about my beloved summer season coming to an end and I have a fantastic recipe, Avocado BLT Pasta Salad, to share with you today.
The next best thing to eating good food is talking about and I know I have done my fair share of that on this blog.  You all love to hear my food ramblings, right?  This Avocado BLT Pasta Salad I made with GoAvo was my lunch three days in a row.
Now if you know me at all you would know what a HUGE deal that is as I actually dislike leftovers.  The truth is, I am weird and get bored of eating the same thing two days in a row.  Rarely does a food come along that will get me to do the whole leftover thing.
This pasta salad, guys. I mean, come on – bacon, creamy avocado dressing, and pasta all together in one delicious side dish?  Sign me UP!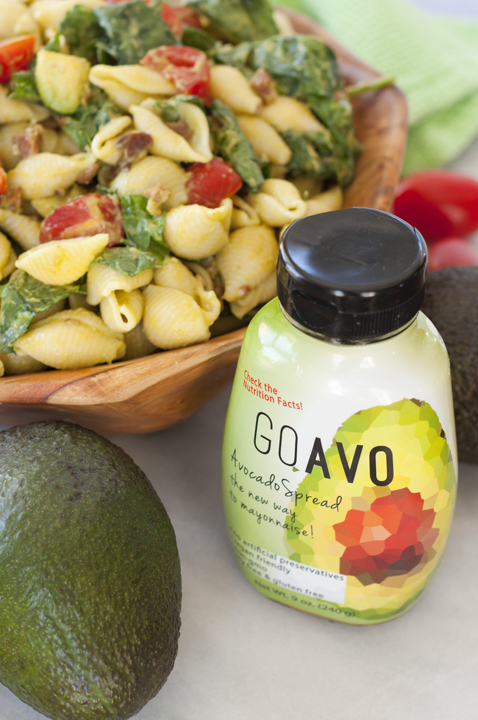 The beauty of this recipe is that you can use any variety of GoAvo of your choosing: Original, Basil, Jalapeno or Chipotle.  I can honestly see this tasting great with any of those three flavors.
GoAvo makes my life so much easier as it tastes amazing on it's own and also adds the perfect creaminess to dishes such as this pasta salad.  I know with Labor Day coming up we can all use a quick and easy side dish idea to bring to our picnics and BBQ's – so look no further!
I'm so glad you're here! Follow along on Pinterest for more inspiration! 
GoAvo is the eggless "new way to mayonnaise" and has the flavor profile and consistency that is similar to aioli and mayo.  It is an all-natural avocado-based condiment and can be a simple replacement for mayo in any recipe (egg salad, tuna salad, chicken salad, or just simply spread it on a sandwich or burger).
It gives just the right amount of flavor without all of the added calories and fat! I used GoAvo when I made these Crock Pot Creamy Salsa Verde Chicken Taquitos and they were incredible!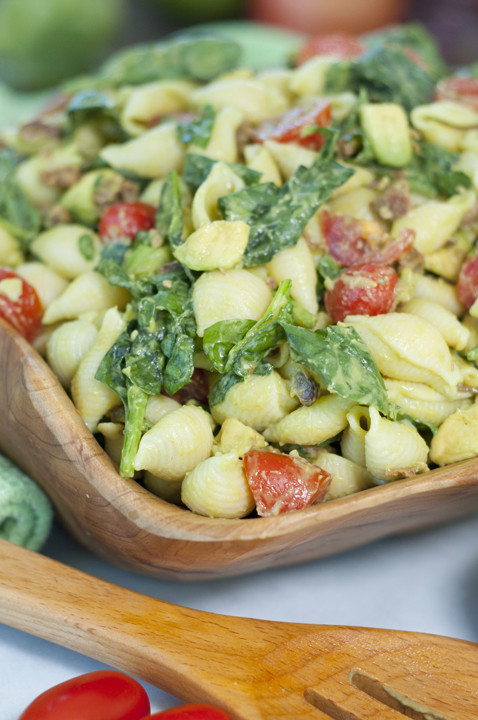 Each bottle of GoAvo contains about 85% avocado as well as grapeseed oil, white wine vinegar and lemon juice. I know we all love a good, simple ingredient list of things we can actually pronounce, am I right?
GoAvo has no artificial preservatives, is vegan-friendly, non-GMO certified, soy-free, gluten-free and made with organic ingredients.  Also, one tablespoon of GoAvo is 25 calories whereas one tablespoon of mayo has a whopping 90 calories!
So, for Labor Day weekend or any other ordinary weekend of your life, this Avocado BLT Pasta Salad will make you want to choose it over a BLT sandwich any day!  Yup, I said it…
Be sure to stay in touch with GoAvo on Instagram and Facebook for more delicious recipe ideas!  I have had many inquiries on where to buy it, so check out there store locator to see where you can buy a bottle (or two….or five) for yourself!  Enjoy!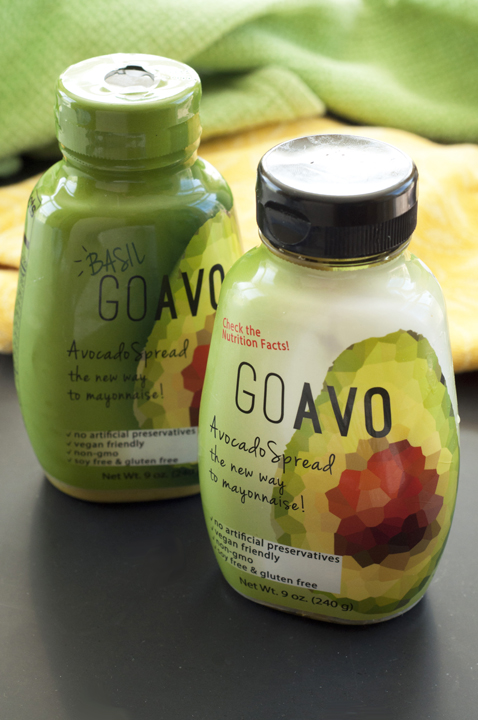 Avocado BLT Pasta Salad
Prep time:
Cook time:
Total time:
Avocado BLT Pasta Salad recipe is the popular combination of bacon, lettuce and tomato mixed with a creamy avocado dressing in this crowd-pleasing side dish!
Ingredients
!Because of the avocado components in this recipe, don't make too far in advance as avocado tends to brown somewhat quickly. Salad will still taste fine but not have as appealing of a color to it.
1 pound pasta (I used medium shells)
8 strips bacon
4 cups (6 oz.) baby spinach
2 ripe avocados, diced
1 pint grape tomatoes, halved or quartered
1 Cup GoAvo Avocado Spread
1 tbsp fresh squeezed lime juice
Salt and pepper, to taste
Instructions
Cook the pasta in a large pot of salted water according to directions on the box - don't over-cook it as you don't want mushy pasta.
Drain pasta and rinse under cold water to stop the cooking process.
Meanwhile, cook the bacon until crispy and then set on paper towels to drain. When it is cool, crumble the bacon.
Stir the GoAvo spread with the lime juice in a small bowl. I find this keeps the vibrant green color lasting a bit longer.
Mix all ingredients together in a large serving bowl, toss in the GoAvo dressing right before serving and mix well. Season with salt and pepper, to taste. Serve immediately. Enjoy!
 Disclaimer:  Thank you, GoAvo, for sponsoring this conversation.  All opinions remain 100% my own, as always.