Avocado BLT Pasta Salad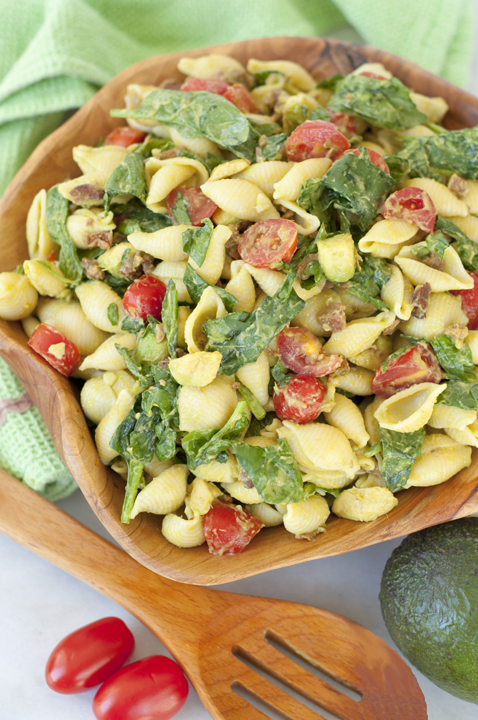 !Because of the avocado components in this recipe, don't make too far in advance as avocado tends to brown somewhat quickly. Salad will still taste fine but not have as appealing of a color to it.
1 pound pasta (I used medium shells)
8 strips bacon
4 cups (6 oz.) baby spinach
2 ripe avocados, diced
1 pint grape tomatoes, halved or quartered
1 Cup GoAvo Avocado Spread
1 tbsp fresh squeezed lime juice
Salt and pepper, to taste
Cook the pasta in a large pot of salted water according to directions on the box - don't over-cook it as you don't want mushy pasta.
Drain pasta and rinse under cold water to stop the cooking process.
Meanwhile, cook the bacon until crispy and then set on paper towels to drain. When it is cool, crumble the bacon.
Stir the GoAvo spread with the lime juice in a small bowl. I find this keeps the vibrant green color lasting a bit longer.
Mix all ingredients together in a large serving bowl, toss in the GoAvo dressing right before serving and mix well. Season with salt and pepper, to taste. Serve immediately. Enjoy!