20 Favorite Holiday Recipes
Make your holidays merry with 20 Favorite Holiday Recipes great for cookie exchanges, get-togethers, or Christmas parties!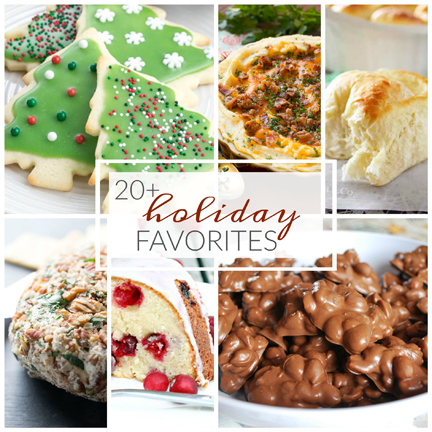 Sugar and the holidays go hand in hand. Maybe that's why I love the holidays as much as I do! Today I am taking a break from baking since it's Cyber Monday and perusing all of the great deals on Amazon. I'm also sharing these 20 Favorite Holiday Recipes.
I have my annual "to bake" list made for this season.  I showed it to Mr. Wishes the other day and let's just say his exact words were, "Good luck with that!"  Yeah, I got a little out of control with my list making this year.
If he thinks that list is long, he should see my gift wish list – oops! I narrowed my baking list down for you all to 20 Favorite Holiday Recipes from my favorite blogs – both sweet and savory.
If desserts aren't your thing, that Tangerine Glazed Ham or my Crock Pot Ham will be right up your alley. Just browsing through these recipes has made my baking list even longer than it already was.
So go ahead and change up your holiday cookie/dessert routine!  This coming from someone who hates change more than anyone.  Enjoy!
Chocolate Peppermint Cheese with Chocolate Ganache
Red Velvet Peppermint Thumbprint Cookies
Country Cinnamon Apple Dumplings
Loaded Mashed Potato Casserole
Cranberry Cream Cheese Pound Cake
Chocolate Covered Mint Patties