'Tis the soup season!  I have been wanting to make a meal like this for a very long time and it was finally "weather appropriate".  With the cold days of winter coming in, what better meal than a warm  bowl of potato soup?   Here is a simple recipe on how to make it  homemade, and trust me, you will not be disappointed.
While looking up different recipes, I realized they are all a little bit different.  I noticed that while the main  ingredients were the same, different people added different things for  the flavor!  So from a few different recipes, plus some ideas of my own, here is my spin on Potato Soup!
  This soup  is totally complete with meat and vegetables.  You can leave out the bacon (as garnish and in the soup itself), but I found it gave it SO much flavor!  This can most definitely  be a meal in itself or will make a delicious and elegant starter course  for a formal dinner!  The recipe makes a TON and leftovers are  magnificent.
Mr. Wishes, who is a self-proclaimed soup hater, gobbled this right up!  I just got excited to use the word "gobble" in this post to honor the up and coming Thanksgiving holiday!  Wow, I need a life!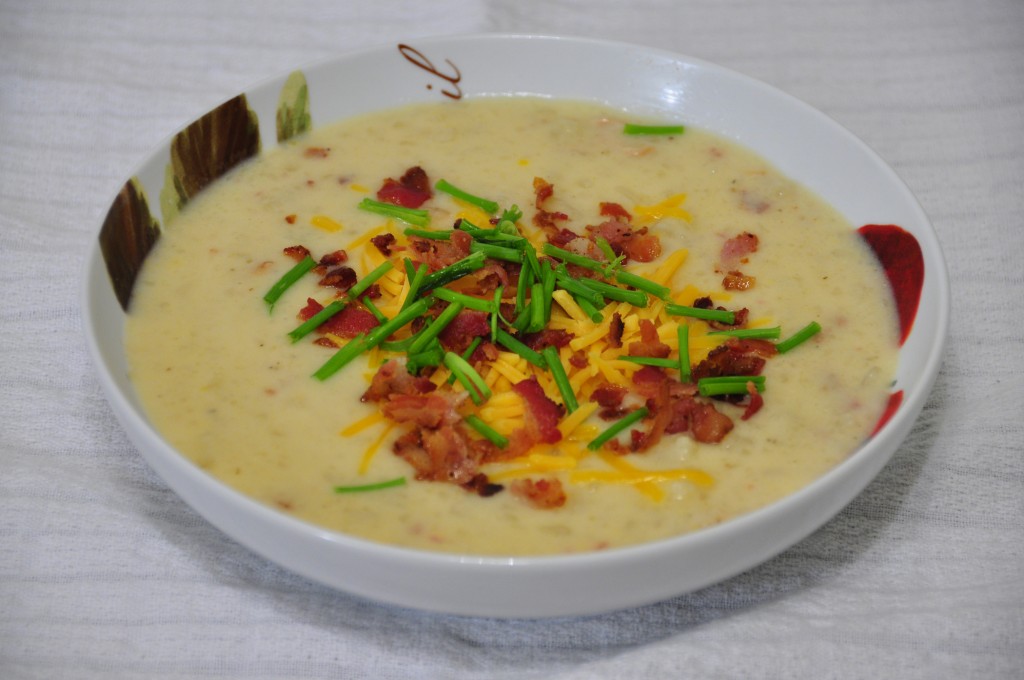 INGREDIENTS:  
6 large potatoes, peeled and cubed (I used Russet)
1/2 large onion, diced
1 quart chicken broth
2 garlic cloves, minced
1/4 cup unsalted butter
8 strips of bacon, cooked crisp, drained and crumbled
Salt to taste
Pepper to taste
1 cup cream or 1 cup of half and half
1 cup shredded sharp cheddar cheese
Garnish:  chives, green onions, sour cream, bacon, cheese. Top it just like a baked potato!
PREPARATION:
Cook up the bacon and crumble (if you are feeling lazy you can buy the precooked bacon!).  *Cooking some bacon in the soup really gave it amazing flavor*Combine first 8 ingredients in a large slow cooker and cook on high for 3-4 hours or low for 6-8 hours (make sure potatoes are tender).  Mash potatoes until coarsely chopped and soup is slightly thickened.
Stir in cream (or half and half) and cup of cheese in the last half hour of cooking (just stir and cook on low until all is blended – dairy gets funny and starts to break down when it is cooked too long). Garnish with toppings of your choice.
*Serve with cornbread or beer bread! Delicious!*
- Craving more?
Sign up for the Wishes & Dishes Newsletter
for a fresh serving of content delivered every week to your inbox! And stay in touch on
Facebook
,
Twitter
,
Pinterest
and
Instagram
for all of the latest updates!