I made these candied cinnamon vanilla toasted almonds a couple of weeks ago and they are a real winner!  They tasted just like what you get at the fairs/carnivals.  If you're looking for something for your guests to snack on for Christmas or any of the holidays, this is your recipe idea right here.  These almonds are so easy and SO good that you won't even believe it… and they taste just like some sort of gourmet candy.  They would also make a great hostess gift!
I made these for some houseguests who came to stay with us over Thanksgiving and they were quickly devoured.  I sprinkled a teaspoon more of the brown sugar on top when these were still on the baking sheet to give them a little more covering and sweetness.
P.s.  Your house will still smell incredible while these are baking!
Don't forget to enter my $550 Visa Gift Card giveaway!  You have until Sunday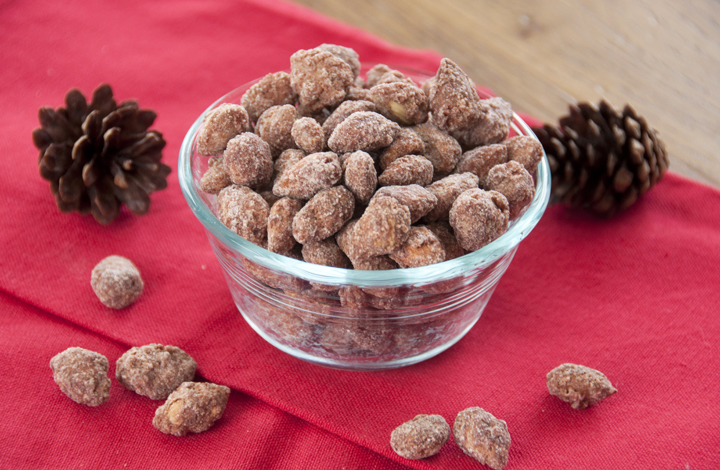 INGREDIENTS:
*makes about 4 cups*
2 egg whites
6 teaspoons vanilla extract
4 cups raw almonds
1/2 cup white sugar
1/3 cup packed dark brown sugar (light is fine)
1 teaspoon salt
1/2 teaspoon ground cinnamon
DIRECTIONS:
In a large bowl, beat egg whites until frothy; beat in vanilla. Add almonds; stir gently to coat. Combine the sugars, salt and cinnamon; add to nut mixture and stir gently to coat.
Spread evenly, in one layer, onto greased baking sheet. Bake at 300° for 25-30 minutes or until almonds are crisp, stirring once halfway through. Cool and serve.  Store in an airtight container (if they last that long!).
- Craving more?
Sign up for the Wishes & Dishes Newsletter
for a fresh serving of content delivered every week to your inbox! And stay in touch on
Facebook
,
Twitter
,
Pinterest
and
Instagram
for all of the latest updates!