The best Cheez-It Macaroni and Cheese recipe that will blow your mind!  It's perfectly creamy, cheesy and unique because of the crunchy cheez-it topping baked right on top.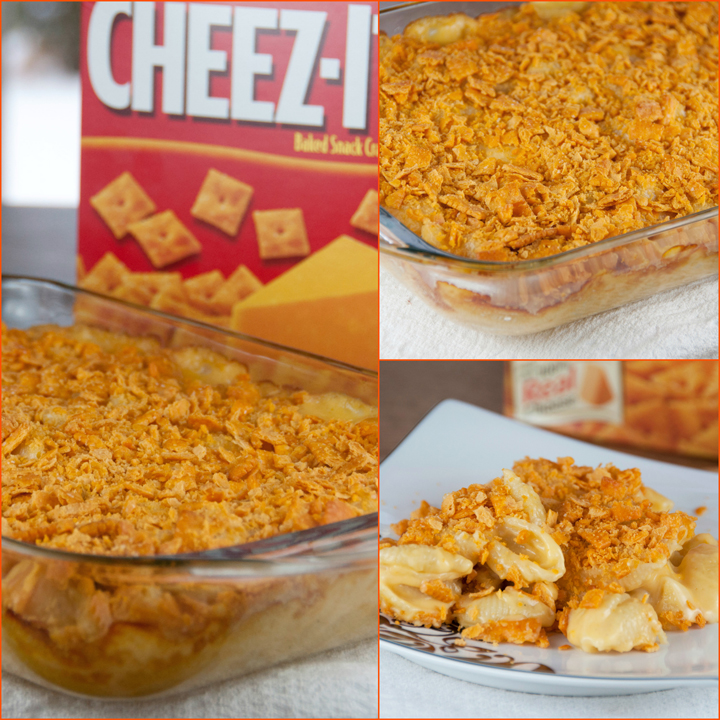 This Cheez-it Macaroni and Cheese is one of my favorite mac and cheese recipes and I saved the best for last here in my childhood food favorites week!  I really hope you all enjoyed all of the recipes this week – I know I have enjoyed eating them!  This one I'm sharing today is a double whammy childhood favorite:  mac & cheese (which I was completely obsessed with as a child and had a friend remind me of said obsession this week)… and Cheez-Its!  I literally ate them like it was my job growing up.  Even when I moved out on my own, I had a consistent stash of them in my pantry.  I like to tell my husband "they're for something I'm gonna make" when really I have no intention of doing anything but binge-eating them straight out of the box.  So, I combined my love of Cheez-its and Mac 'n Cheese together in this Cheez-it Macaroni and Cheese recipe today.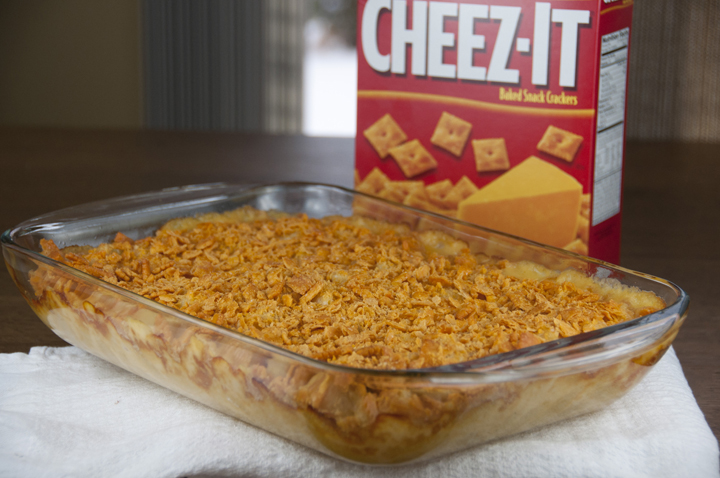 Several summers ago, I went to this hole-in-the-wall restaurant for lunch with some friends here in Rochester.  I couldn't believe my eyes when I saw "Cheez-it Mac & Cheese" on the menu!  I think that was the fastest decision I ever made at a restaurant when it came to what I was going to order.  The mac & cheese was awesome (obviously that was not in question), and I thought that was just genius to incorporate my beloved cheese crackers into a macaroni and cheese dish.  That restaurant has since closed down, and I made it my mission to recreate the cheesy goodness at home so I didn't have to go without it the rest of my life.  Like mac & cheese NEEDS more cheese added to the top….I know, but trust me – this Cheez-it Macaroni and Cheese is unbelievably good!
This mac & cheese is not overly creamy and has just the right amount of cheese and milk. It is baked to perfection while the crunch of the Cheez-Its adds a nice crisp topping and was a delicious alternative to using bread crumbs on top.  You will never go back to bread crumbs! 🙂
(Here's what I posted the last 4 days:  Frosted Animal Sugar Cookies, Homemade SpaghettiOs, Oreo Peanut Butter Swirl White Chocolate Fudge, Cake Batter Rice Krispie Treats.)  Have a great weekend!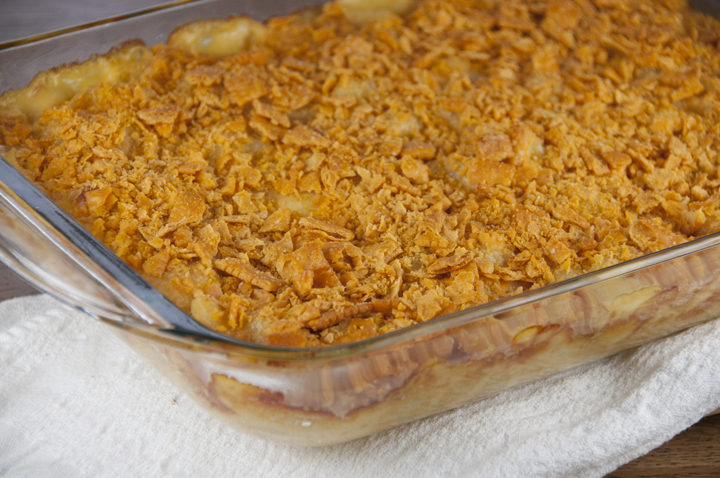 Cheez-it Macaroni and Cheese
Prep time:
Cook time:
Total time:
The best Cheez-It Macaroni and Cheese recipe! It's perfectly creamy, cheesy and unique because of the crunchy cheez-it topping baked right on top.
Ingredients
1 16 ounce box shells (or your pasta of choice)
½ cup butter
½ cup all-purpose flour
2 cups milk
16 ounces sharp cheddar cheese, shredded
¼ teaspoon freshly ground pepper
2 cups Cheez-It crackers, crushed
Instructions
Cook pasta to al dente according to package directions (you will be baking it later).
Drain pasta and set aside.
Melt butter in saucepan over low heat; whisk in flour, and cook, whisking constantly, 1 minute or until mixture is smooth.
Increase heat to medium; gradually whisk in 2 cups milk, and cook, whisking constantly, 5 minutes or until mixture is thickened and bubbly.
Stir in cheese, stirring until cheese is melted.
Remove pan from heat.
Stir pasta and ground black pepper into cheese mixture; spoon into a lightly greased 13 x 9 inch baking dish or a 3-quart casserole dish.
Spread crushed Cheez-It crackers evenly on top.
Bake uncovered at 375°F for 30 minutes or until thoroughly heated. Enjoy!
- Craving more?
Sign up for the Wishes & Dishes Newsletter
for a fresh serving of content delivered every week to your inbox! And stay in touch on
Facebook
,
Twitter
,
Pinterest
and
Instagram
for all of the latest updates!