I bought a bunch of candy corn not knowing what I was going to end up doing with them but I'm pretty much obsessed with the stuff so of course I had to buy a bag even without a real plan.  Well, I also bought two bags of Pumpkin Spice Hershey's kisses at the grocery store to make this puppy chow and then I had a whole bag of them leftover.  What to do…what to do… (besides destroy the entire bag all by myself in one sitting).  So, these candy corn pretzel bites were born!
I always loved the version that people make at Christmas with the pretzel, caramel (or Rolo) and pecan and this was a super fun fall/Halloween version of them.  Mr. Wishes thought they would be too sweet with the Hershey's Kisses PLUS the candy corn, but he was wrong….I love it when that happens.  ;)  They were perfect!
Have a fantabulous weekend!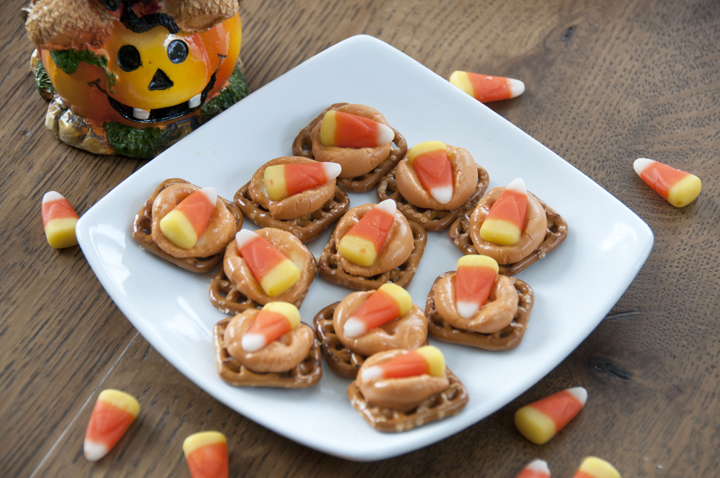 INGREDIENTS:
Waffle Pretzels
Pumpkin Spice Hershey Kisses*
Candy Corn
DIRECTIONS:
Preheat oven to 350 degrees F.  Line a cookie sheet with parchment paper.  Place pretzels on cookie sheet.
Unwrap Hershey's Kisses. Place Hershey's Kisses on top of pretzels.
Bake for 4-5 minutes, just until Hershey's kisses start to get shiny.  Take out of oven and place candy corn on top of the Hershey's kisses while they are still very warm, gently pushing them down into the Hershey's kiss
Cool completely and then transfer to serving platter or wrap up in cute packages to give away (make sure they are completely cooled or the Hershey's kisses will make a mess when you stack them on top of each other. Enjoy!
- Craving more?
Sign up for the Wishes & Dishes Newsletter
for a fresh serving of content delivered every week to your inbox! And stay in touch on
Facebook
,
Twitter
,
Pinterest
and
Instagram
for all of the latest updates!