Beef Tenderloin in Mushroom Pan Sauce
This beef tenderloin sauteed in a mushroom pan sauce recipe is perfect when you want to have a stay-at-home date night dinner for two and make a delicious meal together.  It is truly restaurant quality!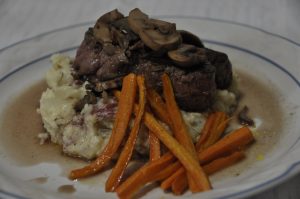 Couples that cook together, stay together!   That being said, how's this beef tenderloin recipe for an idea for your upcoming weekend date night!  "Date night" doesn't have to be a huge ordeal.  Just spending time together in the quiet of your own home can be just as fun – and romantic!  You might think eating at home isn't too special because you have dinner together every night, but the menu and ambiance make all the difference.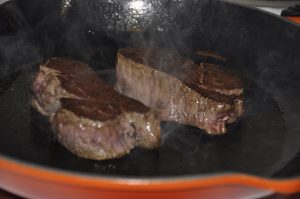 The recipe here is one my hubby and I made when taking the Valentine's Day Couples' cooking class at the NY Wine and Culinary Center.  We recreated it the other night at home and it turned out just as good, if not better.  Warning: while sauteing the meat, the smoke kind of took over our tiny, little apartment – good thing our battery is dead in our smoke detector (I hope no fire marshals are reading this!)  This meal is shockingly easy to make and it's one of those meals that after it was prepared and set on the table I thought to myself, " This is way too fancy to have come out of MY kitchen. "  We served this over
garlic smashed red potatoes
and the mushroom pan sauce was out of this world- it made for the perfect meal!  We also roasted carrots in the oven.  You can serve with any veggie you like!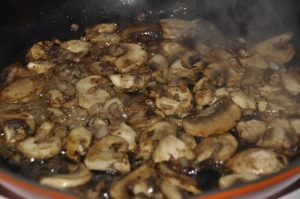 Guys, get in the kitchen – I know, cooking isn't often considered "manly."  Yet, some women say there is something irresistible about a man who can cook ;o)  So grab that someone special and head to the kitchen.  I pinkie promise you will have a ball!  Happy dining! 
Beef Tenderloin in Mushroom Pan Sauce
Ingredients
1 tablespoon vegetable oil
Two 6-ounce beef tenderloin steaks (about 1-inch thick)
Salt and ground black pepper
For the sauce:
4 tablespoons unsalted butter
1 small shallot, minced
½ - ¾ cup assorted mushrooms, wiped clean, stems removed, sliced
½ cup dry red wine
1 cup beef stock
To taste: salt and ground black pepper
Instructions
Heat 1 tablespoon oil in heavy medium skillet over medium-high heat (a cast iron skillet works best).
Sprinkle steaks with salt and pepper.
Add steaks to skillet once oil is fully heated; cook to desired doneness (about 4 minutes per side for medium rare).
Transfer steak to plate (do not clean skillet) and cover with foil to keep warm.
Return skillet to heat and deglaze the pan with ¼ cup of the red wine.
As the wine reduces, scrape up the brown bits with a wooden spoon.
When the wine has evaporated, add 2 tablespoons of butter to the skillet.
Saute the shallot and mushrooms until softened.
Add the remaining wine and stock to the skillet, bring to a boil and reduce to a simmer until the liquid has been reduced in half.
To serve: spoon sauce over top of the steak and sprinkle with parsley.