Quick and Easy Lemon Scampi Chicken
This is a wonderful winter we are having here this spring!  Yes, I'm back to say that the weather here in upstate NY is no bueno and I am currently listening to balls of ice fall from the sky while the temperatures are back to the 30's.  Come on, Spring!
The weather is not very good news. This bad cold I caught from my hubby is also less than good news.  I think I've kept the drug store in business these past few days with the amount of tissues and vitamin C-packed juices I've gone through.  Hopefully this will pass soon!  I need some sunshine to brighten my spirits 🙂
This is not your traditional chicken scampi.  It has a creamy, garlicky lemon sauce and is very simple to make.  Traditional scampi sauce (common with shrimp) contains butter, garlic, wine or vermouth and a touch of lemon.  Shrimp or chicken scampi is actually one of my favorite dishes of all time and I order them often at restaurants.  I haven't made shrimp scampi at home yet…I will have to wait for a night where I'm cooking for one since Mr. Wishes is not a seafood eater.  I did make a copy-cat Olive Garden chicken scampi way back in the day, which reminds me, I need to make that again and share it with you soon.
I like this recipe.  It's quick, simple and I always have the ingredients on hand.  That is the best kind of recipe in my book: one where you don't have to run out to the store for anything!  That's especially good for me when it's icy and cold January-like weather.  It's a good dish when you want something mild and especially good when needing to whip up dinner in a hurry.
I like to add some Italian herbs as well as salt & pepper to the chicken.  I sprinkled the finished product with some parsley as I was wanting some more color.  I served this over pasta tossed with a little bit of butter.  I'm sure this would be good with plain old white rice too!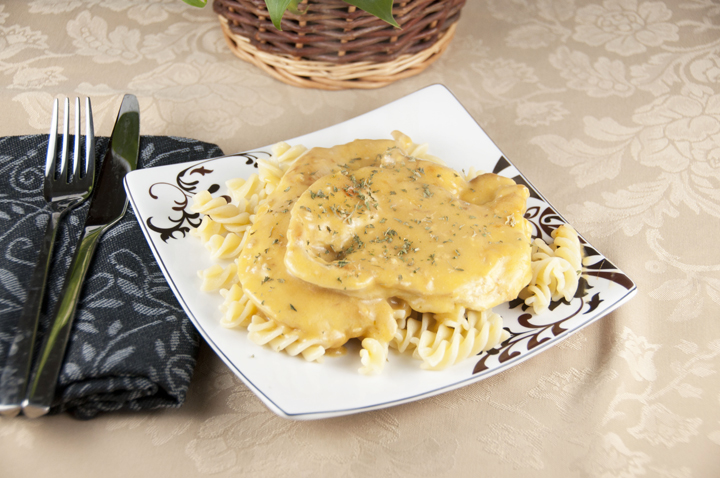 INGREDIENTS:
2 tablespoons butter
6  skinless, boneless chicken breast halves (about 1 1/2 pounds)
1 can (10 3/4 ounces) Condensed Cream of Chicken Soup
1/4 cup water
2 teaspoons lemon juice
2 cloves garlic, minced
Hot cooked pasta for serving
DIRECTIONS:
Heat the butter in a 10-inch skillet over medium-high heat. Add the chicken and cook for 10 minutes or until well browned on both sides. Remove the chicken from the skillet.
Stir the soup, water, lemon juice and garlic in the skillet and heat to a boil. Return the chicken to the skillet. Reduce the heat to low. Cover and cook for 5 minutes or until the chicken is cooked through.  If the sauce gets too thick, add a little bit more water. Serve the chicken and sauce over rice or pasta.