Orange Cinnamon Poached Pears with Walnuts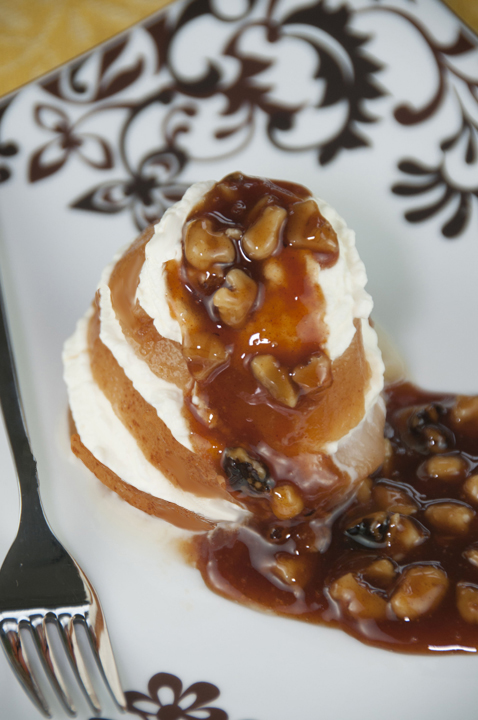 1½ cups orange juice, no pulp
½ cup packed light brown sugar
¼ cup white granulated sugar
1 tablespoon vanilla extract
1 teaspoon ground cinnamon
3 whole pears, peeled and cored (I used Green Anjou)
½ cup chopped walnuts
1 cup heavy whipping cream
1 teaspoon vanilla extract
1 tablespoon confectioners' sugar
In a large saucepan over medium heat, mix together the orange juice, brown and white sugar, vanilla extract, and cinnamon. Bring the mixture to a boil, stirring to dissolve the sugar.
Place pears into the syrup, and cover; simmer pears for 1 hour, spooning sauce over pears every 10 minutes, and carefully turning pears over twice during cooking time.
Transfer pears to a plate and slice into thick slices.
Continue cooking the syrup, stirring often, until thickened (about 10 more minutes) then mix in the walnuts. Take it off the heat.
In a large bowl (preferably a cold bowl), whip cream until stiff peaks are just about to form.
Beat in vanilla and sugar until stiff peaks form. Make sure not to over-beat or cream will become lumpy and resemble the texture of butter.
Stack slices of pears on individual serving plates and using a spoon or piping bag, pipe whipped cream in between layers of pears, ending with a scoop of whipped cream on the top.
Pour the sauce over the pear stack to serve.
Recipe by
Wishes and Dishes
at https://wishesndishes.com/orange-cinnamon-poached-pears-walnuts/