Why Your Next Trip Should be to Mayakoba, Mexico
I'm giving you a thorough vacation review of the Andaz property & all of the reasons why your next trip should be to Mayakoba, Mexico in Riviera Maya. If you're looking for a beautiful, relaxing tropical vacation and appreciate a quiet, quality resort, this place is for you.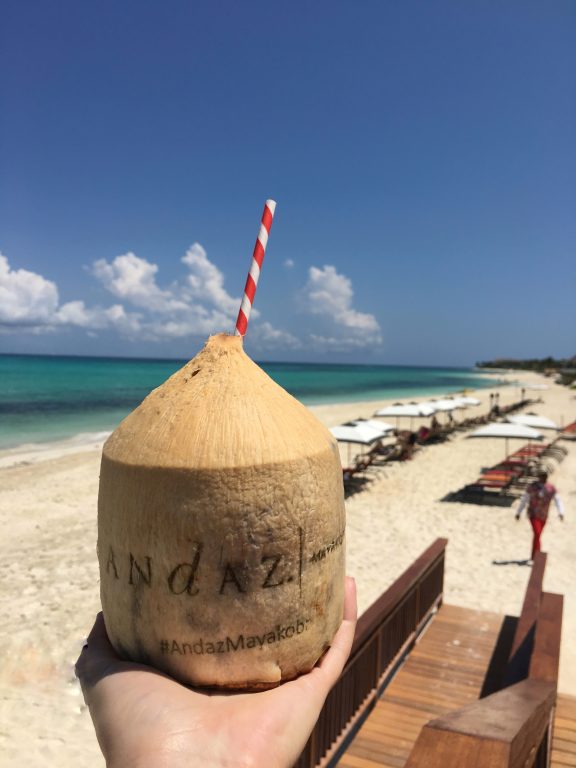 I almost didn't want to write this post in order to keep this place a secret all for myself – ha! I've been known to rank my vacations on how much I enjoy them and how likely I am to go back. Our recent trip to Mayakoba, Mexico (which is part of Riviera Maya just south of Playa del Carmen) was in my top 2 vacations I have ever been on. My husband and I have been Hyatt Diamond/Globalist members for years, so we have stayed at some of the best Park Hyatt properties and Andaz properties all over the world. This is our second favorite Hyatt property we have ever been to, right behind the Park Hyatt Maldives. Don't get me wrong, any get-away is amazing in it's own way because…well…you're NOT at work, but after only a few hours in Mayakoba, nothing can prepare you for life back in the "real world." That's the beauty and magic of Mayakoba – it's the perfect escape and is located in the middle of acres and acres of jungle.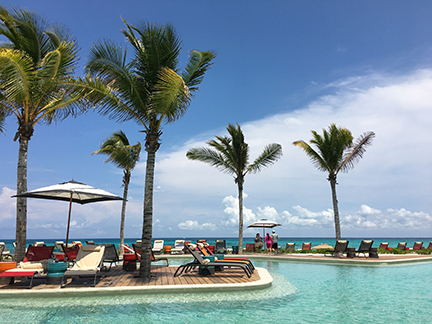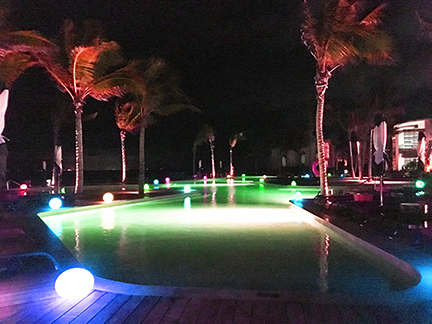 The Mayakoba, Mexico area is so secluded and quiet. We stayed at the Hyatt Andaz which is an extremely impressive resort with top-notch service provided from the moment you step on to their property. We were greeted by a chauffeur as soon as we stepped outside, our luggage was tagged and taken quickly to our room, and a drink was in hand within two minutes of being greeted. We were taken on a golf cart on a drive around the property for the official tour, and ultimately to our room. It was a great start to the trip and we were treated like royalty!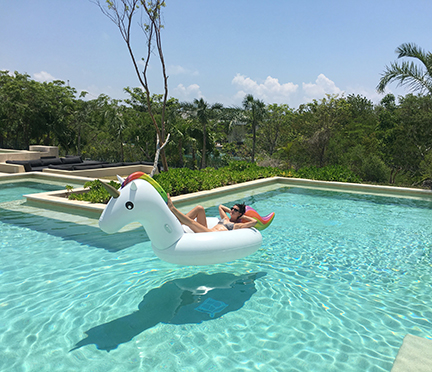 Time in Mayakoba, Mexico seems to stand still because you don't have to worry about anything, don't need to have a plan or "to-do" list for the day, and don't have to travel around sightseeing. Our week there seemed to last forever and that's always a good thing! It was a solace that could only be described as beautiful.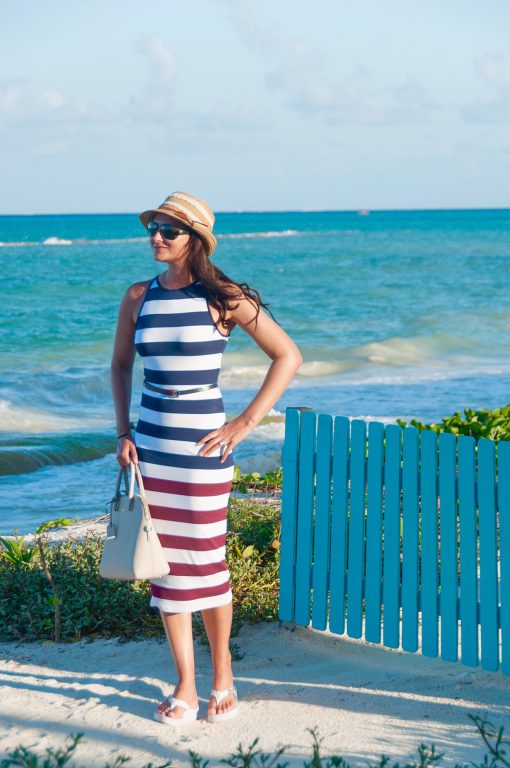 If you're looking for something quiet, but with plenty to explore, you'll be all about this place. The food was also amazing! Being a food blogger, food is very important to me and I would say I have pretty high standards for food when I eat out. The service in all the restaurants was fantastic and definitely above and beyond. The staff is always running around trying to make sure you're comfortable and enjoying every moment of your stay. They are very conscientious of their guests needs and wants as they are consistently asking what service they can provide for you or if they can do anything to help.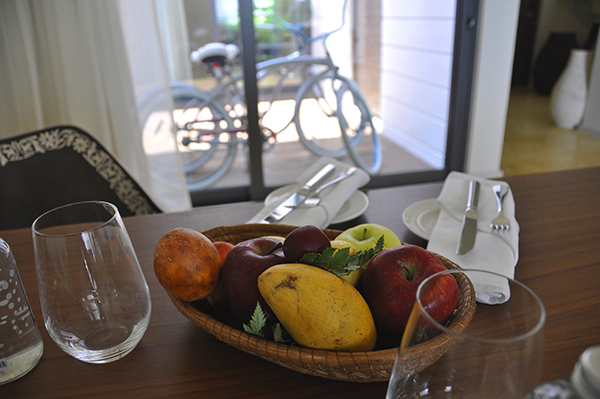 The property of the Andaz is very quaint, beautiful, and private. The grounds are kept impeccably clean and the lighting throughout the resort is very pretty. Being a new resort, a lot of the plants are new and not quite grown in yet. I can't wait to go back and see everything really filled in! We just really love the fun style and young/modern vibe the Andaz resorts provide. You honestly could have picked up this resort up and moved it inland away from the beach and our stay would have been just the same! The beach is a BONUS. The beach in this area of Mexico is not a tranquil Caribbean Sea. It is more ocean-like. The sand was beautifully white and the water was warm and crystal clear.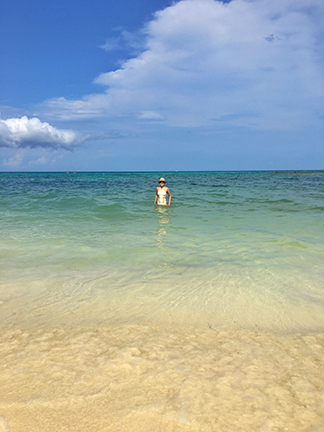 The lagoon side and the beach side of the resort are very spread out so you need to either hitch a ride on a golf cart, take a short boat ride, or ride a bicycle to get to where you're going. It's effectively two resorts that are divided by a large stretch of beautiful undeveloped area. Don't worry about having to wait for a ride or search for a golf cart to transport you anywhere as the staff is always present around the resort and looking for people who may need a ride. You can also call from your room and request to have one waiting for you at a certain time, if you wish. My husband and I preferred to ride the bicycles around. The rides around the resort are pretty flat so it's an easy ride..and more fun! They have bikes strategically placed throughout the resort so you never have trouble finding one when you need it. In my opinion, that's the best way to get around. It is good exercise to work off all that guacamole and chips.
The property is beautiful, with lush vegetation and wildlife all over. I finally learned what a coati is! Those animals are native to the area and pretty interesting. They have spider monkeys around the resort, but I never saw one (and that wasn't for lack of trying). One of my favorite parts of the trip was the free eco-tour where you can take a ferry boat around the lagoon and see all kinds of wildlife. This tour is a must! The tour itself is about 45-50 minutes long and I'd highly recommended it. I was geeking out pretty hard because I love animals – especially birds! I saw a couple of small crocodiles, large turtles, lizards, and a plethora of colorful water fowl and birds. We actually did the tour twice and saw different animals the second time around so I was glad I went for round two. Shout-out to Sergio and Cesar who were great tour guides! Cristina (our host) even surprised us and set up a special private eco-tour for us on our anniversary complete with champagne and fresh fruit.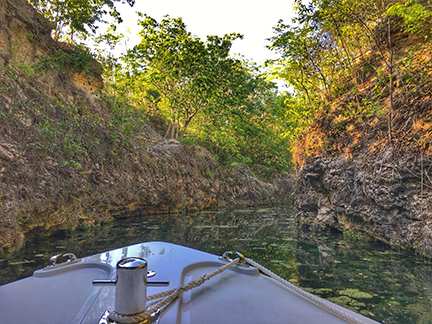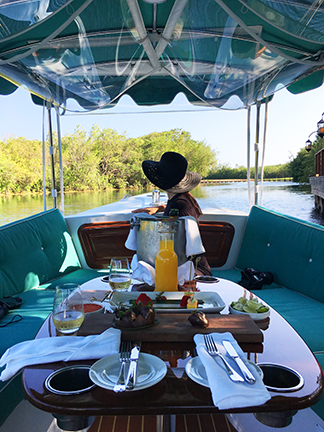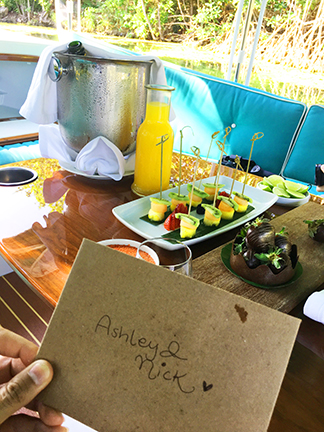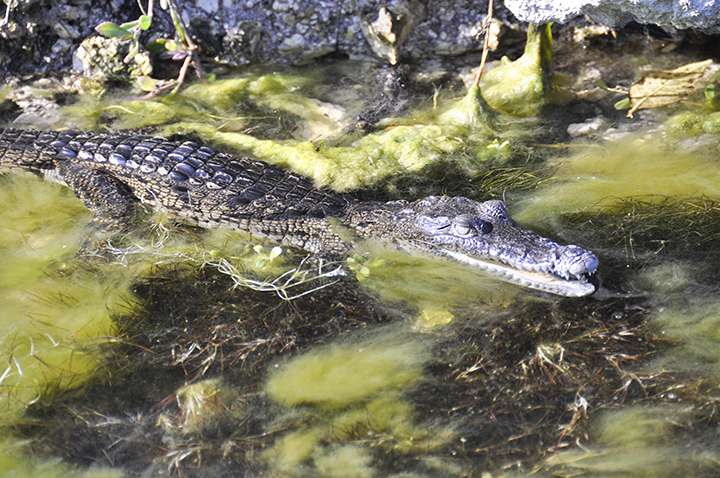 Our suite room was conveniently located directly on the beach. Typical of an Andaz resort, the room was spacious, modern, and very chic. The bed was extremely comfortable with nice linens and everything in the room worked perfectly. A large beach tote bag, beach flip-flops, robes and eco-friendly bug repellent were waiting for us upon arrival. The room had large flat screen TVs in the living room and bedroom and an in-room coffee maker. The bathroom was extremely large with a tub, shower, and huge vanity. There were patios off of both the living room and bedroom so we had plenty of ocean views no matter where we were in the suite. Toiletries were the quality of a high-end resort/hotel and service was equally attentive. The private, heated plunge pool on the downstairs patio was such a treat and we could see the ocean while in the pool. We were a 2 minute walk to the main part of the beach and the beach-side pool.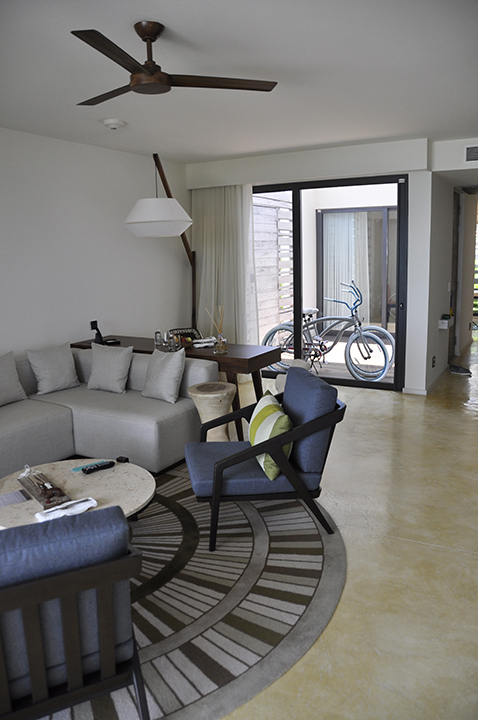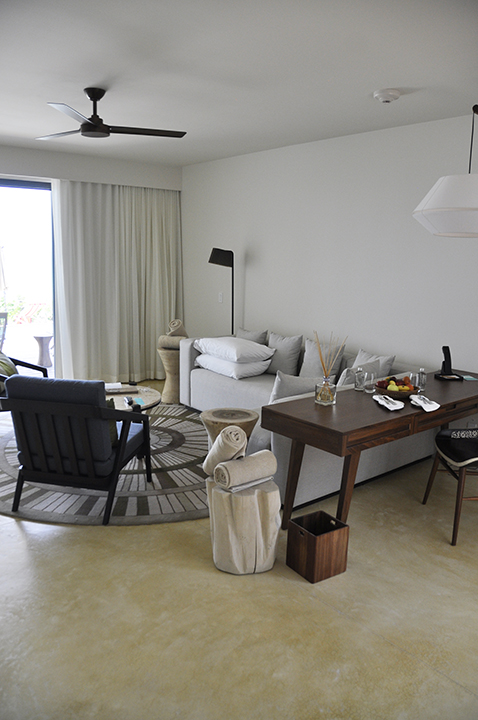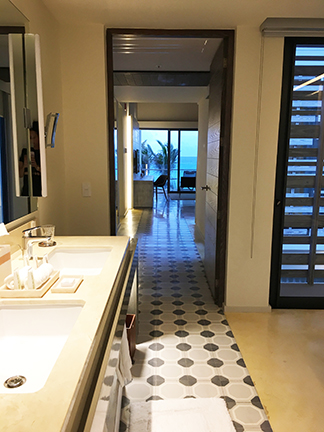 The food here was great for every single meal and I still dream about it to this day. All the servers were very friendly, knew their menus well, and explained in-depth some of the local ingredients and techniques. The four restaurants each have their own identities and serve different menus, all with great service and consideration of food allergies and/or gluten-free diets. You also have the option of going to the restaurants at any of the other resorts in the Mayakoba area. I've heard great things about them, as well, but we chose to stay on the Andaz property for all of our meals.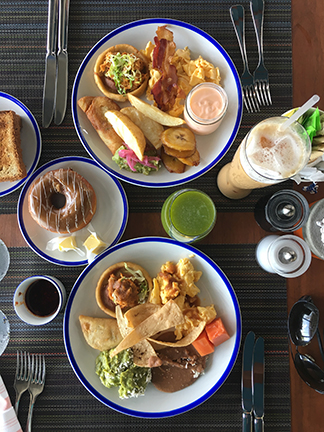 Cocina Milagro offers breakfast buffet with an ever-evolving menu for lunch and dinner. This is located in the lagoon area of the resort and we took our bikes for a nice morning ride there every single morning. It has a great selection of items and chefs walk around and offer guests freshly baked pastries straight from the oven. I need to give a shout-out to both Vincent Wallez (Executive Chef) and Stefan Karl (Food & Beverage Manager) for what a great job they have done on getting everything just right at this property. I ate my weight in chips and guacamole from that buffet each morning (yes, for breakfast).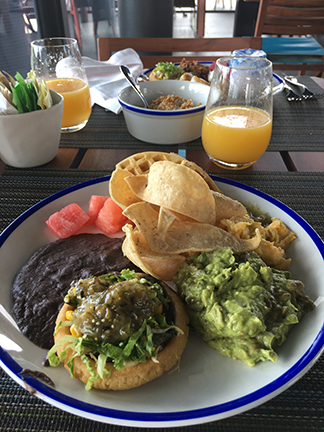 We ate at OllaCeviche on our last night there. It's right on the ocean and has comfortable couches on their patio. If you're looking for a meal with a view, this is the best restaurant for that! They serve market-style feast of tacos, Yucatán specialties and seafood fare – something for everyone. Their drinks and food were outstanding.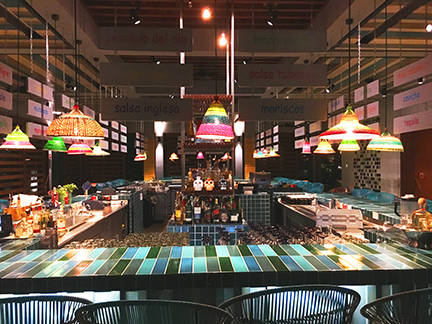 We enjoyed a fancy dinner at Casa Amate the night of our anniversary. At this restaurant you will find Latin American specialties in a residential concept. This place is fine dining, each room has a different theme where you feel like you're in someone's fancy home, and I definitely highly recommended the great tasting food and excellent service we experienced there. Whether you eat indoors or on their outdoor terrace, you really can't go wrong. The outdoor terrace offers a beautiful setting at dusk. I recommend the empanada trio!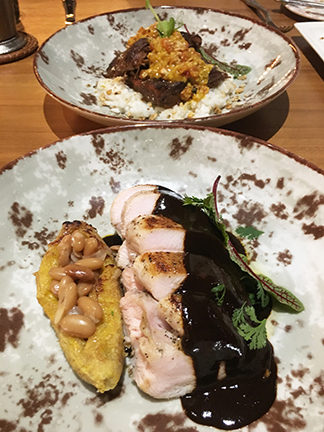 OllaTaco was our favorite place to eat. It's more casual and they have plenty of Mexican food choices, Yucatán specialties and local craft beers. I highly recommend their margaritas, guacamole, and chicken tacos! The guacamole here was one of the best I've ever had. They offer breakfast, lunch and dinner and food was fresh, tasty and a fun place close to the beach.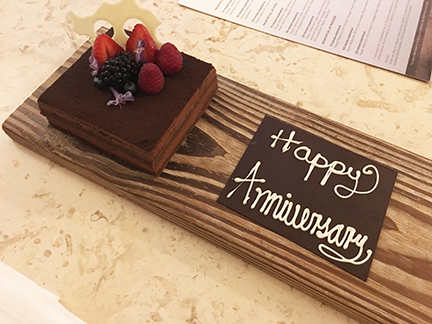 We would like to give a big thumbs up to Cristina who went out of her way to make our stay extra special. Other standouts include Jorge, Willie and Christina from Cocina Milagro; Carlos, David and Francisco ("Paco") from Olla Taco; Gustavo, and Christian who drove us in the golf carts multiple times; and lastly, Sergio and Cesar who were our guides on the Eco Tours. Hats off to the management and staff of Andaz Mayakoba, Mexico for putting together a great team, providing flawless service, and making our stay incredibly enjoyable.
The Andaz is indeed a very special place and I can't wait to go back. We were completely swept away by the entire experience. See you soon, Mayakoba, Mexico!