Frozen Peach Mojito
This Frozen Peach Mojito drink recipe is the perfect frozen treat on a hot day or for any occasion! These beauties are refreshing, light, and so easy to make.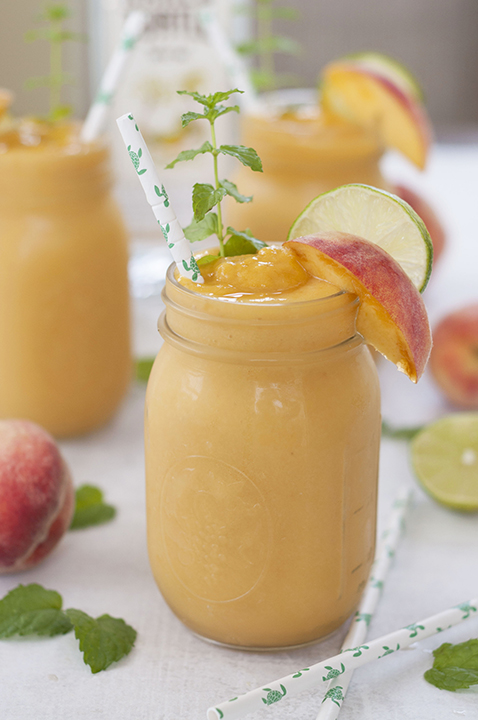 Hello there and happy National Rum Day! These beautiful summer days always have me craving some sort of cold drink like this frozen peach mojito I'm sharing with you today. I have a peach tree in my backyard and this year it produced about 393958292 peaches! I think it helped that we got a motion-activated sprinkler this year to keep the animals from feasting on them before we even get a chance to pick them (this may or may not have happened the past two years). We had so many peaches that we had to invite family and friends over to help us pick them. I'm glad we were able to share the peachy love!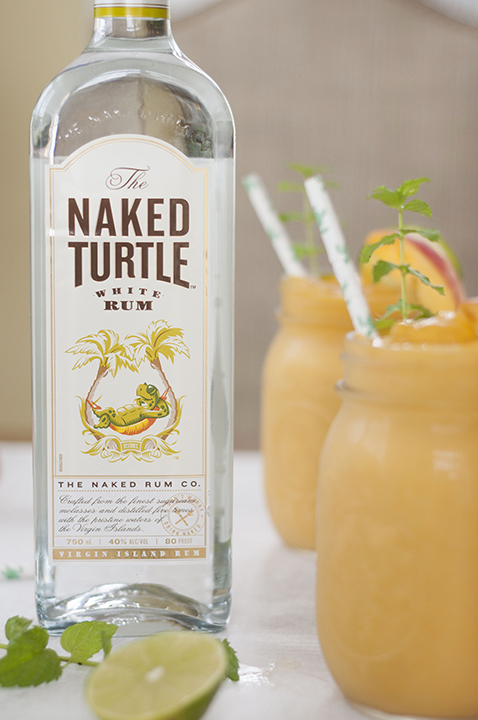 I am always looking for new ways to use up my perfect little peaches. If you can't eat a perfect peach straight, what are you going to do with it? That is the question. This Frozen Peach Mojito I concocted is fresh, fruity, and so refreshing! What made this drink even better was the new rum I discovered: The Naked Turtle white rum. It was love at first smell when I first opened the bottle: a heavenly aroma of vanilla, custard, brown sugar, and light banana. The taste is very unique with small hints of vanilla, coconut, and molasses! When I heard they are partners of the Sea Turtle Conservancy ever since 2012 I was instantaneously a huge fan.  Each of their bottles of rum saves a baby turtle! Oh, and their bottles are even shaped like a turtle shell. How cute is that?!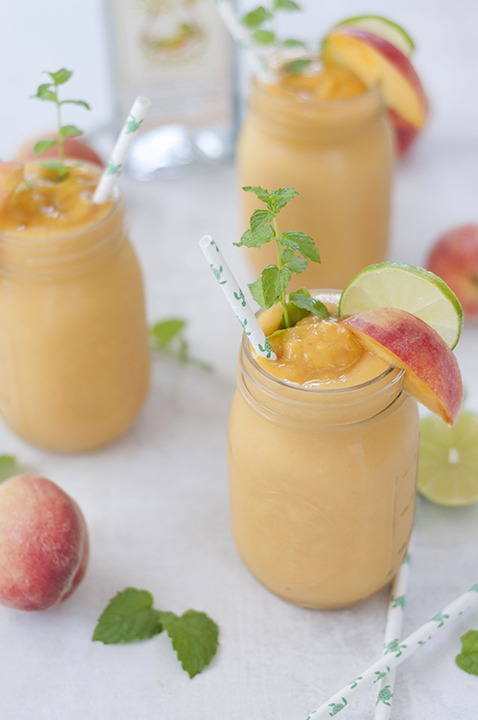 If you know my love for animals (especially baby animals) you know why this has severely tugged at my heart strings. I've had a "thing" for sea turtles every since I went to Turtle Beach in Oahu years ago. I could have stayed there all day and taken five million photos of the turtles just chilling on the sand (and maybe I did). For every bottle of The Naked Turtle White Rum made, they make a donation to the Sea Turtle Conservancy to save a baby sea turtle hatchling, up to 2 million bottles per year. One dollar can save an estimated TWO endangered baby sea turtle hatchlings! 234,000 sea turtles have been saved since 2012!
If saving baby sea turtles is not reason enough to love this brand, their rum is also gluten-free, distilled five times with the waters of the U.S. Virgin Islands, and has no preservatives. Naked Turtle rum is crafted with the finest quality sugarcane molasses and bottled "naked," which means it never touches the inside of an oak barrel, letting the taste really shine through. Fresh ingredients for the win!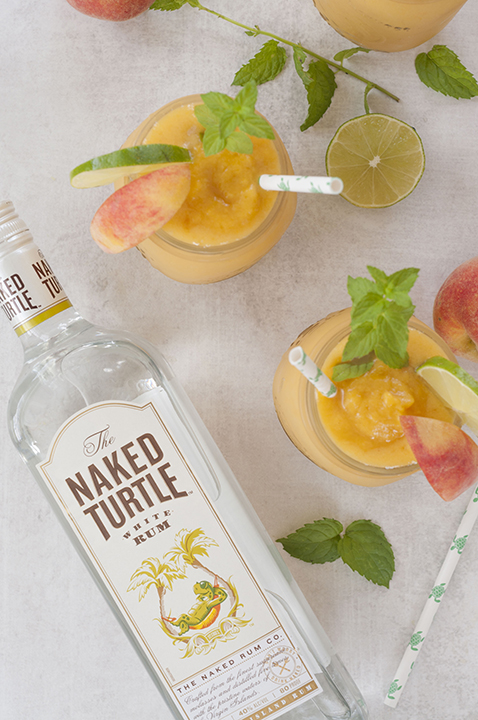 No need to add any sugar to this mojito as the peaches make it sweet enough on their own. This is great for anyone looking for a lower calorie drink that still tastes amazing. Why not have a drink that also has something good for you in it? Great idea alert: make a big batch of these to serve at your next party – your friends and family will love you for it.
You really can't go wrong with fresh fruit, mint, rum, and freshly-squeezed lime juice all packed into one delicious drink. Believe me, this frozen peach mojito tastes even better than it looks (if that's possible)! Kind of like my peach lava flow, they go down really smooth so you may want to keep track so they don't catch up with you later. They are sure to be your new love language.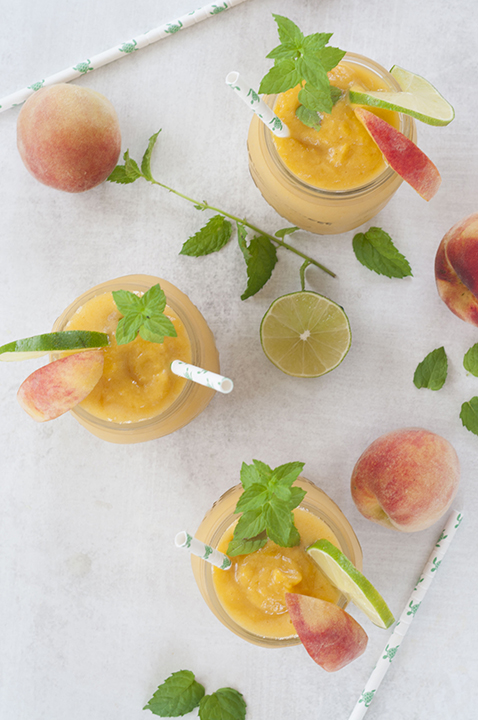 Soak up this last bit of summer, grab a bottle of Naked Turtle rum, save some sea turtles, and make these mojitos soon. You can thank me later! You. Me. Frozen Peach Mojito. This weekend. Let's do it.
If you're looking for more ways to use up your peaches, this Crock Pot Peach Cobbler is highly recommended and one of the most popular recipes on my blog.
Find out where you can buy your bottle of The Naked Turtle rum here. You can also follow along with them on social media by searching the following hashtag: #SipNakedSaveTurtles. Enjoy!

Frozen Peach Mojito
This Frozen Peach Mojito drink recipe is the perfect frozen treat on a hot day or for any occasion! These beauties are refreshing, light, and so easy to make.
Ingredients
4 cups Peaches, sliced and frozen
1 cups Naked Turtle rum (or your favorite white rum)
⅛ cup fresh mint leaves
juice of ½ lime
extra mint leaves, for garnish
Instructions
Combine all the ingredients in a blender and blend until smooth.
Pour into individual glasses or mason jars, garnish with fresh mint and peach slices (optional), and serve immediately!
Disclaimer:
Thank you, The Naked Turtle, for sponsoring this conversation.  All opinions remain 100% my own, as always.