5 Minute Restaurant-Style Blender Salsa recipe is a simple and fresh homemade salsa perfect for any time you want a great appetizer, snack or sauce for Mexican food night!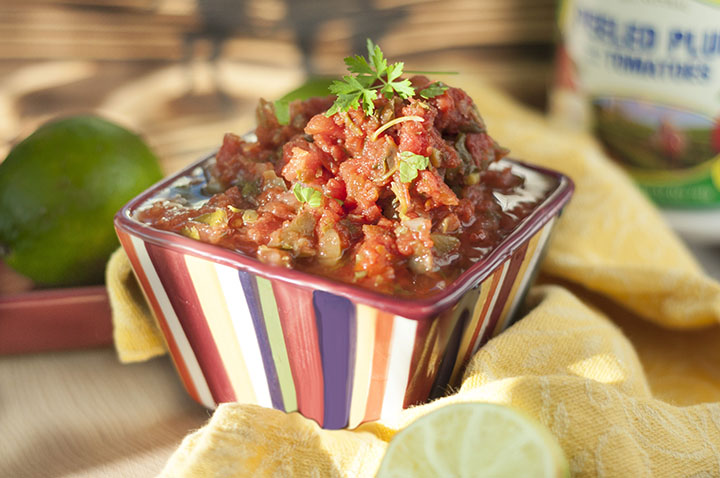 Shortcuts in the kitchen are one of the best things ever, especially when you're having company over or throwing a party and you don't have all the time in the world.  Now, I LOVE me some shortcuts when it comes to cooking and baking, but I also know that 9 times out of ten fresh food is way better than any store-bought version you can possibly get your hands on.
Almost right up there with my love for Italian food is my love for Mexican food.  I decided to branch out and use a can of delicious Tuttorosso tomatoes to make this 5 Minute Restaurant-Style Blender Salsa! I love making my own salsa and guacamole for parties and small get-togethers!  Grab a big bag of corn tortilla chips at the store and you're feeding a hungry crowd in no time at all.  The best part about my favorite easy kitchen trick? You're saving a ton of time by using a shortcut with the canned Tuttorosso tomatoes, but you're still enjoying the benefits of homemade, fresh salsa.  That's a win/win in my book!  Not having to sit there and use up my time chopping all those messy tomatoes is alright by me.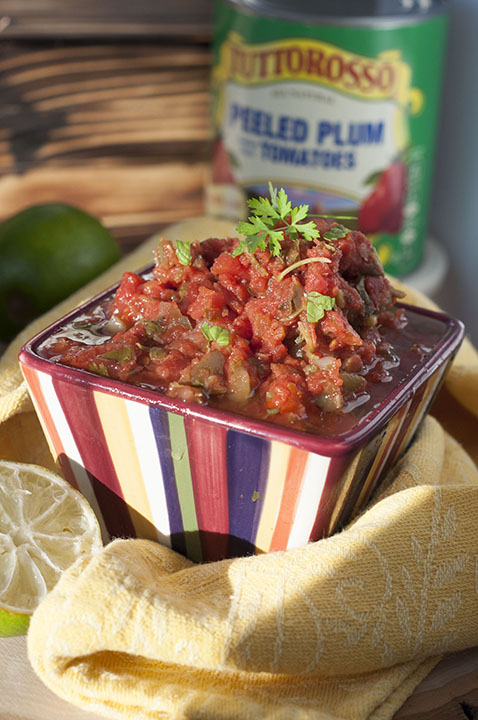 Tuttorosso tomatoes are the only tomato product I use when I'm making Italian food dishes such as my Sunday sauce and chicken Parmesan.  I'm a creature of habit and like to use the brands I know and trust when cooking.  I mean, they are the best selling Italian-inspired canned tomato brand in the United States, so it just makes sense! They are family-owned and take pride in their Non-GMO project verified products as well as make it a priority to ensure quality.  Also, their cans are BPA free and lock in that fresh vine ripened tomato flavor.  I just honestly love the taste of all their products as it really stands out to me above the rest!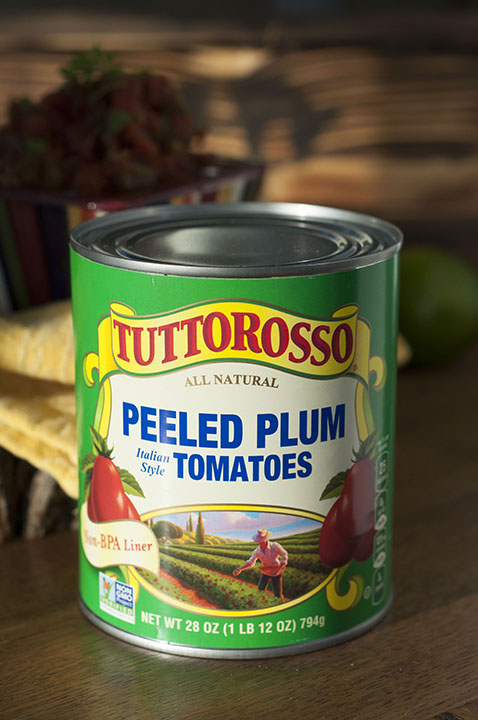 This super easy salsa is best made a few hours ahead of time so the flavors have a chance to develop.  You will really feel like you have discovered the holy grail of salsa when you take your first bit of this salsa goodness.  I honestly don't think I could ever go back to the store-bought salsa after tasting this. Making it with canned tomatoes could not be any easier! Salsa has many advantages besides being easy to throw together.  It seems indulgent, but it is actually a healthy choice, fat free and loaded with flavor and veggies.
Use this salsa to top your tacos on the next Mexican food night or eat it plain with corn tortilla chips.  No matter which way you choose to gobble it up, you will be in salsa heaven.
If you can't find Tuttorosso at your local grocery store, you can always find them on Amazon or use their store locator to see where you can get their products nearby!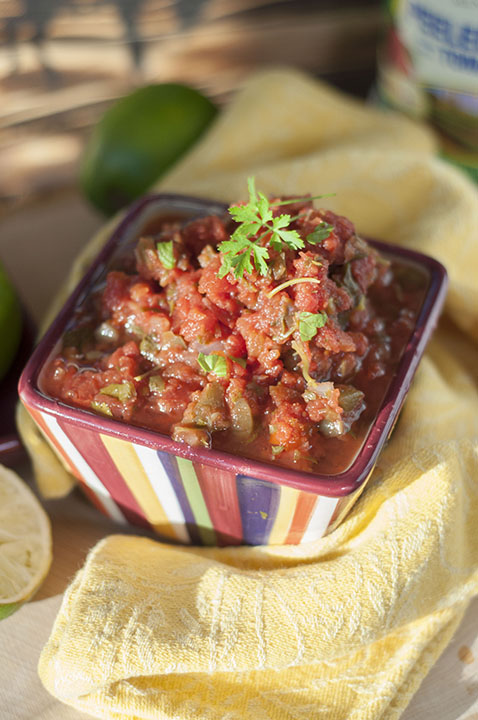 A couple of tips when making this salsa:
Don't over blend unless you like it more juicy instead of chunky.  A little bit chunky is what you're going for here!
Use caution when handling the jalapeno pepper. I recommend using kitchen gloves or disposable gloves and make sure you keep your hands away from your eyes.
1 jalapeño is a good starting point – you can always add a bit more heat or subtract heat depending on who you are sharing the salsa with.
Enjoy!
5 Minute Restaurant-Style Blender Salsa
5 Minute Restaurant-Style Blender Salsa recipe is a simple and fresh homemade salsa perfect for any time you want a great appetizer, snack or sauce for Mexican food night!
Ingredients
One 28 oz can Tuttorrosso whole peeled plum tomatoes, drained
One 4 oz can green chiles
2 Tbsp fresh lime juice
½ of a medium sized white onion
1 whole jalapeño, stem cut off (can adjust according to amount of heat you like)
2 garlic cloves, peeled
2 teaspoons of cumin
1 teaspoon of sugar
1½ teaspoons of kosher salt
1 cup of fresh cilantro
Corn tortilla chips, for dipping
Instructions
Combine all ingredients in the blender or food processor, starting with the tomatoes and lime juice at the bottom..
Pulse a little bit at a time until the salsa reaches a consistency of your liking, less time for more chunky salsa. Enjoy!
Disclaimer:  Thank you Tuttorosso for sponsoring this conversation.  All opinions remain 100% my own, as always. 
- Craving more?
Sign up for the Wishes & Dishes Newsletter
for a fresh serving of content delivered every week to your inbox! And stay in touch on
Facebook
,
Twitter
,
Pinterest
and
Instagram
for all of the latest updates!